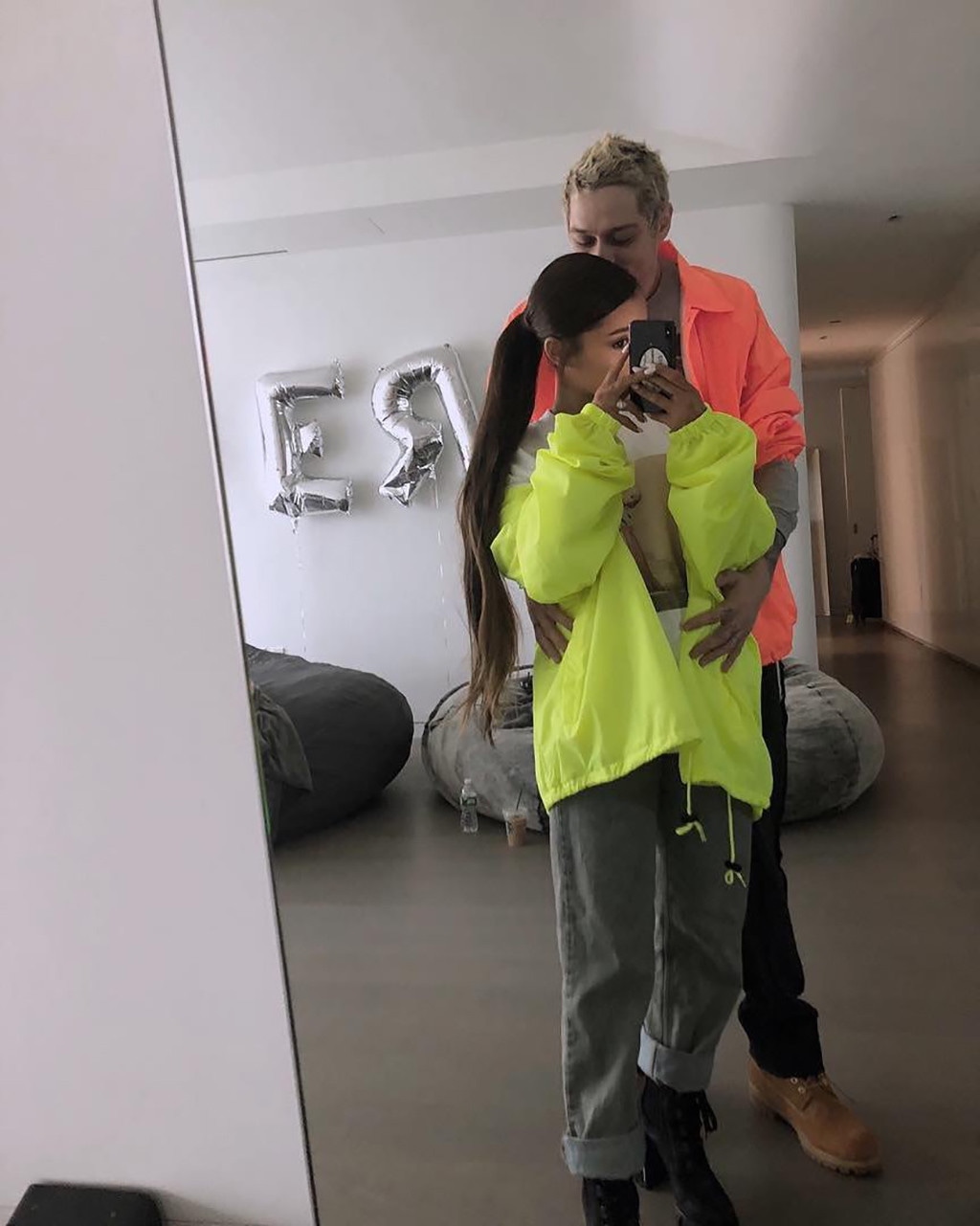 Instagram
At least Ariana Grande is self-aware.
In the months leading up to the release of Sweetener, her fourth studio album, news of her whirlwind engagement to Saturday Night Live star Pete Davidson dominated the news cycle. Yesterday, Grande snapped a selfie with her fiancé and shared it with her Instagram followers. Making fun of their neon jackets, the "God Is a Woman" singer joked, "Subtle jus like our love."
The photo was taken around the same time Grande pre-taped an interview with Michael Strahan, which aired on Good Morning America Wednesday. When he asked how she knew Davidson was "the one," Grande replied, "I mean, it's just like a feeling. That's so cheesy. Like, people are always like, 'When you know, you know.' And you're like, 'Oh, yeah. Whatever. OK.'"
Davidson is her soul mate, she added. "You just feel it, you know? All of it," she said. "He just ticks every box, and just gets better every day, and I'm very grateful for him. Life is beautiful." Grande even named a song on Sweetener after Davidson. "I didn't know what to call it, 'cause I was like...I made it just to, like, send to him, you know, as just like a nice little sentiment. Like a love letter," she said. Making fun of herself yet again, Grande joked, "We're so annoying, huh?"
The "No Tears Left to Cry" singer added she and Davidson are planning to "take our time" planning their wedding, which will probably happen next year. "My friends and I, my mom and everybody, have been, like, brainstorming and sharing ideas and stuff," she said. "It's really fun." Grande, who is also planning to go on tour next year, added, "I work so much. I've never, like, spent this much time or energy planning something personal. I might cry. I'm just excited."
For now, Grande is focusing her efforts on promoting Sweetener, which she released last week. "I was so hungry to do something different. I love pop music, of course, but my heart and soul are more in R&B, you know? I grew up listening to all the '90s divas, and I've been waiting to do something that was a little more soulful version of pop for a while," she said. Grande wrote the album's title track first with Pharrell Williams, and she knew it would set the tone for the rest of her songs. "All I wanted to represent was a light, fun, sweet presence. And just, like, bring a little bit of, like, escapism and joy to people's lives when they listen to it. That's why nothing is that sad on the album. I really just wanted to keep it beautiful. And free. And light. And sweet."