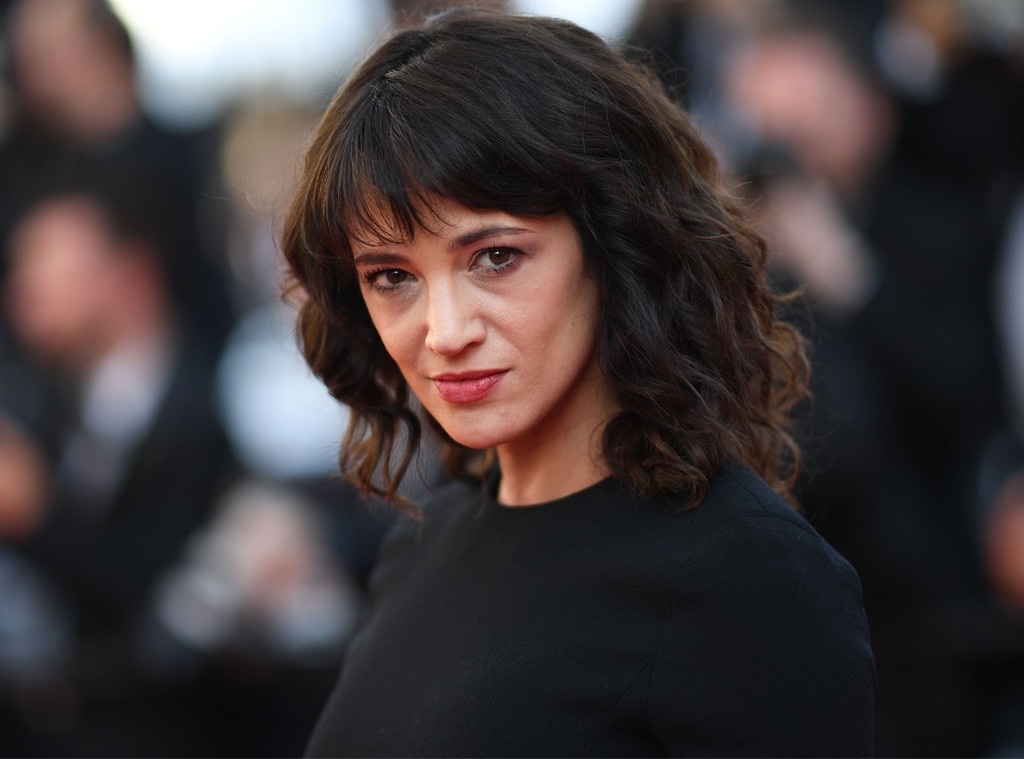 LOIC VENANCE/AFP/Getty Images
After Asia Argento denied claims of sexual assault published in The New York Times, TMZ shared an alleged text exchange between the actress and a friend in which Argento seemingly confessed to having sex with her accuser, Jimmy Bennett, while he was a minor.
E! News has not been able to independently verify the text messages.
On Sunday, The New York Times published a report claiming Argento had agreed to pay Bennett $380,000 after he accused her of sexual battery in a notice of intent to sue sent by his attorney in November 2017. The article was based on documents the newspaper received in an encrypted email from an unidentified party.
According to TMZ, Argento and the unnamed friend allegedly sent the texts following The New York Times' report. Per the published messages, Argento allegedly wrote, "I had sex with him it felt weird. I didn't know he was a minor until the shakedown letter." 
TMZ also published a picture of Argento in which she and Bennett appeared to be shirtless and resting their heads against a pillow. In its report, The New York Times, citing the notice, wrote Argento asked Bennett to take photos of the two of them together after the alleged sexual encounter. 
According to the alleged texts published by TMZ, the unnamed friend asked about "the photo taken in bed." Argento allegedly replied, "You can see my tits. That's all. It doesn't mean sh-t." She then allegedly added, "He is standing up."
According to The New York Times' report of Bennett's allegations, Bennett arrived at Argento's hotel room at the Ritz-Carlton in Marina del Ray, Calif. with a family member on May 9, 2013. Argento then allegedly asked the family member to leave and gave the then 17-year-old Bennett an alcoholic beverage. Per The New York Times' reporting of his allegations, she then "kissed him, pushed him back on the bed, removed his pants and performed oral sex." She then allegedly "climbed on top of him and the two had intercourse."  
The newspaper noted Bennett was allegedly under California's legal age of consent at the time.
But in TMZ's text messages, Argento allegedly wrote "the horny kid jumped me." The celebrity outlet also published a picture of a note Bennett allegedly wrote on a piece of hotel stationary at the time. 
Again, E! News has not been able to verify its validity.  
"Asia, I love you with all my heart," the letter read, per TMZ's photo. "So glad we met again and I'm so glad your in my life. Jimmy."  
According to TMZ, Argento allegedly text the unidentified friend a picture of the letter and wrote, "He wrote me this afterwards and kept sending me unsolicited nudes all these years up until 2 weeks before attorneys letter."
She then allegedly added, "It wasn't raped but I was frozen. He was on top of me. After, he told me I had been his sexual fantasy since was 12."
Stephen Lovekin/Shutterstock
According to The New York Times' report of Bennett's allegations, the former child star asked for $3.5 million in damages for "intentional infliction of emotional distress, lost wages, assault and battery." Per the article, Bennett alleged he made more than $2.7 million in the five years before the alleged incident and that his income had since dropped to below $60,000 a year, which he reportedly attributed to trauma from the alleged encounter. 
Argento allegedly agreed to pay him $380,000 over the course of a year and a half, which reportedly started with an initial payment of $200,000 made in April. 
In her denial of the published allegations, Argento described the claims as "absolutely false" and stated, "I have never had any sexual relationship with Bennett." She also claimed she was "linked to him during several years by friendship only." However she suggested this friendship ended after her "exposure in the Weinstein case."
Argento has accused Harvey Weinstein of rape and was an early leader of the #MeToo movement. The producer has denied allegations of nonconsensual sex.
She then claimed Bennett had undergone "severe economic problems" and taken "legal actions against his own family requesting millions in damages." She alleged he then "unexpectedly made an exorbitant request of money from me." 
"Bennett knew my boyfriend, Anthony Bourdain, was a man of great perceived wealth and had his own reputation as a beloved public figure to protect," she continued. "Anthony insisted the matter be handled privately and this was also what Bennett wanted. Anthony was afraid of the possible negative publicity that such person, whom he considered dangerous, could have brought upon us. We decided to deal compassionately with Bennett's demand for help and to give it to him. Anthony personally undertook to help Bennett economically, upon the condition that we would no longer suffer any further intrusions in our life." 
There appeared to be an allusion to Bourdain's involvement in the text messages published by TMZ. She also allegedly referenced the backlash following the report. 
"If I lose my job I will move to Africa or the Amazon forest," she allegedly wrote, per TMZ's messages. "I want to be among the 90% of the world that doesn't give a f--k about this sh-t. Not the convincing, sick 10% of the entitles westerners." 
Argento's attorney did not respond to TMZ's request for comment.
Several celebrities have reacted to The New York Times' report. Rose McGowan, who has also accused Weinstein of rape, tweeted her "heart is broken" over the allegations and that she will "continue my work on behalf of victims everywhere." Mira Sorvino, who also accused Weinstein of sexual misconduct, tweeted a note, as well in which she claimed she was "heartsick over the recent allegations against Asia Argento."
E! News has reached out to Argento's and Bennett's attorneys.