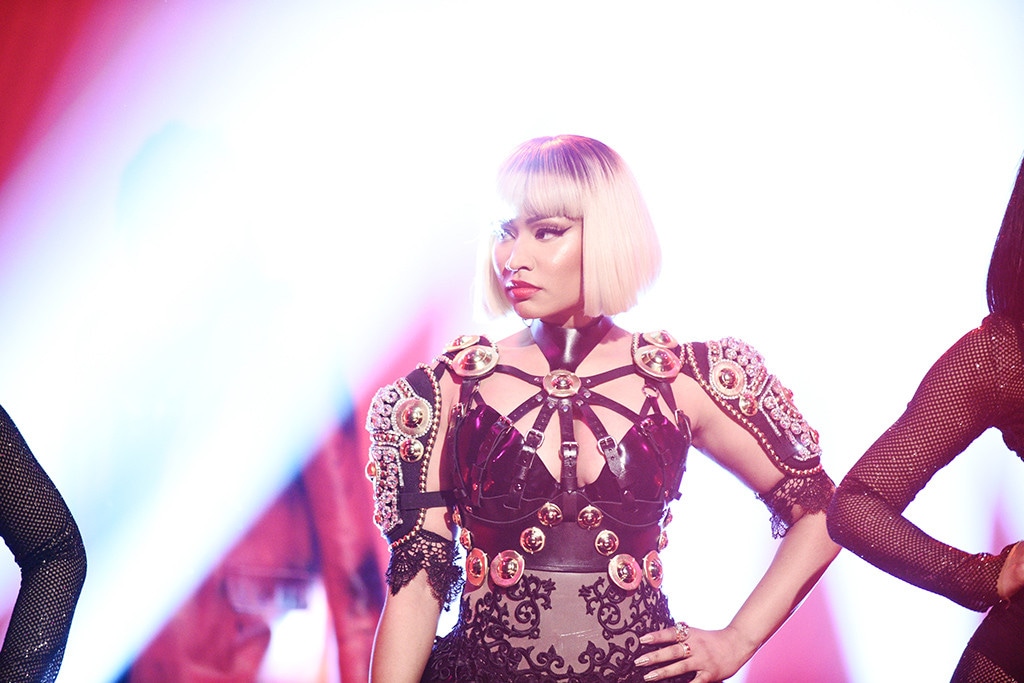 Will Heath/NBC
Timing is not Nicki Minaj's strong suit.
First, the "Chun Li" rapper delayed the release of her fourth studio album Queen, moving it from June 15 to Aug. 10; it debuted at No. 2 behind Travis Scott's ASTROWORLD, much to her dismay. Then, Live Nation announced Monday night that her North American tour with Future has been canceled. "Following her unforgettable VMA performance, Nicki Minaj has decided to reevaluate elements of production on the NickiHndrxx Tour," a spokesperson told E! News in a statement. "The outing will now kick off in Europe this coming February as planned. Nicki has decided to contribute more time to rehearsal ahead of the tour's launch to make certain her fans get the absolute best quality show that they deserve." Due to scheduling conflicts, Future is leaving the tour. Minaj is planning to reschedule her North American start date for May 2019.
The NickiHndrxx Tour had been scheduled to kick off Sept. 21 in Baltimore. Live Nation said refunds for the previously scheduled North American dates are available at point of purchase.
Early Wednesday morning, Minaj addressed her fans directly in a Twitter video. "Hey, you guys. Future and I will now start the European leg of our tour first, so those dates will stay exactly the same. And the U.S. leg of the tour will now start in May," she said. "Because of that, with Future's schedule, I may have to take another co-headliner, or I may just do it like I did with the Pinkprint Tour, and it wouldn't be like a co-headliner; I probably would just have like three or four opening acts. I still am going to do Australia in January, and this is all happening because I pushed my album back two months, and I just finished writing and recording literally hours before the album came out. So, now I just simply don't have the time to rehearse and be on the road in time to give you guys the level of a show I need to give. Jamie King and I are working tirelessly to give you guys the best show of my life, and I really apologize, but it'll be worth it."
Minaj also responded to fans who expressed support for her decision:
The postponement news follows a report that ticket sales for the NickiHndrxx Tour were much lower than expected. A Live Nation source told Page Six Tuesday, "Nicki's tour could be the most disappointing ticket sales of the year for any artist. These are big arenas with up to 20,000 capacities. Sales for opening night in Baltimore is 2,000 tickets. L.A. is 3,400, New Orleans 1,000, Denver 1,300, Chicago 3,900. Even her hometown Brooklyn is only 5,050." Minaj's rep has not commented on the report, which came out just before the tour change announcement.
Details regarding the new North American dates will be announced soon, Live Nation said.
In the meantime, Here is the list of European NickiHndrxx Tour dates:
Feb. 21, 2019: Olympiahalle in Munich, Germany
Feb. 22, 2019: Ondrej Nepela Arena in Bratislava, Slovakia
Feb. 24, 2019: Atlas Arena in Lodz, Poland
Feb. 25, 2019: Budapest Sportarena in Budapest, Hungary
Feb. 28, 2019: Mercedes Benz Arena in Berlin, Germany
Mar. 1, 2019: Royal Arena in Copenhagen, Denmark
Mar. 3, 2019: Spektrum in Oslo, Norway
Mar. 4, 2019: Ericsson Globe in Stockholm, Sweden
Mar. 6, 2019: Palais 12 in Brussels, Belgium
Mar. 7, 2019: AccorHotels Arena in Paris, France
Mar. 9, 2019: Metropole Arena in Bordeaux, France
Mar. 11, 2019: The O2 in London, U.K.
Mar. 14, 2019: Arena Birmingham in Birmingham, U.K.
Mar. 15, 2019: 3Arena in Dublin, Ireland
Mar. 17, 2019: SSE Hydro in Glasgow, U.K.
Mar. 18, 2019: Manchester Arena in Manchester, U.K.
Mar. 20, 2019: Rockhal in Esch-sur-Alzette, Luxembourg
Mar. 22, 2019: Festhalle in Frankfurt, Germany
Mar. 23, 2019: Lanxess Arena in Cologne, Germany
Mar. 25, 2019: Ziggo Dome in Amsterdam, Holland
Mar. 27, 2019: Hallenstadion in Zurich, Switzerland
Mar. 28, 2019: Arena Geneva in Geneva, Switzerland
Hours later, Minaj took to Instagram to "clarify" why she delayed the North American dates. "I haven't CANCELLED anything. I reversed the order of the US and EUROPEAN LEGS of my tour. This is for obvious reasons to anyone with a brain," she wrote. "My album was originally going to drop in June which would've given me three months of tour rehearsal. However, I was still writing and recording up to last week. We are all grown right? We can all do math right? Or will they just pretend to not have basic sense so that they can board the Nicki Hate train and get some clicks? I can't rehearse 4 WEEKS for a tour I originally planned on rehearsing three months for. I give my fans QUALITY. I write and co-produce my own music. Therefore, I can't rehearse while I'm WRITING and RECORDING my album. My true fans understand and know that I will deliver an extraordinary US TOUR which begins in MAY just like I delivered an extraordinary album entitled #Queen. My European fans get the SAME EXACT DATES they've always had. Australian fans SAME EXACT DATES they had. Cancelled what? Where? The narrative they are trying to create is disgusting. But I must say, I'm enjoying this. I love bringing some excitement to this s--t. I love having the balls others only dream about..." Minaj then gave a "shout out" to her fans around the world. "I love you guys so much for holding me down..."