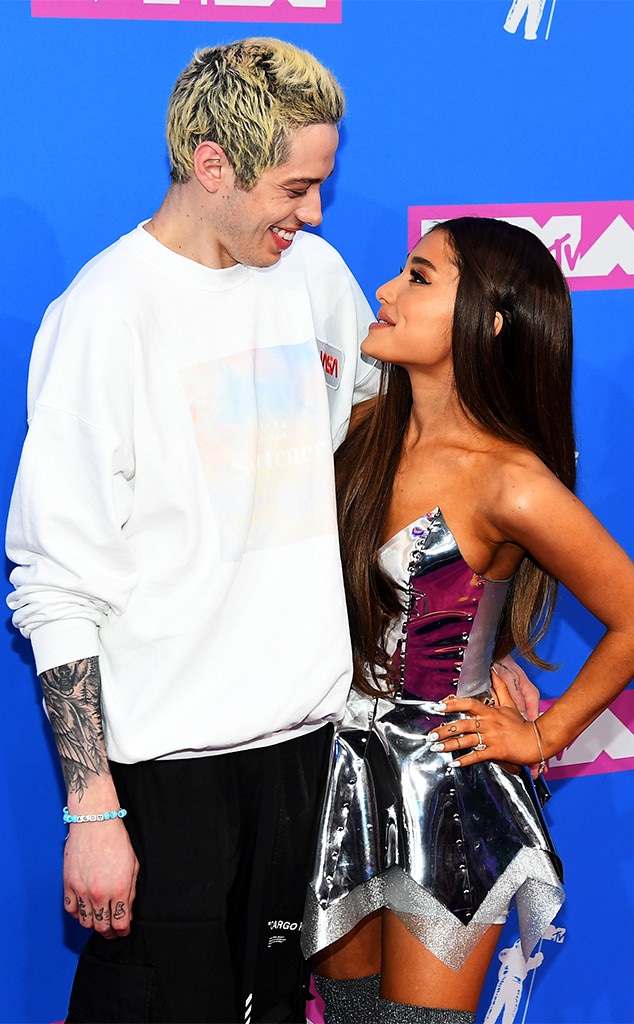 Nicholas Hunt/Getty Images for MTV
Here comes the bride, all dressed in white?
When the bride is Ariana Grande and she's walking down the aisle to fiancé Pete Davidson, one can only assume she'll stun in any ensemble she decides to wear. But we're getting ahead of ourselves here. The couple (Pariana? Grandson?) got engaged in June and have been very open about just how much they love each other. In fact, both of them had some pretty intense love-at-first-sight moments. Davidson told GQ recently he knew immediately he wanted to spend his life with Grande: "The day I met her, I was like, 'Hey, I'll marry you tomorrow.'"
The couple just made their red carpet debut together at the MTV Video Music Awards, where the Saturday Night Live cast member wore a blue bracelet with 3 lettered beads on it: AGD. Now the world can't wait to know when the couple will trade in the carpet for the aisle. E! News planned out their wedding for them, but in case they don't heed our predictions, where's what we really know so far.
Step one:  the engagement ring. After Grande accepted his non "googly" proposal, E! News spoke with the ring's designer Greg Yuna about the logistics. According to Yuna, "Pete called me at the end of May and said 'Look, I'm getting a ring. This is what I want.'" The pear-shaped ring took two weeks to make and weighs in at 3 carats. Davidson paid $93,000 for the beauty.
The Sweetener singer recently spoke with Ebro Darden on Beats 1 radio about her new album and answered some of his questions about details regarding the wedding date. Grande confirmed it'll be less than five years before they get married, but that leaves a large window of time between then and now. "[Five]Months: more, years: less," she said.
Some extremely observant fans circulated theories that their wedding could have been Aug. 4, 2018. Both Grande and Davidson got matching tattoos of the numbers "8418," but those four digits were Davidson's father's New York firefighter badge number. Scott Davidson died during the Sept. 11, 2001 attacks.
She mentioned to Darden that later "down the line," it's a possibility that there will be three Pariana miniatures running around. 
The "God Is a Woman" singer also told the radio host about a potential name change. He inquired whether or not she will hyphenate her name to Ariana Grande-Davidson and if that will be her stage name too. She smiled and said "yes" about the additional last name in her day-to-day world. Musical world, however, might turn out to be a bit different. "I feel like I would eventually just like to be 'Ariana,'" she answered. "I feel like its got a ring to it."
She then back-tracked and spoke about the importance of the name Grande, mostly because of her grandfather. So, only time will tell about whether or not she drops the Grande-Davidson for future albums.
Keep an eye out, Madonna.
Details of Grande's bridal party remain vague (one can only dream her collaboration bff Nicki Minaj will be a bridesmaid), the singer's brother Frankie Grande expressed his fervor for participating in the festivities. Frankie told Entertainment Tonight before the VMAs, "I'm excited. I'm excited for her and I'm excited for Pete. I think its going to be wonderful. I'm definitely in the bridal party. We're sorting out everything as of now, but I'll definitely be the 'gay of honor.'" 
The singer's mom, Joan Grande and grandma (nonna) Marjorie Grande will undoubtedly play a large role in the wedding, too. Grande has been very vocal about her love for the women in her family, which was evidenced even more during the VMAs. Her mom, grandmother and cousin all joined the star on stage during her "God Is a Woman" performance.
What—or who—the engaged couple will wear is also up for grabs, but there are some theories swirling. Grande is a noted Harry Potter fan and made sure we didn't forget she's a Slytherin. In fact, Grande and Davidson's first Instagram-official photo was of them wearing Harry Potter robes. Davidson donned the scarlet and gold of Gryffindor over rival Slytherin.
So whether they're in invisibility cloaks or Dior, there may (or may not) be a beloved stylist attached: Queer Eye's Tan France. Don't get too overeager, fans, because it's merely speculation. "I can neither confirm nor deny," France replied during an interview with Entertainment Tonight. 
Tan previously helped style Davidson during a Saturday Night Live sketch. Will his wedding suit have a French tuck?
France admired Grande's hair and expressed enthusiasm about her wearing her hair up on her wedding day. But we can leave that verdict to Jonathan Van Ness.
E! News will continue to update this story as more details surface.