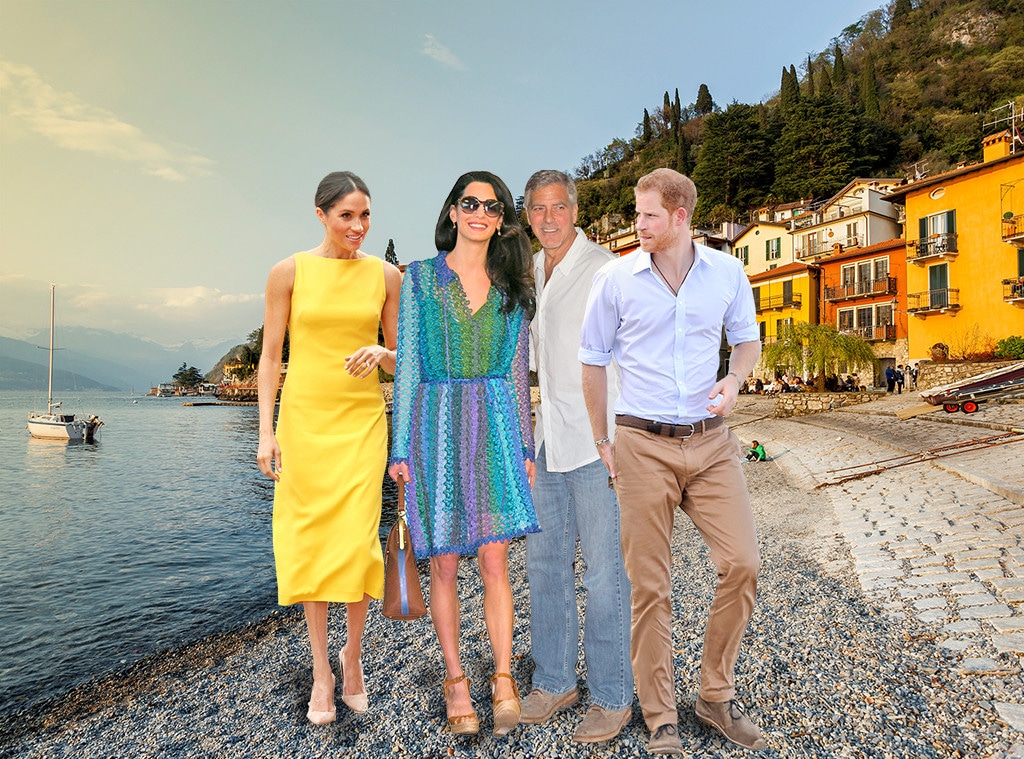 Getty Images/Instar; Melissa Herwitt/E! Illustration
As the saying goes, when in Lake Como, vacation with the Clooneys. 
Ok, so that's not exactly the saying, but for Prince Harry and Meghan Markle, that's just one of the perks that come with being friends with Hollywood royalty. According to reports, the real-life royals enjoyed an extended weekend away with the A-list pair at their waterfront villa in Lake Como, where the family of four spends most of their summers together. 
Per a report from Good Morning America, the Oscar winner flew the newly married couple to the Lombardy area of Italy on his private jet and they landed on Thursday. From the tarmac, the couple reportedly traveled by motorcade to the house with protection officers. 
As for what the group of four did during their days, GMA reported the ladies enjoyed time by the pool and played with the couple's twin daughter and son, Ella and Alexander, while George and Harry played basketball together with other friends and checked out the actor's motorcycle collection. 
Considering the Money Monster is known to be a hospitable host, it comes as no surprise that the star reportedly hosted a dinner for their many guests catered by his favorite local chef. 
As fans watched famous guests arrive to the royal couple's May nuptials with great anticipation, it was a welcome surprise when the Clooneys showed up in their wedding best—an indication that the two pairs had become close friends. As a palace source previously revealed to E! News, Harry and George have been friends for more than two years after meeting at a private charity function in the United Kingdom. 
As his romance with Markle ramped up, the Duke of Sussex introduced the former Suits star to George and Amal and the couple began hanging out regularly, considering they all have homes in England. They often would meet up at the Clooneys' house in Sonning and also dined in London together, where Harry's Kensington Palace apartment is.
As the source noted, "They all have a lot in common, so it just clicked as a four."
Should the the duke and duchess visit Markle's native California sometime soon, we have a feeling the star's Los Angeles home would be a stop on that trip.