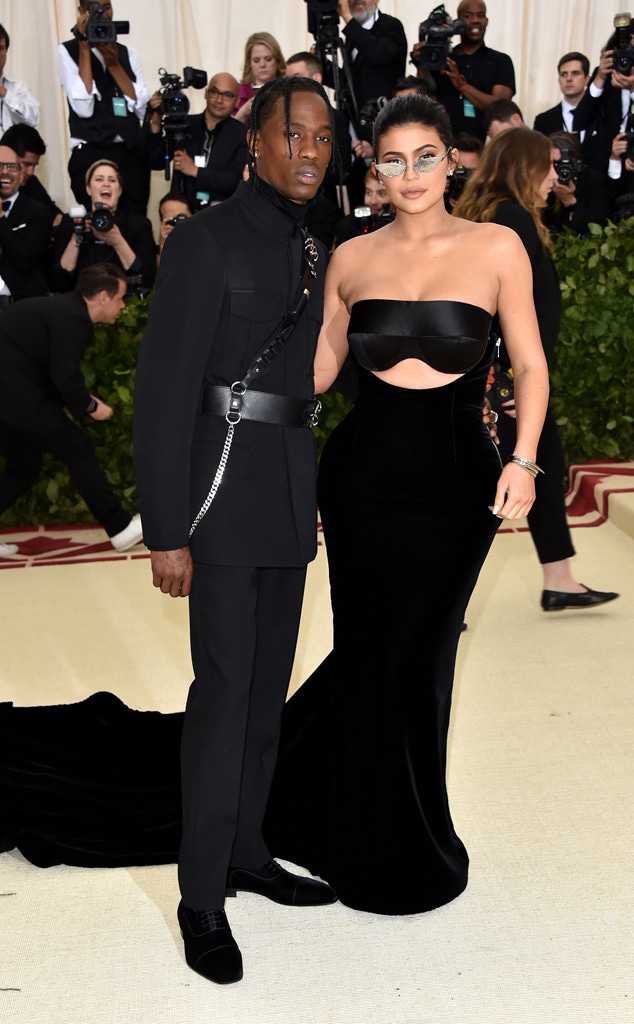 John Shearer/Getty Images for The Hollywood Reporter
The new king and queen of what you want to look at and listen to arrived at the 2018 MTV Video Music Awards in separate carriages.
Because why only make one grand entrance when you can make two?
Kylie Jenner, all business in a white belted mini trench dress, and Travis Scott, sporting some major bling around his neck to gussy up his casually bank-breaking outfit, walked the red carpet separately at the VMAs in New York on Monday, entered the venue late enough to miss Nicki Minaj and then proceeded to sit in Minaj's seats hours after the Queen artist called out the duo for using undue influence to keep her new album at No. 2, under Scott's Astroworld.
Minaj had left the building, needing to get downtown for her scheduled remote performance, so it's not as if she returned to her chair to find Kylie's famous bottom planted there. But still...
"I put my blood sweat & tears in writing a dope album only for Travis Scott to have Kylie Jenner post a tour pass telling ppl to come see her & Stormi. lol. Im actually laughing. #Queen broke the record of being number 1 in 86 countries. Thank Jesus & thank you to my fans..," Minaj had lamented (albeit with "sarcasm/dry humor," she insisted) on Twitter, posting a screen shot of Kylie's Instagram post, which included a link to buy Astroworld Tour passes and merchandise.
She then pointed an exquisitely manicured finger at Spotify, continuing, "Spotify put Drake's face on every playlist but told me they'd have to teach me a lesson for playing my music 10 mins early on [Apple Music's] #QueenRadio. Even tho they've been giving away my music for free for years & I am one of the top Spotify artists of all time." And, "Spotify had to teach me a lesson but rewarded the man who has had an Apple radio show the longest; inadvertently helping the Apple platform the most. Oh I can't wait for #QueenRadio on Tuesday. They took away my promotion they had promised for the 1st cpl days b/c of this. #Queen."
Kylie and Travis didn't bother replying (not with words, anyway), but a rep for Spotify sought to defuse the situation, giving Variety a list of the ways the streaming service did support Minaj's new release.
Minaj doubled down on her ire on her Apple Music show, charging that when Scott "realized that Queen was about to [be] the No. 1 album in America, he and his label decided to have Kylie and baby Stormi put up a tour pass… He had her post and say, 'Hey, me and Stormi can't wait to see y'all.' How are you selling something that does not have anything to do with your album but it is being counted on Billboard as album sales?"
But was it that big of a surprise that Scott's latest album—which, for the casual fan, is packed with Kylie and Stormi references in addition to the expected sonic adventure—stayed at No. 1?
First of all, Scott was a man on a mission, his crew acknowledging that it was a major disappointment that his previous album, Bird in the Trap Sing McKnight, wasn't nominated for any Grammys. For Astroworld, his third studio album, "we went back and wanted to make an album that was undeniable," his longtime A&R rep Sickamore told Rolling Stone.
And second, there's no such thing as a small boost from Kylie Jenner—who would've promoted the heck out of her boyfriend's new album by any means necessary no matter who the incoming artists were that week. Nicki Minaj may have just been the latest to get caught under the tidal wave that is Kylie's social media influence.
And it could be worse. Nicki could be Snapchat, whose stock price happened to take a dive after Kylie dissed her once-favorite app's redesign.
"I didn't know I had that power," Kylie claimed in GQ's July profile of her and Scott.
Well, she does. Forbes recognized it, putting the then still only 20-year-old star on the cover of its "America's Women Billionaires" issue, Jenner the youngest person on the magazine's list of "America's Richest Self-Made Women." The description, considering Kylie comes from money, proved controversial, with some arguing that "self-made" wasn't an accurate assessment.
But what's any cultural conversation these days that doesn't include at least one member of this family?
And quibble all you like, but Kylie Cosmetics—a brand entirely conceived by its namesake, who started out by simply monetizing her fans' rapt interest in how she got her signature pout—has reportedly notched more than $630 million in sales since it launched on the strength of Jenner's instantly sold-out Lip Kits. So far she's turned down any offers to buy her out, meaning she still owns 100-percent of the brand. ("It's always something that we're willing to explore," momager Kris Jenner assured Forbes.)
All told, including money she's earned from (among other things) her and Kendall Jenner's Kendall + Kylie shoes and accessories, modeling, endorsements, and Keeping Up With the Kardashians and her spin-off Life of Kylie, Forbes "conservatively" estimates her net worth to be around $900 million.
A woman of few words when it comes to her fierce paper-making skills, Kylie simply told the magazine, "Social media is an amazing platform. I have such easy access to my fans and my customers."
And she's found an ideal foil in Scott, who has his own bucket list of goals to achieve (hear that, Grammys?) and who prefers not to dilly-dally with photo shoots (but he will, for Kylie) or other frivolities that distract from his music. 
Asked by GQ what he considered his biggest career mistake to date, Scott fired back, "Nothing. What the f--k is a mistake?" So the couple are also joined by the courage of their convictions.
While Tyga had some choice things to say after they broke up about dating Kylie and getting to know her famous family, Scott—who had known Kylie for years before he fathered one of Kris Jenner's nine grandchildren—is going with the flow so far.
Regarding the endless series of headlines about them, Kylie admitted to GQ that Scott "gets more angry about things" than she does—but so does everybody who isn't used to living under that microscope, including her girlfriends.
"I don't think he's really cool with it," she acknowledged, "but he deals with it, because we love each other and we have a family. For sure, I know he doesn't like the attention. That's why we just go the extra mile to keep our relationship super private, or like, if he has events or something, I won't come. Because I want him to do his own thing. I want him to be him. I don't want it to be Kylie and Trav. If people don't ever see us together, that's okay with me, because we just do our thing."
That being said, Kylie does support Scott wholeheartedly, joining him in Chicago earlier this month for his Astroworld listening party during Lollapalooza. And that's also what she was doing on Monday at the VMAs, only the second red-carpet event they've attended together.
In the absence of Beyoncé and Jay-Z (or Kim and Kanye), Kylie and Travis swept into the VMAs as if they owned the place and, originally slotted to sit behind Minaj, decided her slightly better pair of seats—right next to the other big couple of the hour, Pete Davidson and Ariana Grande—would suit them better instead.
Kylie recorded Travis' performance on her phone and then she split too, off to 1OAK for Scott's private VMAs after-party.
A little dismissive of the VMAs themselves? Maybe. She and Scott were even called out by Rolling Stone for watching Jennifer Lopez's seemingly epic performance "like they were at home watching the VMAs on TV." (RS also cited Scott's time on stage with James Blake as one of the night's best moments.)
But Kylie isn't exactly one to care what it is she's supposed to be doing, if the events of the past year weren't already an indication.
The now 21-year-old cosmetics queen, who spent the last decade in the spotlight as part of the reigning first family of reality TV, has had lots of time to prove skeptics and critics wrong at every turn—and that was no less the case when it turned out she was pregnant with her first child. What better—and better yet, unexpected—move then than to tune out the haters by almost dropping out of sight altogether, easing up on her social media presence and enjoying her pregnancy on her own terms?
That's exactly what she did, going so under the radar that even her most devoted fans were left guessing until go time just how well her relationship with her child's father, the exceptionally taciturn Travis Scott, was going as they prepared to become first-time parents.
As it turned out, they were only growing stronger together.
They had crossed paths numerous times in the past, Scott having been a member of Kanye West's G.O.O.D. Music family since 2012, "but we never really had a conversation because I thought that he didn't like me," Kylie said in a GQ video this summer.
It was at Coachella in 2017 where they really bonded. And it went so well, Kylie just hit the road with Travis afterward.
"So he said, 'I'm going back on tour—what do we want to do about this?' Because we obviously liked each other," she recalled the pivotal moment to GQ. "And I was like, 'I guess I'm going with you."
At the time that move could've been chalked up to one more moment in questionable Kardashian-Jenner relationship choices, but Kylie's gut instinct was spot-on. Who knew picking Scott's tour for a second date activity would be the most momentous "sure, why not?" of her life?
"Say you was in the crowd / I never looked / Looking back how things came back around / Guess I was hooked," Scott raps on "Wake Up," off of Astroworld. "Burn the bread and then we burn the town / We both was cooked."
Her mom "knows I beat to my own drum," Kylie continued, explaining her family's reaction to her admittedly impulsive decision. "My whole family knows that I do whatever I'm going to do. I've been that way my whole life. I don't really answer to anybody. I live on my own, and so I just rode off into the sunset. We had a lot of downtime. It was organic. And we would just go to these random cities. We got to not be who we really were. Like, if we were in L.A., I feel like it would've been way different. Everything happened for a reason. We weren't going out as 'Kylie and Trav.' We would just be in Cleveland, walking the street for hours. We would go on walks, and no one would bother us."
Proving that she does know the difference between private and public, Kylie—who now has 113 million Instagram followers—was only photographed with Travis a handful of times before word got out last September that she was pregnant. And not until Stormi was born on Feb. 1 did she even acknowledge that yes, she had been expecting.
"I'm sorry for keeping you in the dark through all the assumptions," Kylie wrote, clearing the air on Instagram a few days after giving birth. "I understand you're used to me bringing you along on all my journeys." She explained that she basically wanted to minimize stress as much as possible, and so decided "to do it this way for my little life and our happiness."
She couldn't have made a more masterful move when it came to seizing control of the narrative. 
Now Stormi is 6 1/2 months old, already boosting her dad's album sales, and life is bigger than ever for her parents, who are operating at the height of their powers when it comes to social media savvy, creative expression and business acumen. Moreover, having cornered the youth market for the foreseeable future, they should be occupying this throne for quite some time.
"Maybe one day [I'll] pass this on to Stormi, if she's into it," Kylie told Forbes, referring to her business.
But she just as well could have been referring to an entire way of life.