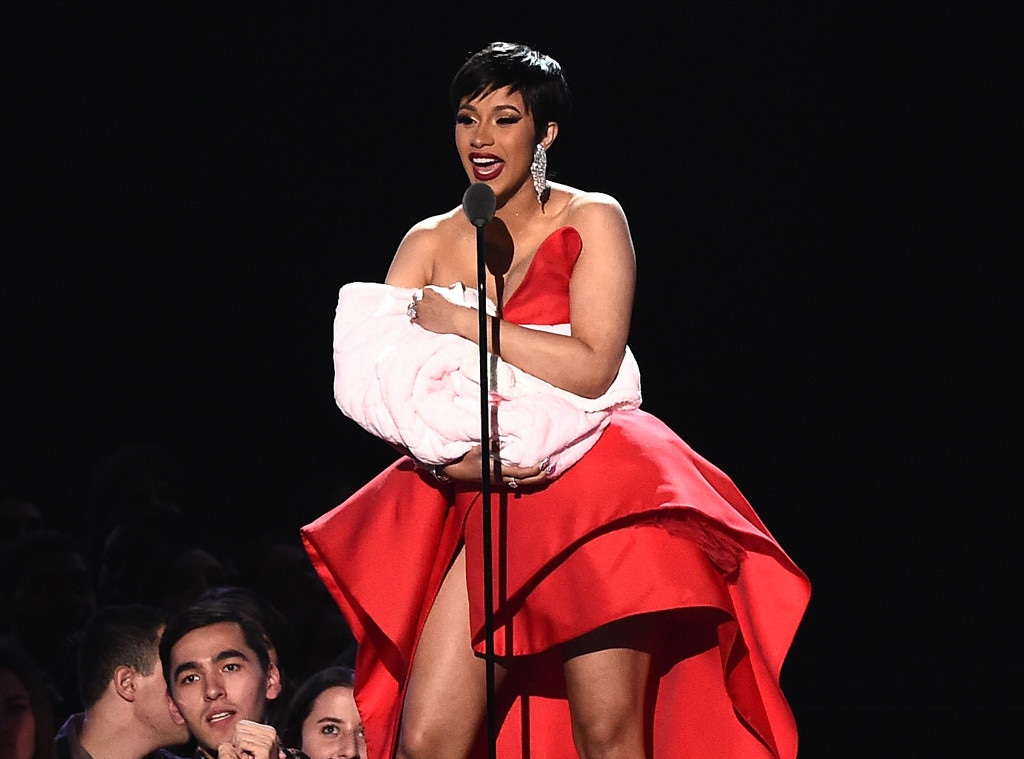 Michael Loccisano/Getty Images for MTV
Did Cardi B stir the royal pot? 
While the 2018 MTV Video Music Awards went off with little drama this year, some couldn't help but notice that the "I Like It" star possibly flung some shade toward a fellow female rapper when it came time to open the show. 
As viewers remember, Cardi kicked off the ceremony with a brief skit and trolled the audience with a fake baby bundle. But, it was what she said before she unwrapped a moon person statue that raised some eyebrows. 
"Welcome to New York, everybody—I am the empress," she said with a laugh, a moon person secretly bundled in her arms. 
Some interpreted the comment as a dig at Nicki Minaj, who recently dropped her fourth studio album, Queen. 
Watch:
2018 MTV VMAs: Must-See Moments
Minaj and Cardi, who took home one and three awards respectively on Monday night, were rumored to have beefed in the past, though it was thought that any conflict had been resolved when they were photographed talking at the 2018 Met Gala. 
Still, on Minaj's newly released "Ganja Burns," one line got fans' attention: "They done went to witch doctors to bury the Barbie/But I double back, kill bitches, bury the body." When listening to the track, it sounds like Minaj says "Bardi" instead of "body," an obvious reference to Cardi B's nickname. 
Ebro Darden broached the topic during his interview with Minaj on Apple's Beats 1 Radio. "I didn't know Cardi and I had an issue, but I guess we do since you're saying and other people are saying it. To me, she may have taken an issue with things that I've said, but I'm not going to bite my tongue," she retorted. "You gotta have thick skin. People talk s--t about me all the time."
Whatever the case, it doesn't sound like this beef is going to boil over any time soon. In a new track Cardi B rapped along to at a VMA after-party at Tao, the lyrics included, "'I'm the queen of talking s--t /yeah I'm backing it up/yeah, back, back, backing it up."
According to video taken of the star, the track also had the line, "I know how to get a bitch mad." Are those more verbal shots as Minaj? 
Your guess is as good as ours.