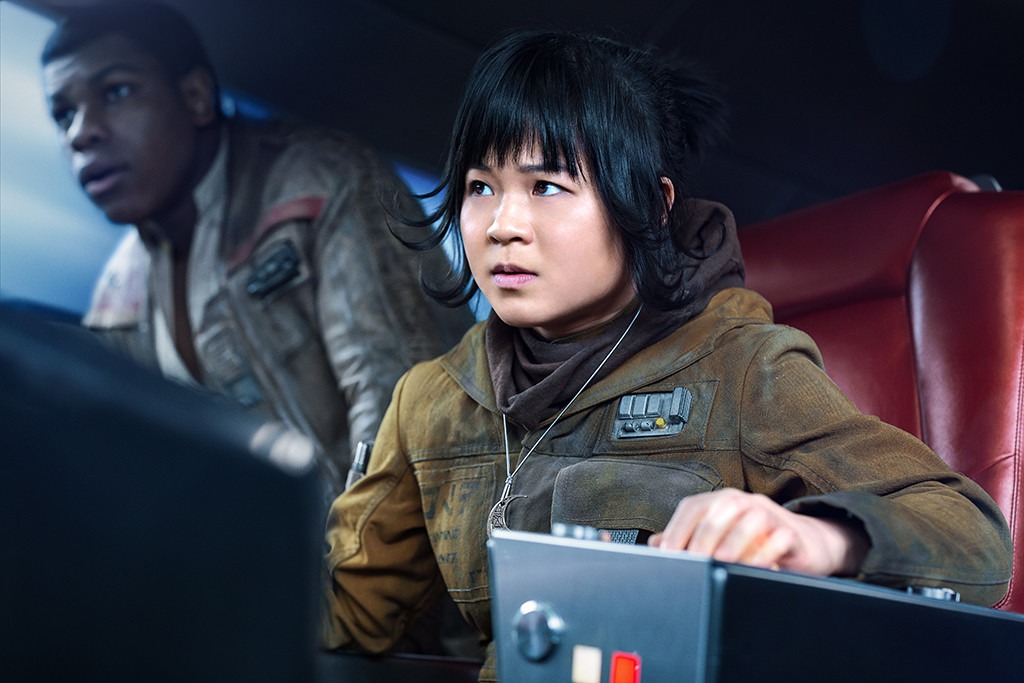 Jonathan Olley/Lucasfilm Ltd.
On the big screen and in real life, Kelly Marie Tran is a hero.
In June, the 29-year-old actress deleted her Instagram account after months of online harassment from racist and sexist trolls. Many of her Star Wars: The Last Jedi colleagues, including director Rian Johnson and co-stars John Boyega and Mark Hamill, came to her aid. But Tran never explained why she abruptly abandoned the social media platform—until now.
Tran, who will reprise her role as Rose Tico in next year's Star Wars: Episode IX, wrote an essay for The New York Times recounting a lifetime of being marginalized due to her gender and Vietnamese heritage. Tran, whose parents are refugees, was born and raised in San Diego, Calif.
"It wasn't their words, it's that I started to believe them," the actress began. "Their words seemed to confirm what growing up as a woman and a person of color already taught me: that I belonged in margins and spaces, valid only as a minor character in their lives and stories. And those words awakened something deep inside me—a feeling I thought I had grown out of."
Tran recalled how, at age 9, she stopped speaking Vietnamese "because I was tired of hearing other kids mock me." She recalled how, at age 17, she "ordered a meal in perfect English" at dinner with her white boyfriend's family, to their waitress' surprise. According to Tran, "Their words reinforced a narrative I had heard my whole life: that I was 'other,' that I didn't belong, that I wasn't good enough, simply because I wasn't like them. And that feeling, I realize now, was, and is, shame, a shame for the things that made me different, a shame for the culture from which I came from. And to me, the most disappointing thing was that I felt it at all."
Tran argued that while society "taught some people they were heroes, saviors, inheritors of the Manifest Destiny ideal," the same society also taught her she (and people like her) "existed only in the background of their stories," usually depicted onscreen as doctors, friends or manicurists.
"And for a long time," Tran wrote, "I believed them."
"I believed those words, those stories, carefully crafted by a society that was built to uphold the power of one type of person—one sex, one skin tone, one existence," she added. "It reinforced within me rules that were written before I was born, rules that made my parents deem it necessary to abandon their real names and adopt American ones—Tony and Kay—so it was easier for others to pronounce, a literal erasure of culture that still has me aching to the core."
Admittedly, Tran said she "started blaming myself." Would things be different if she were thinner? If she grew out her hair? Tran asked herself a lot of questions back then. "Worst of all," she thought life might change "if I wasn't Asian." For months, Tran said she went "down a spiral of self-hate, into the darkest recesses of my mind, places where I tore myself apart, where I put their words above my own self-worth. And it was then that I realized I had been lied to." Now, Tran said, she realized she "had been brainwashed into believing that my existence was limited to the boundaries of another person's approval. I had been tricked into thinking that my body was not my own, that I was beautiful only if someone else believed it, regardless of my own opinion. I had been told and retold this by everyone: by the media, by Hollywood, by companies that profited from my insecurities, manipulating me so that I would buy their clothes, their makeup, their shoes, in order to fill a void that was perpetuated by them in the first place."
Annie Leibovitz exclusively for Vanity Fair
That aha-moment created a new shame—"not a shame for who I was, but a shame for the world I grew up in," she said. "And a shame for how that world treats anyone who is different."
"I am not the first person to have grown up this way. This is what it is to grow up as a person of color in a white-dominated world. This is what it is to be a woman in a society that has taught its daughters that we are worthy of love only if we are deemed attractive by its sons," she said in The New York Times. "This is the world I grew up in, but not the world I want to leave behind." Tran will be doing her part to ensure society embraces "people of all races, religions, socioeconomic classes, sexual orientations, gender identities and abilities," she wrote, adding, "This is the world I want to live in. And this is the world that I will continue to work toward."
The actress ended her essay on an empowering note, writing, "You might know me as Kelly. I am the first woman of color to have a leading role in a Star Wars movie. I am the first Asian woman to appear on the cover of Vanity Fair. My real name is Loan. And I am just getting started."