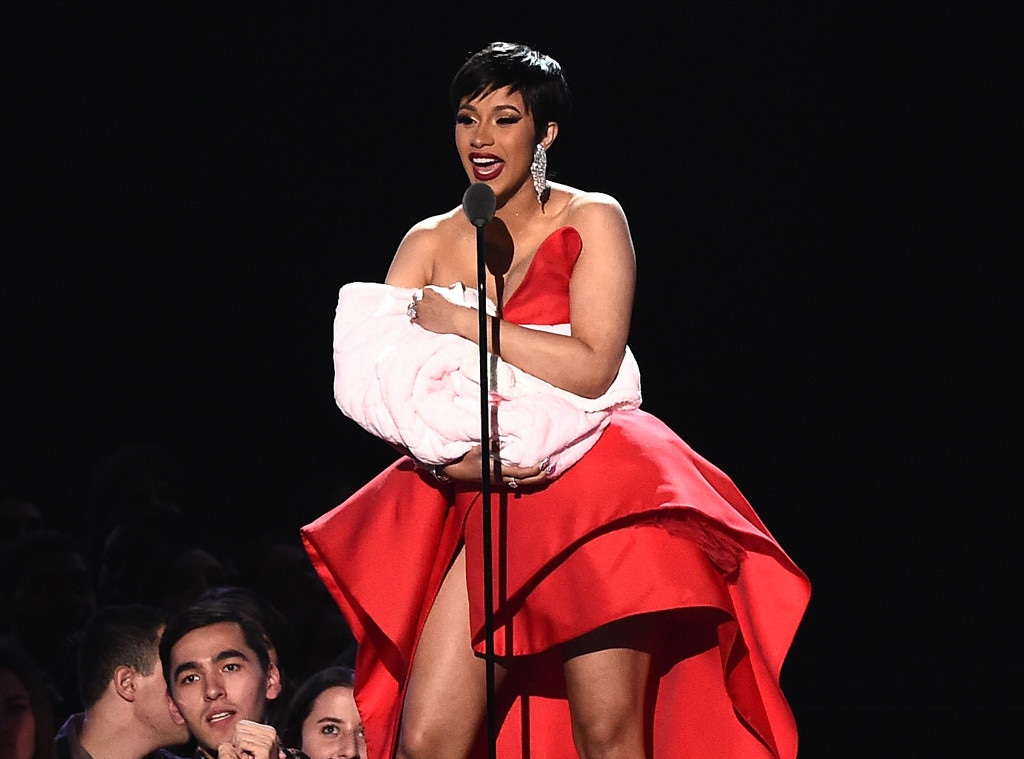 Michael Loccisano/Getty Images for MTV
Last night was the 2018 MTV Video Music Awards and, like every year, the show was nothing if not full of exciting appearances, performances and awkward moments.
Surprisingly enough, the annual event had no host for the duration of the three-hour program, but the myriad of famous presenters and fun-filled performances made for one eventful show. Jokes and speeches abounded throughout the night, with quick glimpses of the A-list audience filling the moments in between.
Although, upon reflection, Camila Cabello dancing her heart out to Maluma with her mom was not actually a performance, it was just an impromptu—and adorable—dance party.
In addition to the "Havana" singer's mother-daughter moment, plenty of other sights stole the show. To see which celebs made jaws drop, check out the list below!
Cardi B and Her "Baby": In one of her first post-pregnancy appearances, Cardi B tried to trick her fans into thinking baby Kulturewould make her official debut at the awards show. Looking like a brunette version of Tinkerbell, the rapper cradled a soft pink baby blanket for the opening of the show, before un-wrapping the tightly swaddled blanket to reveal a shiny Moon Man. 
Couples Galore: From Lil Xan and Noah Cyrus, to newly-engaged Ariana Grande and Pete Davidson, all of Hollywood's favorite couples came out in droves for the glitzy event. Among the famous pairs who decided to make this year's show their date night, was none other than Amandla Stenberg and girlfriend King Princess, née Mikaela Strauss. Things are still new for the actress and singer, but Amandla, who came out as gay in June, was all smiles while walking the red carpet with her girlfriend by her side.
Tiffany Haddish Simultaneously Shades Camila Cabello and Fifth Harmony: Never one to shy from controversy, the Girls' Trip star gave a shout-out to her girl… uh, what's her name again? "Camila Cabellelo... Cabello... Camille Cabello," the comedian said, with Night School co-star Kevin Hart standing by her side. She quickly clarified, "You know I can't read that good. I only speak English, and that's mostly in Ebonics. She's nominated for five VMAs tonight. I'm super proud of her!"
She added further insult to injury when she shaded Cabello's former band mates. "So for those of you watching at home," Tiffany teased, "Hi, Fifth Harmony!"
It's safe to say more than a few jaws dropped when Haddish joked about the artist's departure from the girl group. Bebe Rexha and Camilla Cabello were just one of the many shocked faces that could be seen in the audience.
Watch:
2018 MTV VMAs: Must-See Moments
Jennifer Lopez's Show-Stopping Performance: It is no wonder this performer was honored with the Michael Jackson Video Vanguard Award last night. In a truly jaw-dropping performance, the 49-year-old danced and sang her greatest hits for the crowds. Not only did she sing iconic songs from her Jenny From the Block days, to her recent single, "Dinero," the mother-of-two slayed the stage with her fiery dance moves and impressive twerking skills. And when Ja Rule joined the star to sing "I'm Real," the crowd couldn't help but go wild, as any fan of J. Lo would.
The long-awaited The Hills reunion: If the name of the reboot itself didn't move you to tears, then the acoustic version of Natasha Bedingfield's "Unwritten" did. During the show, MTV took a break from the glitz and glamour to take viewers back to the aughts, when the reality show was at its prime. Before making the official announcement, the cast—minus a few stars—reunited on the red carpet for a quick photo-op and a snuggle with Heidi and Spencer Pratt's son, Gunner.