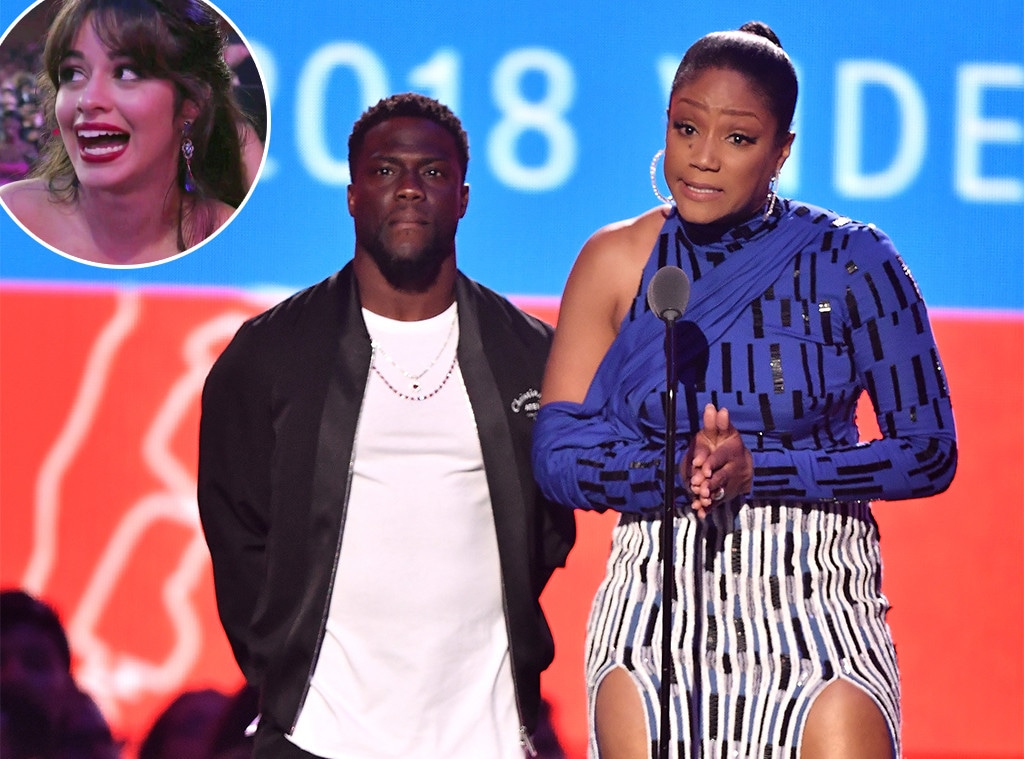 Michael Loccisano/Getty Images for MTV
Tiffany Haddish is Team Camila Cabello... even if she can't pronounce her name. 
While presenting the award for Best Hip Hop Music Video (which went to Nicki Minaj), at tonight's 2018 MTV Video Music Awards the Girls' Trip star paid tribute to the one and only Camila, or Camille, or whatever she goes by! 
"Camila Cabellelo... Cabello... Camille Cabello," Haddish said alongside Kevin Hart, adding, "You know I can't read that good. I only speak English, and that's mostly in Ebonics. She's nominated for five VMAs tonight. I'm super proud of her!"
The "Havana" songstress took Haddish's mix-up and glowing compliment in stride, flashing her signature pearly whites as the camera panned for her reaction.
But are you ready for that shade? Drumroll, please.... "So for those of you watching at home," Tiffany teased, "Hi, Fifth Harmony!"
Burn...
Kevin chimed in, "Tiffany went there. See, you never know what's gonna happen at the VMAs. Beefs pop off, bad language, people run to the bathroom and send outcrazy tweets. It's basically like any day in the White House." 
Camila didn't take as kindly to Tiffany's dig, shaking her head as fellow attendees like Bebe Rexha looked shock by her comment. 
As fans have come to understand since Cabello split from the girl group in 2016 and Fifth Harmony further disbanded earlier this year, there's no bad blood between the pop stars. 
Watch:
Lauren Jauregui Likes Performing Solo After Fifth Harmony
In fact, Fifth Harmony took home three VMAs over the years for Best New Artist, Best Pop Music Video and Best Collaboration. Nicki Minaj further defended Fifth Harmony in her acceptance speech, telling Tiffany, "Don't be coming for Fifth Harmony because Normani is that bitch!" 
It's the VMAs, and anything can happen!