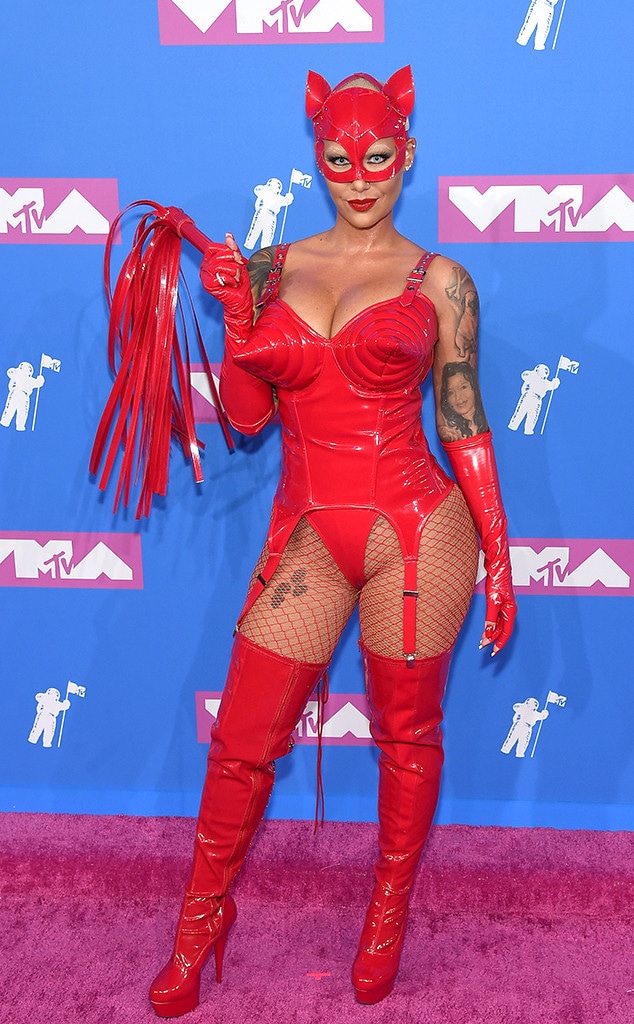 Jamie McCarthy/Getty Images
Amber Rose just made quite the statement at the MTV Video Music Awards at Radio City Music Hall in New York City.
Rose walked the red carpet in a latex red leotard that connected to her matching knee-high heeled boots. The model also sported red fishnets, a red whip, red face mask with horns, and red elbow-length fingerless gloves. Needless the say, Rose just redefined what it means to wear red on the red carpet.
Twitter users immediately likened her sartorial choice to remind the world that Halloween is closer than we think. "Halloween came early for Amber Rose," one Twitter user wrote. 
If it's Halloween already, the rest of the costumes can just head on home. 
This is hardly the first time Rose has made a statement at this awards show. In 2017, she and 21 Savage made their red carpet debut together where she wore a stunning brunette wig and beaded black gown. In 2014, the model paid homage to Rose McGowan's 1998 dress in a look that showed more skin that covered it.
In 2009, she and then-boyfriend Kanye West arrived together and she rocked a snakeskin-colored bodysuit while West held a bottle of Hennessy. That was also the same year as the infamous "Taylor imma let you finish..." moment.
Rose has always been outspoken and proud of her body and often posts scantily clad pictures of herself on Instagram. Back in June 2017, she uploaded a photo of herself wearing nothing but a bikini top, which Instagram immediately took down.
The model runs the Amber Rose Slutwalk, whose mission is to raise awareness about "sexual injustice and rape culture."
Whether she's more Beezleub or Catwoman, Rose is slaying the red carpet competition left and right.
Check out more VMA red carpet looks here.