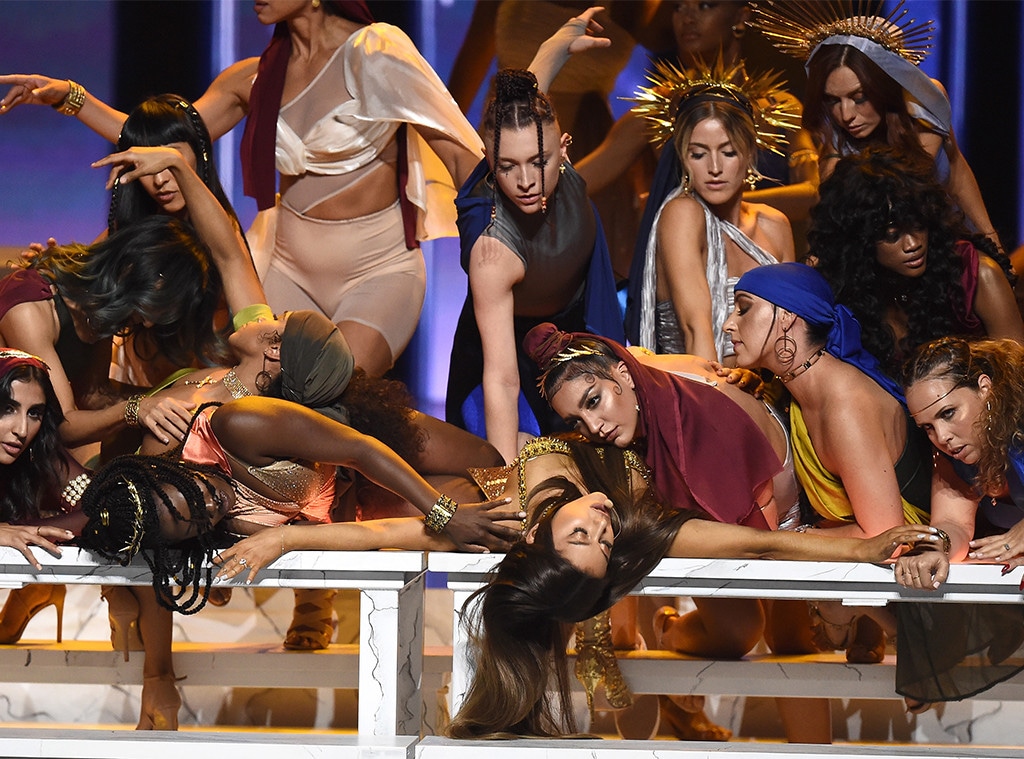 Michael Loccisano/Getty Images for MTV
Ariana Grande just spiced up her MTV Video Music Awards performance.
The Sweetener singer took the stage at Radio City Music Hall in New York City during the annual awards show and she was far from alone. Grande was accompanied by a group of approximately 50 diverse women of all shapes, sizes and colors during her performance of "God Is a Woman." Grande's mom, nonna (grandma) and cousin walked out with the performer holding hands at the end of the song.
The performance paid homage to The Last Supper as Grande and her fellow dancers sat at a long table, evoking Leonardo da Vinci's painting. The dancers wore crowns, sashes and bright colored pieces. In typical Grande style, the singer wore a gold, beaded two-piece outfit and knee-high boots. The set was designed with pillars and had a Renaissance feel.
The "No Tears Left to Cry" songstress hinted at the female-centric performance in a tweet. In a photo showing her body intertwined with four other women, she wrote, "see u tomorrow."
Grande and her fiancée Pete Davidson made their red carpet debut together at the awards show and looking longingly at each other during the pre-show. The engaged couple packed on the PDA and not-no-sneakily snuck off the carpet. They did all of this, of course, while photobombing and crashing a reunion photo of The Hills cast, which included Heidi Montag, Spencer Pratt and Audrina Patridge. After all, Davidson's 6'2 frame is a bit hard to hide.
It turns out that Davidson doesn't wear his heart on his sleeve, but rather on his wrist. He wore a blue beaded bracelet with with letters "AGD" on it.
Before the duo strutted the carpet at the VMAs, the couple got engaged in June and have been showing their love for each other in a number of ways. There's even a song named after Davidson—it's aptly titled "Pete Davidson"—on her album. She recently opened up about how the Saturday Night Live comedian proposed to her. "It was just really simple and really sweet," she said. "We were just like hanging out and he had a ring and he just asked me. It was really sweet. He didn't get on the knee or anything, thank God...oh my God, that would've been so googly."
Davidson doesn't mind being "googly" when it comes to talking about how he feels. He recently told GQ that he considers himself "the luckiest guy in the world." 
Check out more unforgettable VMA red carpet couples here.