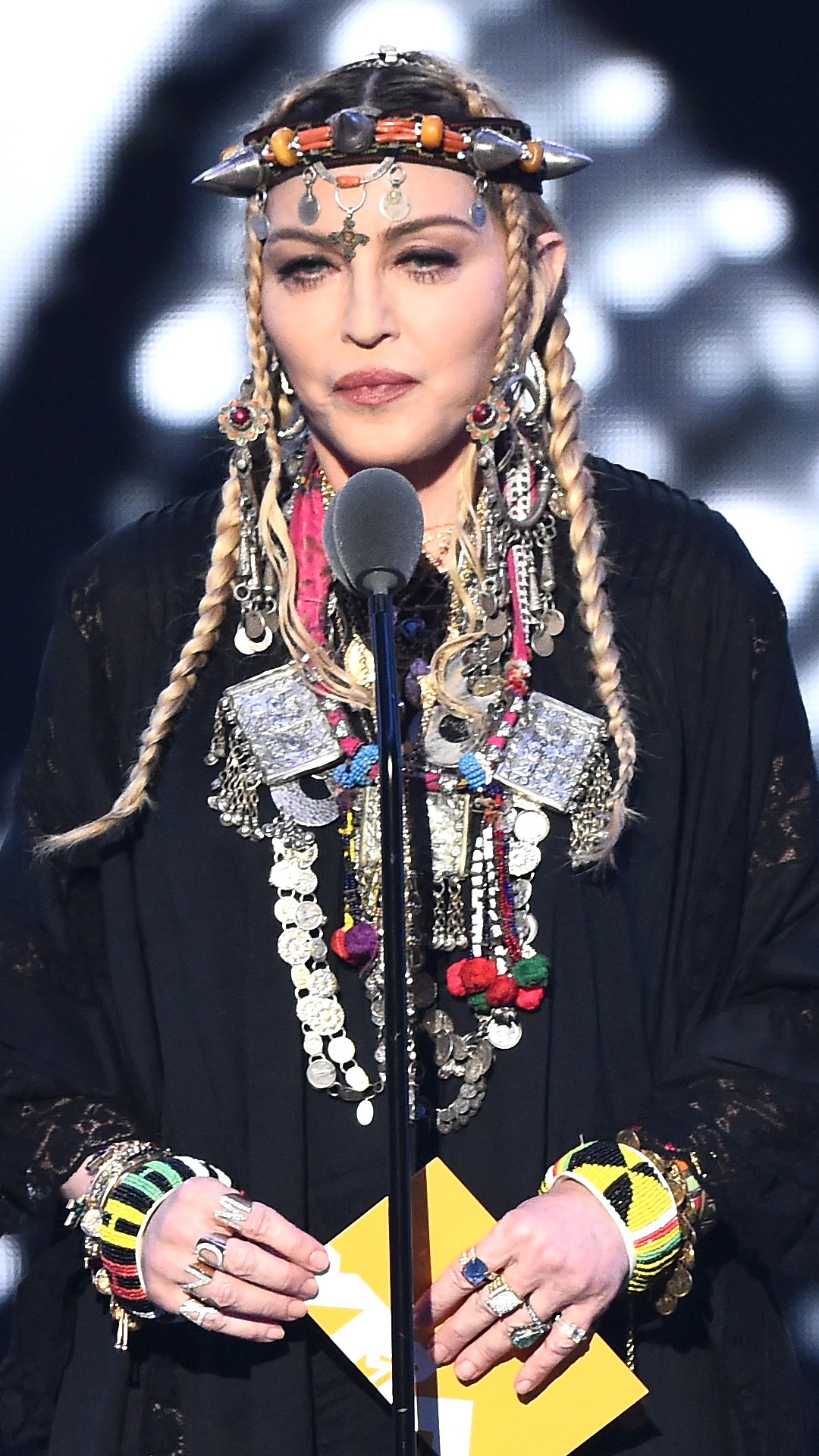 Michael Loccisano/Getty Images for MTV
 The MTV Video Music Awards paid their R-E-S-P-E-C-Ts to Aretha Franklin, who passed away on Aug. 16 at the age of 76.
Madonna gave a speech about the Queen of Soul's influence on her life and how she owes a major part of her career to Franklin. "Aretha Louise Franklin changed the course of my life," Madonna said in her speech.
The star provided an anecdote about just how her musical trajectory would not be the same without Franklin. In her early 20s, the "Like a Virgin" singer auditioned in front of two French record producers and sang Franklin's hit "(You Make Me Feel Like) A Natural Woman." Madonna's a Capella cover of the song was enough to woo over the producers who helped launch her music career.  "None of this would have happened, could have happened, without our lady of soul. She led me to where I am today. And I know she influenced so many people in this house night. In this room tonight. And I want to thank you, Aretha, for empowering all of us," she said.
"Long live the queen," the Queen of Pop said.
Fred A. Sabine/NBCU Photo Bank
Tributes poured out across the Internet after her death was confirmed. John Legend  called her "the greatest vocalist I've ever known." Fellow musical legend Elton John  said she was "one of my favorite pianists." He continued, " I adored her and worshipped her talent...The Queen is dead. Long live the Queen." Barbara Streisand tweeted, "It's difficult to conceive of a world without her. Not only was she a uniquely brilliant singer,but her commitment to civil rights made an indelible impact on the world."
The outpouring of love and mourning didn't only come from the music community. Politicians and television hosts wrote about their own relationships with Franklin. President Barack Obama and Michelle Obama released a statement about the "Respect" singer and her influence on the world. It read, "For more than six decades since, every time she sang, we were all graced with a glimpse of the divine. Through her compositions and unmatched musicianship, Aretha helped define the American experience. In her voice, we could feel our history, all of it and in every shade—our power and our pain, our darkness and our light, our quest for redemption and our hard-won respect. She helped us feel more connected to each other, more hopeful, more human. And sometimes she helped us just forget about everything else and dance."
NBC Nightly News anchor Lester Holt  felt "overwhelmingly sad" after hearing the news.
Reports that the Queen of Soul was "gravely ill" first emerged on Aug. 13. She was surrounded by her family at home and before she died, she was visited by her close friend Stevie Wonder.
The VMAs homage isn't the last time the world will see a tribute to the Queen. A concert called "Clive Davis Presents: A Tribute to Aretha Franklin" is planned for Nov. 14 at Madison Square Garden in New York.
Franklin's funeral will be on Aug. 29 in Detroit, which will be held after two days of public viewing.
Take a look back at some of the Queen of Soul's most groundbreaking moments here.