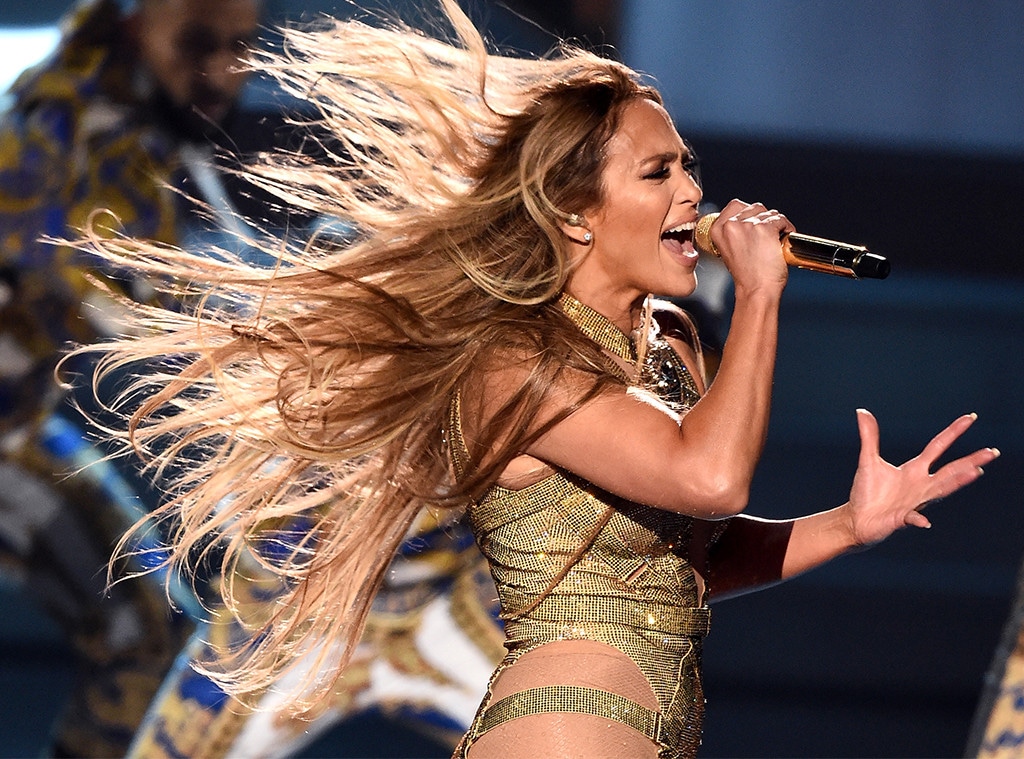 Michael Loccisano/Getty Images for MTV
Jennifer Lopez has been waiting for tonight! 
The Latin pop sensation owned the 2018 MTV Video Music Awards on Monday evening, cementing her status as an official Michael Jackson Video Vanguard honoree. In July, MTV announced that J. Lo would join the ranks of music legends like Janet Jackson, Madonna, David Bowie and Beyoncé in receiving the award recognizing performers with unprecedented achievements in visual artistry. 
So how did Lopez make her mark at the VMAs? With a stunning performance of hits reflecting the world-famous star's iconic past, epic present and what's sure to be an even more exciting next era in her career! 
Flanked by a group of male and emale backup dancers, Lopez lit up Radio City Music Hall with a medley of songs including "Waiting for Tonight," "On the Floor," "Dance Again," "Ain't Your Mama," "Booty," "Love Don't Cost a Thing," and "Get Right." 
Michael Loccisano/Getty Images for MTV
Lopez even took it back to the early 2000's when she strapped on her white fur coat and belted out "All I Have," as her mom, Guadalupe Rodríguez, and daughter Emme sang along. The performance continued with a surprise appearance by Ja Rule who helped revamp their classic collaboration "I'm Real," while J. Lo changed from her glittering gold bodysuit into matching parachute pants. Lopez concluded the medley with "Dinero." 
Shawn Mendes presented Jennifer with the award, which she said during her acceptance speech was a "tremendous honor for me." Explained Lopez, "It has been an incredible journey of dreaming my wildest dreams and then watching then come true. Music, acting, performing...This career has always been kind of an obsession for me." 
Jennifer reflected on having to "forge my own path and make my own rules" during the early days of her career, until she gave birth to her "two little angels," twins Max and Emme Anthony. 
"I knew i had to better and be stronger than I had been before," Lopez said of motherhood. "My whole life became clearer in every way. I stand here stronger and better than ever. So thank you Max and Emme. There's so much to do and I know in my heart that the future is brighter now because of you." 
Also cheering on Lopez was from the front row was none other than beau, Alex Rodriguez, who has even lent his unwavering support during rehearsal sessions for the big performance.
Jennifer called A-Rod her "twin soul" in the emotional acceptance speech, gushing, "We're mirror images of each other. My life is sweeter and better with you in it because you make me realize the sky is not the limit. The universe is infinite, and there's so much we can accomplish together with love, trust and understanding." 
Prior to the show, the former MLB pro gushed on social media, "The amount of sweat, focus, drive and determination she puts in everything she does is truly inspiring. She's the embodiment of what the Michael Jackson Video Vanguard Award represents. A lifetime of achievement, and she still reaches for the sky every single day.
Just days ago, the 49-year-old "On the Floor" songstress touched on the importance of taking home the Video Vanguard Award in an emotional Instagram post. Jennifer referenced the music video for 2002's "Jenny From the Block" and album This Is Me... Then, writing, "At that time I truly realized that being an artist meant you have to be vulnerable and bare your heart and soul...it takes courage to do that...to really show who you are at any given moment in time...and this was me then... completely."
She continued, "And one of the things that was important for me to remind everyone of in that moment was who I am and who I will always be...don't be fooled by the rocks that I got I'm still I'm still...JENNY FROM THE BLOCK." 
Lopez was also nominated for Best Collaboration and Best Latin Video for her song "Dinero" featuring Cardi B and DJ Khaled. 
Check out the complete list of 2018 MTV VMAs winners here!