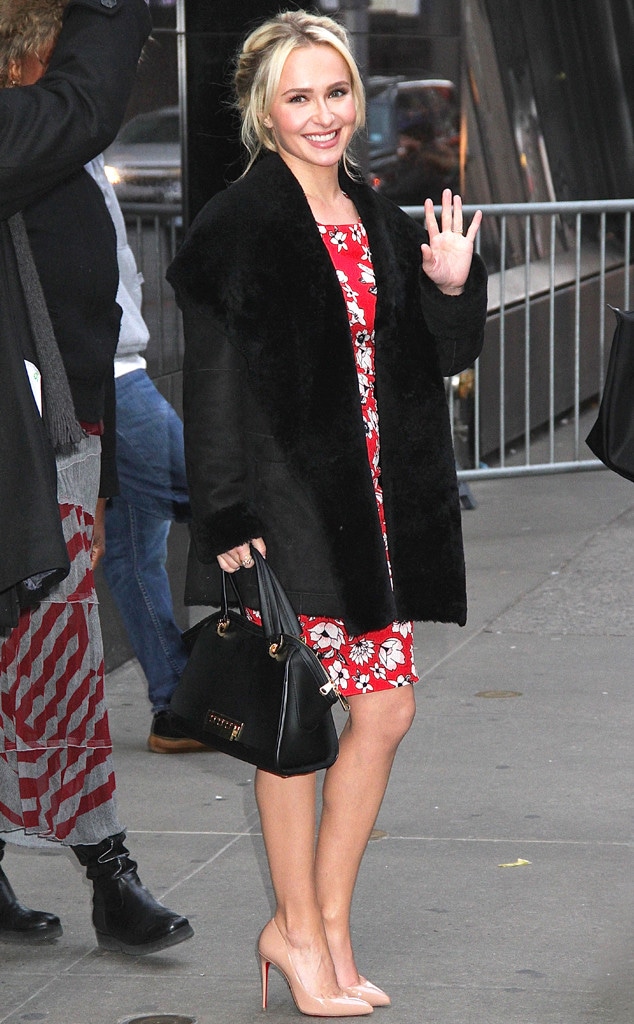 Fortunata/Splash News
What didn't Hayden Panettiere put behind her this past year?
The series finale of Nashville aired last month, a fitting cap to six seasons of over-the-top drama that the ambitious Juliette Barnes managed to survive intact, if not unchanged. She emerged as a mental health awareness advocate, having continued to speak out about her own struggle with postpartum depression after having daughter Kaya in 2014. And, most surprisingly, Panettiere closed the book on her nine-year relationship with boxer Wladimir Klitschko.
Making her 29th birthday today also a celebration of new beginnings and moving on.
For starters, this summer Panettiere started dating Brian Hickerson, an aspiring actor who hails from South Carolina—and who casually included the actress in an Instagram post for the first time on Aug. 15, taken at an "Early Birthday Celebration," which aligned with Hayden's twitpic of an early-birthday cake.
They met through mutual friends and "hit it off," a source told E! News, adding that Hickerson has "really been there for her" since her split from Klitschko. Which, considering the history there, wasn't easy.
When they're not all together, "Kaya is primarily with her dad and his family in Europe and Florida," an insider told us when the duo broke up. Luckily, "Hayden and Wladimir are on great terms and friendly. They are a big part of each other's lives and will continue to be. Hayden is back in L.A. and figuring out what's next." 
Panettiere greatly appreciated the "real feeling of community and Southern hospitality" she found in Nashville, telling Britain's Telegraph in 2013, "It feels much more genuine than L.A. and I have never had an easier time making friends."
She further shared with Southern Living in 2014, "I like being in a place where people appreciate the little things and don't need a lot of stuff to be happy. You can put a group of Southerners in any scenario and they'll have a good time. At my core, this is the kind of person I am and want to be."
But she appears ready to re-plant some roots in L.A., having put her latest Nashville home on the market for $1.65 million. The New York native previously lived in L.A. full time while she was playing a superhuman cheerleader on Heroes, first buying a condo when was 16 before moving onto a big house in 2008. She unloaded that property in 2014 as Nashville took off, earning her two Golden Globe nominations in the process.
Panettiere will next be on the big screen in the ensemble romance Berlin Je Taime, which she shot last fall, and she's dipping her toes back into the Hollywood scene, going with Hickerson to the premiere of Breaking and Exiting—directed by her good friend Peter Facinelli and starring Mel Gibson's son Milo Gibson—last week.
It's no wonder that she appreciated being far away from where her career took off, her almost-overnight stardom as Heroes became a phenomenon in its first season also attracted the sort of scrutiny that isn't particularly fair for anyone, let alone a 16-year-old.
Astrid Stawiarz/Getty Images
"I remember being 16 years old, bending over in a shop, and having somebody snap a photo of me from behind and publish it in a magazine, saying that I had cellulite," she recalled to the Telegraph. "It upset me so much I didn't wear shorts again for five years. I even developed insecurities about areas of my body that I never even thought to be self-conscious about." Panettiere was so upset, she continued, "I developed an immediate insecurity about it. I don't want to call myself a victim, but I stopped reading anything about myself ever again after that."
In 2007, still shy of her 18th birthday, she told The SciFi World that her preferred super power would be invisibility.
"Because, I think, obviously we can blame most of it on people who are doing the bad things they aren't supposed to be doing, but at the same time when you have cameras in your face all the time, there's no room to mess up even slightly," Panettiere said. "Things get turned around on you. So, if I could walk out my door or drive my car out and not be followed by paparazzi, I'd be a very happy person."
Moving to Nashville helped with that, but she had plenty of time to never get used to the hyped interest in her dating life, which over the past decade aside from Klitschko included Heroes co-star Milo Ventimiglia and soccer player Scotty McKnight.
"People think it seems very strange from the outside," she told the Telegraph, referring to the 13-year age gap and 18-inch height difference between her and Klitschko, back together again then after over a year apart. "Then they see the inner workings of it, and they understand it. But I didn't become an actor to put it out there for the world to judge. The fact is, I'm happy, and that's all that matters."
Panettiere also told the paper that motherhood was in the cards for her, saying, "I was born to be a mom. I have never rushed anything, but I have always known that that was my end goal in life—that's what I was built for."
Luca Teuchmann/Getty Images
Sure enough, she and Klitschko got engaged later that year and welcomed Kaya in December 2014. The actress embraced being a mom the best she could, but eventually realized she was going to need some help. She checked into treatment for severe postpartum depression in October 2015.
"It's something a lot of women experience," Panettiere said on Live With Kelly and Michael about a month before seeking treatment the first time. "When [you are told] about postpartum depression you think it's 'I feel negative feelings towards my child; I want to injure or hurt my child.' I've never, ever had those feelings. Some women do...But you don't realize how broad of a spectrum you can really experience that on. It's something that needs to be talked about. Women need to know that they're not alone, and that it does heal."
She added, " "I would love it if Wlad figured out a way to get pregnant and he could have the baby. We would be going right now, no problem."
At least he had some other fine-sounding qualities in the meantime. "He's such a resilient guy," she told Hello! about the heavyweight fighter in November 2014. "He's so calm and patient. I have never even heard this man raise a voice."
Reveling over the support she got from the outside world, Panettiere told ET at the 2016 Critics' Choice Awards that she avoided social media while she was in treatment, but when she did finally take a peek she saw that "people were like, 'Oh my gosh, good for you!' And I am so proud to be a spokesperson and a woman that people can look to and to know that they're not alone and they're not weak if they go and they seek help."
Nashville ended up inspired by its star's real-life battle, and Juliette suffered from PPD after giving birth as well.
"It was strange having to throw myself back into that frame of mind," Panettiere told Yahoo! Style in March 2016. "The way I do things is to pull from my own personal experience and sometimes even turn myself into what I'm portraying so that I can pull from my life and step into that person's shoes by being able to relate."
That May, she tweeted that she'd be taking some time off to reflect holistically on my health and life." Around the same time, ABC canceled Nashville after four seasons, but CMT finalized a deal to keep it going about a month later.
After her pregnancy, "I found out who my true friends were—the ones that were going to stick around and support me," Panettiere told Parade in December 2016. "I'll just say the outcome was slim pickins! My life became all about staying healthy, getting good sleep, finding parks and nature." Moreover, "I've found my pack of solid, loyal, lifelong friends here [in Nashville] and am settled into a beautiful routine. Don't get me wrong, it's still a blast. My life and who I am have simply evolved in a beautiful way. So actually Nashville feels like a first home to me!"
A typical Sunday for her was "about gearing up and preparing for a long workweek. I can't say that anything is typical or 'the norm' about any day of the week now that I'm the mom of a 2-year-old. She gets her hands in just about everything, and my biggest job at the moment is keeping her alive!"
In January 2017, talking about what had turned into a longer-than-expected journey back to feeling like herself again, Panettiere said on Good Morning America, "Women are so resilient, and that's the incredible thing about them. I think I'm all the stronger for it. I think I'm a better mom because of it because you never take that connection for granted."
Ultimately, playing a character with the same ailment helped her.
"I think it helped me identify what was going on," Panettiere recalled. "And to let women know that it's OK to ask for help and it's OK to have a moment of weakness. It doesn't make you a bad person, doesn't make you a bad mother. It makes you a very strong, resilient woman. You've just got to let it make you stronger."
And returning to work in general helped as well, despite a rocky, emotional start when she didn't know what to expect—from the rest of her Nashville family or herself.
"I'm so glad to be back playing Juliette," the actress said. "Everything she's been through has been like a hazard sign in the road. She made me stronger. I feel like she's a phoenix. She crashes and burns and then she rises from the ashes and she always takes the lesson and becomes stronger for it."
Meanwhile, the scripted drama was leaking back into Panettiere's real life, as split rumors started to dog her and Klitschko. "Missing rings don't mean the end of relationships," she had tweeted in July 2016, when photographers snapped her with a bare hand after her self-imposed break. "Blessed to be with my beautiful family."
But Klitschko announced his retirement from boxing in August 2017, a few months after losing his second consecutive bout—a sign his record-setting reign was coming to an end.
Because of sports, "I've traveled the world, learned new languages, created businesses, built intellectual properties, helped people in need, became a scientist, entrepreneur, motivator, hotelier, trainer, investor and much else," Klitschko said in revealing his decision. "I was and am still capable of doing all this because of the global appeal of the sport of boxing.
"At some point in our lives we need to, or just want to, switch our careers and get ourselves ready for the next chapter and chart are new course toward fresh challenges."
Retirement is rarely an easy adjustment for a professional athlete, or for his other half.
Panettiere didn't spend her birthday last year with Klitschko, instead visiting the very de rigueur Museum of Ice Cream with pals the day before, while he was in Hamburg, Germany. On her birthday she shared a photo of herself with her "chosen family," a group of girlfriends.
By the holidays, even the Ukrainian tabloids were claiming the couple had split. Both Panettiere and Klitschko remained tight-lipped about their personal lives, however. A source told E! News in February that Hayden didn't discuss her family on the Nashville set. 
"She wants to do a good job and is trying to stay healthy," the source said. The actress also showed off her latest reading material on Twitter, a copy of The Subtle Art of Not Giving a F--k.
In a sign that not all was amiss behind the scenes, Panettiere tweeted in June, "Congrats to my brother #VitaliKlitschko whom was just inducted into the #HallOfFame...#BadAss @Klitschko @Vitaliy_Klychko."
Wladimir's older brother Vitali, in addition to being a fellow retired heavyweight champion, is currently mayor of Kiev, Ukraine. Wladimir was at the ceremony in Canastota, N.Y., to watch Vitali—who said he was proud to have "the strongest brother in the world"—be inducted into the International Boxing Hall of Fame.
A source said Panettiere and Klitschko reunited in July in Greece with their daughter, and the proud parents were seen strolling and looking very happy together on the isle of Corfu.
Weeks later, however, Panettiere's mother, Lesley Vogel, told Radar Online that the romantic portion of their relationship had ended. "There are a lot of changes going on in her life," Vogel said. "But I think they're positive changes. And I think that she's taking some time." Overall, "I think she is in a very good place."
Panettiere was first spotted with Brian Hickerson earlier this month, her date not being able to help drawing a little attention to himself when he swooped in to help disentangle a barefoot Hayden from a paparazzo's camera cable as they were leaving West Hollywood hot spot Craig's.
She may have been a little out of practice, having lived in Nashville for so long, but she even good-naturedly tweeted out the TMZ story about the incident, an accidental "welcome back, Hayden" party thrown by the paps.
Noting that Panettiere and Klitschko had settled into co-parenting, a source told E! News, "She's had a rough few years and is at a crossroads. She made the decision to come back to L.A. by herself," wanting to "figure things out and have a fresh start."
Nashville may be ideal for the quiet life, but there's no better place than L.A. to start over.