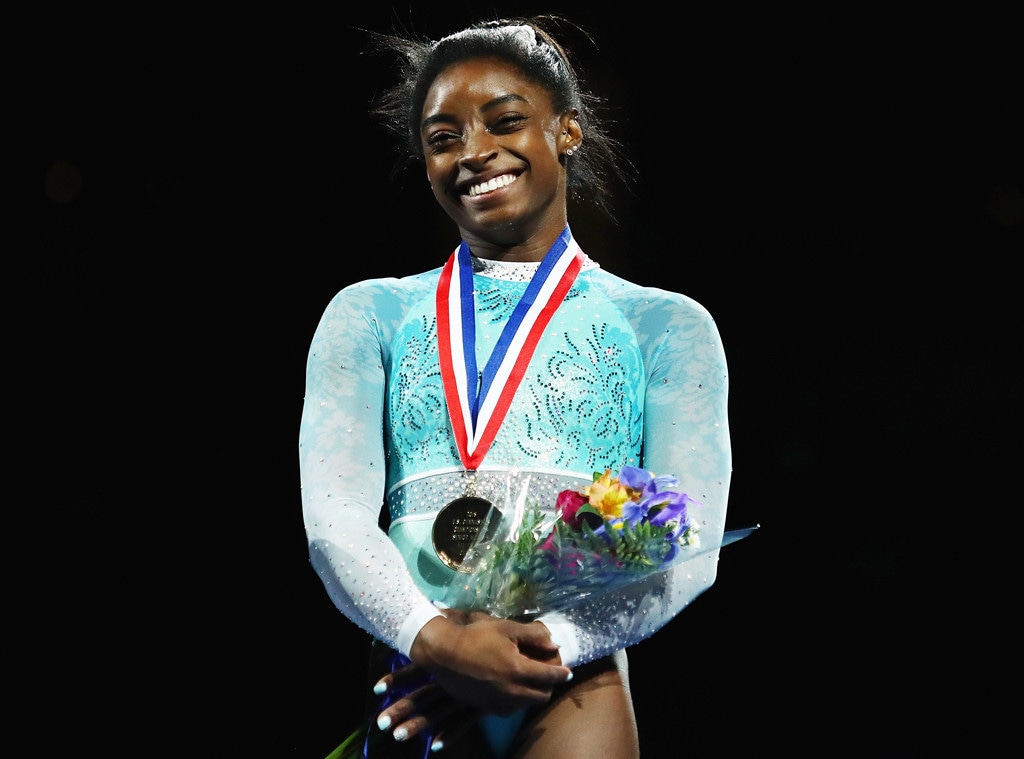 Tim Bradbury/Getty Images
Simone Biles made history at the U.S. Gymnastics Championships on Sunday.
The 21-year-old Olympic athlete won her fifth U.S. all-around title, becoming the first woman ever to do so. For the competition on Sunday, Biles donned a teal leotard, which she wore to honor the survivors of former USA Gymnastics and Michigan State University doctor Larry Nassar's abuse. The color teal is a symbol for sexual assault awareness and prevention.
"(The color) is for the survivors," Biles said (via the Associated Press). "I stand with all of them and I think it's kind of special to unite (people)."
Back in January, Biles took to social media and wrote to her followers, "I too am one of the many survivors that was sexually abused by Larry Nassar."
A week later, Nassar was sentenced to 40 to 175 years in prison for sexual abuse. Following his sentencing, Biles tweeted, "To Judge Aquilina : THANK YOU, YOU ARE MY HERO. & Shout out to all of the survivors for being so brave & speaking like the queens that you are while looking at that monster. He will no longer have the power to steal our happiness or joy. I stand with every one of you."
"My heart is so full," she later tweeted, before adding that she also wants "cry all the time."
That same month, Biles addressed her powerful tweets, telling Today's Hoda Kotb, "I think it's very hard for someone to go through what I've gone through recently and it's very hard to talk about. But other than that I think the judge is my hero, just because she gave it to him straight and didn't let him get any power of any of the girls and letting the girls go and speak was very powerful."
Watch:
Aly Raisman Talks Time 100 Recognizing Army of Survivors
Biles later appeared on Megyn Kelly Today and shared, "I think for elite athletes like some of us that have gone thought this hard time, I think we're very good at compartmentalizing things. So I think we just tried to push it in the back of our heads that it didn't happen to us. But once you realized you know it happened to you it's very saddening."
In February, Nassar was sentenced to 40 to 125 years in prison for seven counts of felony criminal sexual conduct in the first degree.
Last month, Aly Raisman and more survivors of Nassar's abuse took the stage at the 2018 ESPYs to accept the Arthur Ashe Courage Award.