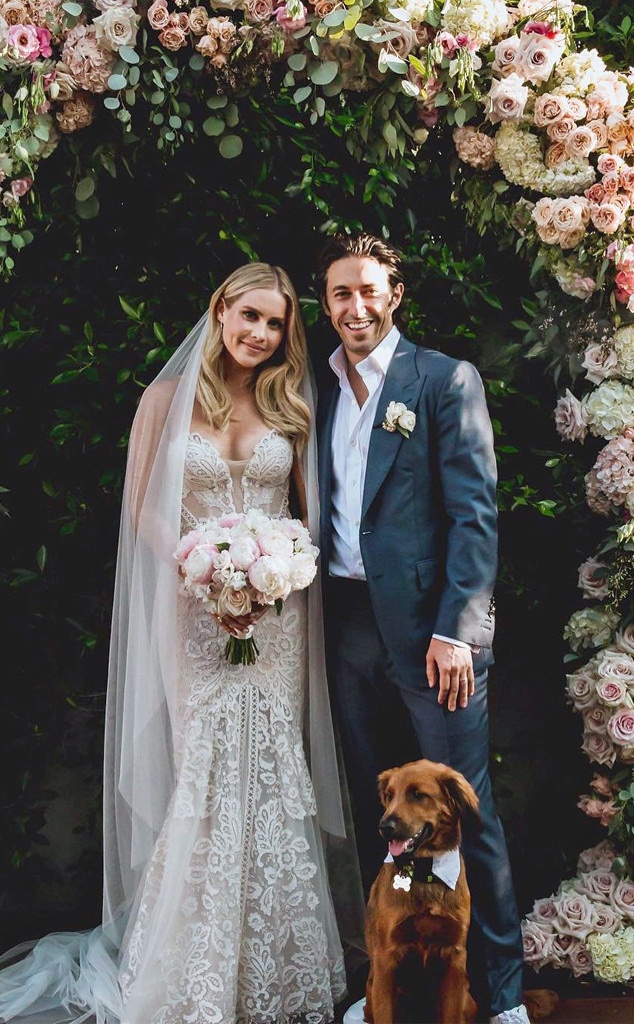 Courtesy Kelley Raye
Just married!
Claire Holt tied the knot with Andrew Joblon on Saturday, Aug. 18, the Originals actress announced on Instagram Sunday, sharing a photo from the California ceremony with the caption, "8.18.18." The picture, taken by photographer Kelley Raye, shows Holt in a stunning lace dress alongside her now husband, Joblon, and their dog, Teddy Holt-Joblon, who was also dressed up for the special occasion! Joblon also shared a photo of the couple kissing at the ceremony.
Holt and Joblon, a real estate executive, announced their engagement back in December with a sweet photo of the couple kissing. "My heart is so full," Holt captioned the photo, which showed off her gorgeous ring.
The engagement announcement came just a little over seven months after Holt's ex-husband, producer Matthew Kaplan, filed for divorce from the actress, one day before the couple's one-year wedding anniversary.
Before Holt and Joblon tied the knot, they enjoyed a romantic getaway in July. The actress posted a photo of the couple in Monaco with the caption, "I am now made of 80% rosé and 20% butter. Best. Week. Ever."
Congratulations to the couple on the exciting wedding news!