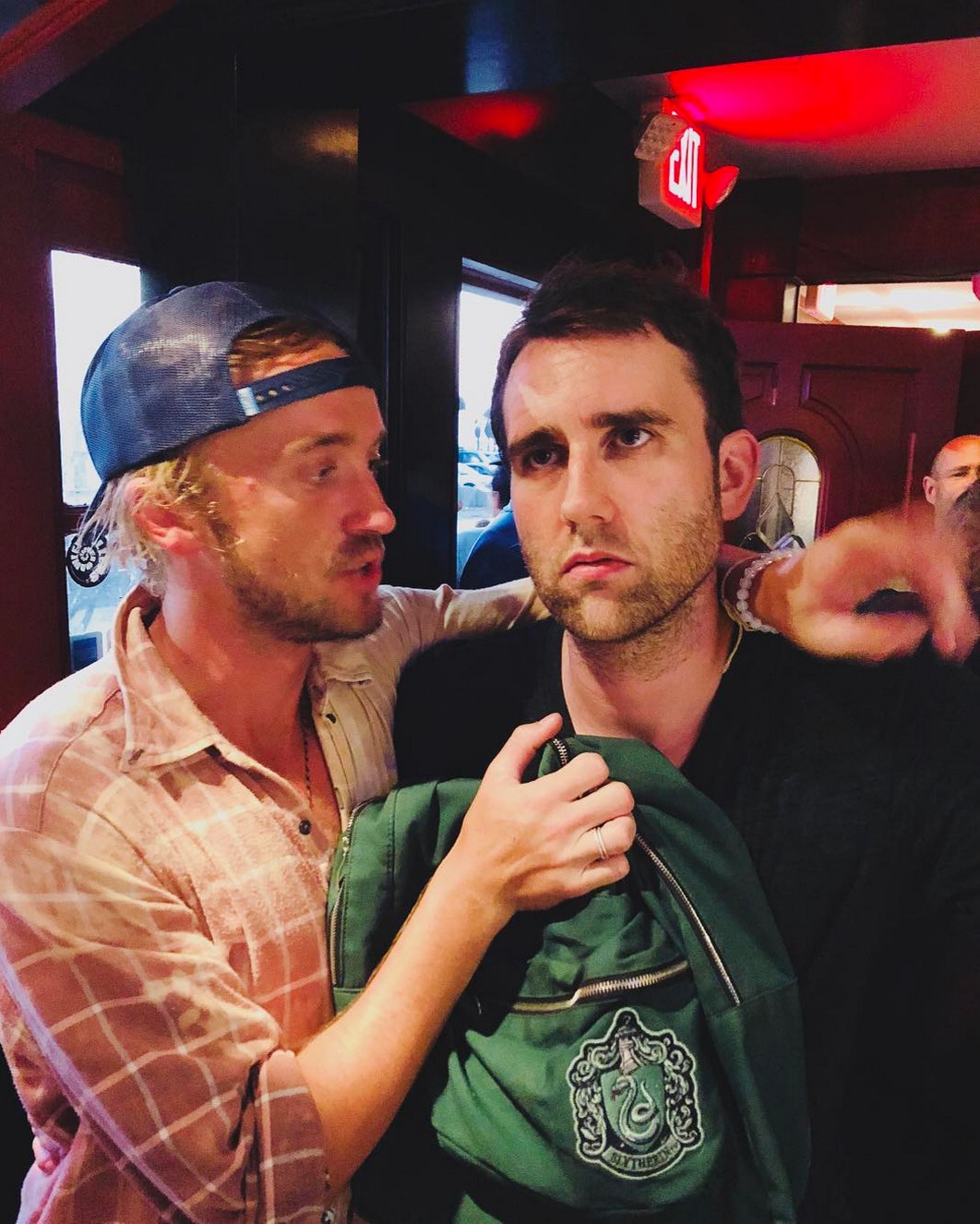 Instagram
10 points for Gryffindor! 10 points for Slytherin?
Harry Potter actors Tom Felton (Draco Malfoy) and Matthew Lewis (Neville Longbottom) reunited in Los Angeles and looked like they had a magically fun time. Both men posted photos of their get-together on Instagram, but it looked way more like a Slytherin recruiting session. Neville Longbottom's Gryffindor pride, however, reigned supreme.
In Lewis' picture, Felton holds up some Slytherin memorabilia while Lewis looks at him with complete disdain. He captioned the photo, "Take your Slytherin paws off me, you damn dirty ape!"
This dig at Felton is a combination of Harry Potter rivalries and an homage to another role the blonde actor played in Rise of the Planet of the Apes. The line originates from the 1968 Planet of the Apes movie. 
In true Slytherin fashion, Malfoy pokes fun at Gryffindor and praises the power of Slytherin's dark arts. "See how close he was to converting... #gryffindork," he wrote.
This isn't the first reunion as of late for some former Hogwarts students. In April, Felton, Lewis and Emma Watson hung out and were all smiles in a picture with "school mates."
In another world or perhaps with a different sorting hat, Malfoy could have traded in the silver and green of Slytherin for the scarlet and gold of rival Gryffindor. Well, maybe not at the real Hogwarts, but in the virtual one. In 2015, Felton joined the rest of the Potter fans and registered for Pottermore, but his fate on the website did not exactly match the films or the books.
When he enrolled in Pottermore, Felton tweeted about his experience with the virtual sorting hat. "Today was the day. I finally did it," he wrote. "I joined Pottermore and was sorted into........Gryffindor. Heart broken x #slytherinforlife."
In typical J.K. Rowling fashion, the Harry Potter author responded back to him on Twitter with her thoughts about the selection. "I could've told you that years ago. I just didn't want to spoil your motivation ;)" she joked.
Neville, we haven't forgotten about you. Lewis has definitely cast a spell on all Potter fans since his recent glow-up. Not even Rowling could handle his 2015 Attitude magazine cover and photoshoot where he was sitting half-naked.
After seeing the Draco-Neville reunion, consider us struck with Petrificus Totalus.