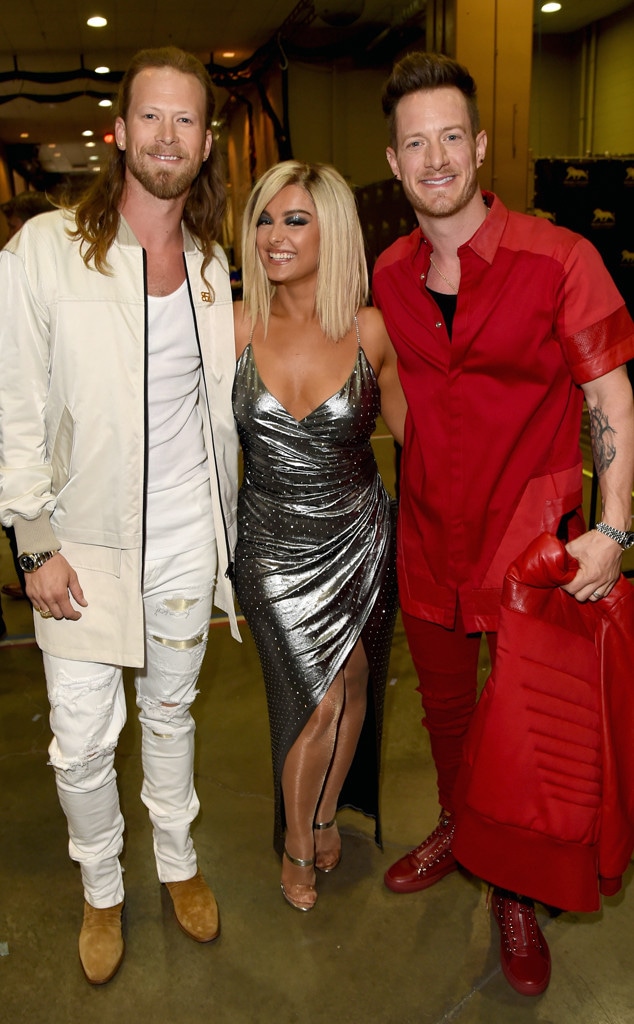 Jason Merritt/ACMA2018/Getty Images for ACM
If it's meant to be, it'll be, it'll be a massive hit!
For music fans that listen to pop, country or Top 40 radio, chances are you've heard Florida Georgia Line and Bebe Rexha's huge hit titled "Meant to Be."
The track has resonated with critics and listeners alike while also earning a nomination for Best Collaboration at the 2018 MTV Video Music Awards.
So why can't pop culture fans get enough of this track? "I think this song has a really powerful, universal message that fans are connecting with. It shows me that this song is anointed by the best writer there is, the Lord," Tyler Hubbard shared with E! News exclusively ahead of tonight's award show. "With every unexpected surprise in the 'Meant to Be' story, God was showing himself to be stronger than any tradition or genre."
Another unexpected surprise is the simple fact that Florida Georgia Line is the only country group nominated for a VMA this year.
"That is super surreal and really humbling," Brian Kelley shared with us after receiving the news. "It inspires us to get back in the studio and create more music!"
Before tonight's live show, we wanted to drop 10 facts about the song that has become a huge 2018 favorite. And while you may know every word to the track, you may not know these stories behind the song.
1. On Location: In just nine months, the official music video for "Meant to Be" has reached more than 542 million views on YouTube alone. And guess what? The whole video was shot in one day on location in Albuquerque, New Mexico.
2. Greatest Compliment: While award nominations are nice and praise from critics is appreciated, one special statement from fans can really impact the guys of Florida Georgia Line. We're told Tyler and Brian especially love it when a fan comes up to them and says they did not like country music until they heard "Meant to Be" and everything changed.
3. Looking Sharp: Whether onstage or on the red carpet, this music duo doesn't disappoint in the fashion department. After all, Brian and his wife Brittney Kelley have their own fashion line titled Tribe Kelley. But for those admiring their looks in the "Meant to Be" music video, we have all the fashionable details. Tyler opted for a Balmain top, Woodhouse pants, Kenneth Cole sneakers and Jacob & Co. jewelry. As for Brian, he sported a Vivienne Westwood top, Christian Loubotin boots and a chain from David Yurman. Looking sharp, gentlemen!
Frederick M. Brown/AMA2017/Getty Images for dcp
4. Big Debut: In one of their first live performances of the song together, Florida Georgia Line surprised fans September 7, 2017 when they invited Bebe onstage to perform "Meant to Be." "In honor of making new friends and creating music with new people, we decided why don't we play a song we've never done before," the group shared to a sold-out crowd at the Honda Center in Anaheim, Calif. "It's not everyday we get to do stuff like that." If only they knew how big the song would become.
5. Small Town After All: Before recording with Florida Georgia Line, Bebe experienced a case of mistaken country group identity. Originally, she thought she was joining forces with Little Big Town. "I can't lie," Bebe told CMT's Cody Alan. "I had met Little Big Town at one of the awards [shows]. When I walked in the studio, I saw Tyler there, and I said 'Where are the other band members?' I told Tyler and he started laughing."
6. Where's the Song: Before you purchase every one of Florida Georgia Line's albums specifically to find "Meant to Be," you may want to know one little fact. The track is actually featured on Bebe's third EP titled All Your Fault: Pt. 2. The EP also features collaborations with Lil Wayne, Gucci Mane and 2 Chainz.
7. Breaking Records: "Meant to Be" recently claimed the record for the longest-ruling No. 1 in the history of Billboard's Hot Country Songs chart, which began as an all-encompassing genre songs survey in 1958. The song passes Sam Hunt's "Body Like a Back Road," which led for 34 weeks in 2017.
8. Power of Song: There are many things that surprised Bebe after "Meant to Be" was completed. One of the biggest realizations, however, was when the singer knew the song helped her through a personal struggle. "I've recently been going through heartbreak, and I listen to the song, and it makes me feel better and like there's some type of destiny and if something doesn't work out then, there's something better waiting for you," she shared with Billboard. "I think that's something we need more than ever with all the events going on in the world. People want to feel safe and like everything's going to be OK."
9. Thanks Wifey: We may have Tyler's wife Hayley Hubbard to thank for making this song possible. When reliving the writing process, Bebe recalled a supportive voice behind the scenes. "It was my second session of the day and their second session of the day, and they were kind of over it and so was I," Bebe told Billboard. "Tyler and I sat down, and he was like, 'You know what my wife just told me? She said, 'If it's meant to be, it'll be that we write a hit or not.' And, I said, 'Well that's the song -- let's go!' Then the song just poured out."
10. Timing Is Everything:  It's all about being in the right place at the right time. Need proof? Just hear how this collaboration came about. "We didn't even converse about it. My manager just hit me up that day and was like, 'Hey, do you want to go in the studio with Florida Georgia Line? They have an open studio night to write,'" Bebe recalled to 104.3 MYFM's Kevin Manno. "That's why I love being in Los Angeles because things happen so last second." Bebe along with the guys would ultimately write the song in two hours.
The 2018 MTV Video Music Awards air Monday night at 9 p.m. only on MTV. And find out when Florida Georgia Line is performing in your town (including their upcoming Las Vegas residency) online now.