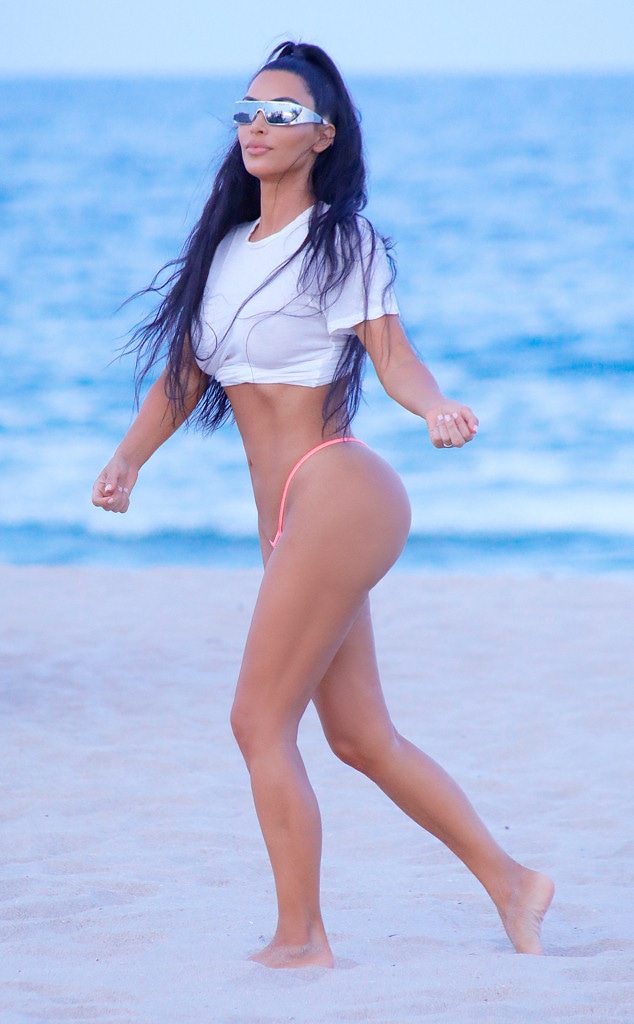 AM / SplashNews.com
"Blotchy" tanner or not, Kim Kardashian is all about that thong thong thong thong thong.
The 37-year-old Keeping Up With the Kardashians star and her family began a trip to Miami earlier this week and she has since showcased several fluorescent looks. On Friday, she was photographed on a beach wearing a neon pink thong bottom and a white cropped T-shirt.
That night, Kim and besties Larsa Pippen and Jonathan Cheban at friend David Grutman's famous LIV nightclub. Kim wore a neon green one-shoulder crop top and matching sarong-style skirt and arrived in a matching 2018 Mercedes Mercedes G550 4×4 SUV. She also sported self-tanner, some of which appeared, as the Daily Mail later noted in a report, "blotchy."
On Saturday morning, Kim posted on her Instagram Story videos of her makeup artist Ariel rubbing lotion on her as she debuted another neon green outfit, a bustier dress.
"This time, let's not mix some spray tanner in it," she said.
 "Let's blend properly, please, please," she continued, laughing. "Blotchy tanner is not it."
During her night out on Friday, Kim posted on her Instagram Story a video of fans surrounding the vehicle and filming her on their phones.
Inside the club, Kim sipped on water.
"The gag is...it's only water but no one harasses me to get me to drink bc they think I'm lit!" she wrote on her Instagram Story.
Watch:
Kim Kardashian West Steps Out in a Neon Green Wig
This isn't the first time Kim has matched her look to her car. On Thursday night, Kim wore a neon green wig while partying with the same friends in Miami and drove a neon green Lamborghini.