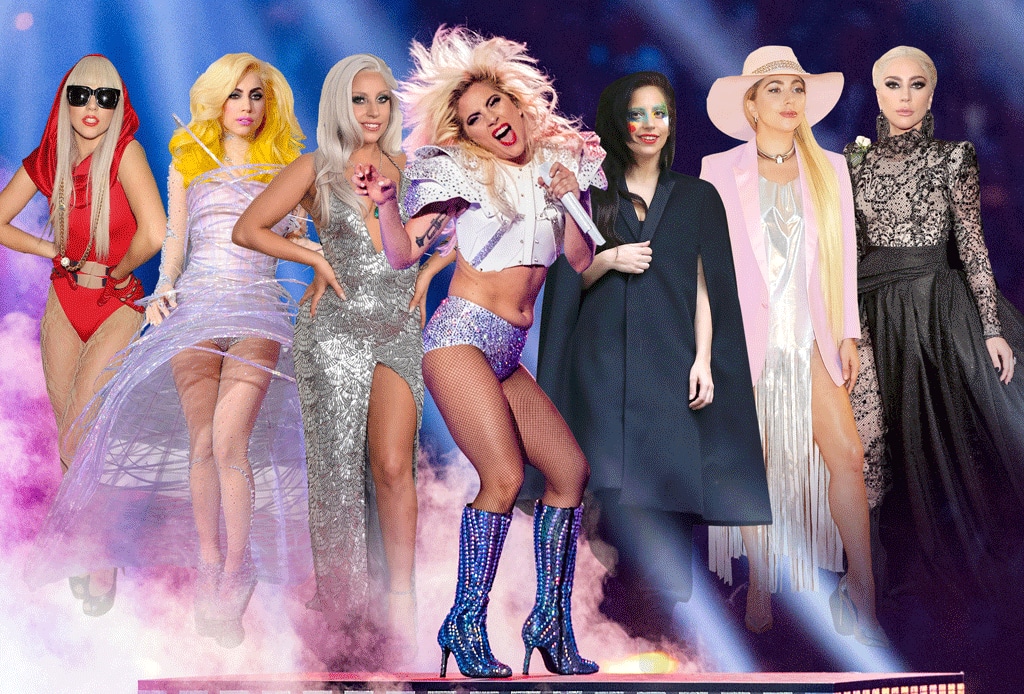 Getty Images; Melissa Herwitt/E! Illustration
"I don't know quite how to explain this—I am not really made for anything else."
When Lady Gaga shared that sentiment about herself shortly after bursting onto the scene in 2008, in an interview with SongwriterUniverse.com of all places, it was hard to gauge just how accurately she understood herself. After all, what burgeoning pop star doesn't set out with the belief that they were put on this planet strictly and solely to entertain? 
But as we celebrate a decade of Lady Gaga, with the milestone 10th anniversary of her debut album The Fame on our minds, it's abundantly clear just how spot-on she was. There are very few artists who have made the sort of immediate impact on the whole of pop culture that she has; fewer still are those whose careers feel just as vital 10 years later. That's not to say the journey's been an easy one. Off stage, life for the singer, born Stefani Germanotta, has been something of a roller coaster, full of unexpected twists and turns, high highs and dramatic detours.
These are the first 10 years of Lady Gaga.
After years spent honing her craft in the New York City club scene and a few aborted starts—she was signed to Def Jam in 2006 before being dropped only three months later—Gaga exploded like a supernova when The Fame was released late in the summer a decade ago. Not only was the album an immediate success, giving rise to a synth-pop explosion in the music industry that's still felt today, but the outre character that was Lady Gaga—the eccentric costuming, the affected manner of speaking, the general spectacle of it all—gave rise to the idea that a pop star could be something of a creation, a sensational combination of fashion and pop art and theater. The stage name? Derived from Queen's "Radio Ga Ga" and allegedly bestowed upon her by record producer Rob Fusari, who worked with her at the very start of her career.
While she was experiencing enormous success almost overnight and enjoying the benefits that come with that, the trappings of such stratospheric fame began to take their toll almost immediately. Though she wouldn't admit it at the time, Gaga had trouble stepping outside of the character when she wasn't out in public and on display.
"I used to come home and I think my mom used to watch me have a real hard time washing it off, you know?" she recalled to CBS News' Lee Cowan in 2016. "I'd keep the wigs on and keep the make-up on, and kept the outfits on. I was always trying—I never wanted to let my fans down, I always wanted them to see me in my art form."
As her career continued skyrocketing—her first worldwide tour, The Fame Ball Tour, kicked off in March of 2009, followed by the release of The Fame Monster EP later that year; the Grammys and entries in the Guinness Book of World Records soon followed—the global fascination did too. And where there is universal attention on such a scale, there's usually a disgruntled former associate ready to pounce. In March of 2010, Fusari, who has writing and production credits on Gaga's early hits "Paparazzi" and "Beautiful, Dirty, Rich," sued Gaga for $30.5 million, accusing her of squeezing him out after he helped her land her record deal. By September, they reached a private settlement.
As her fashion choices—who can forget the outfit made of plastic bubbles, or the one comprised entirely of Kermit the Frog heads, or the freaking dress made of meat at the 2010 MTV VMAs?—made headlines and she traveled the world for the second time on her Monster Ball, issues with her health began to arise. Most notably, why was the most successful pop star on the planet always collapsing?
"My schedule is such that I don't get very much time to eat," she explained to the UK's Times Online in 2010. "But I certainly don't have an eating problem," she continues. "A little MDMA [Ecstasy] once in a while never killed anybody, but I really don't do drugs. I don't touch cocaine any more. I don't smoke. Well, maybe a single cigarette – with whisky – while I'm working, because it just frees my mind a little bit. But I care about my voice. The thrill of my voice being healthy on stage is really special. I take care of myself."
It was in that same interview that the idea of reoccurring illness—something that's become a focal point in the story of Lady Gaga in the past few years—first became a part of her narrative. It was also the first time the world learned about Joanne, the aunt whose death rocked the Germanotta family and would later become a muse for the pop star.
"I'm very connected to my aunt, Joanne, who died of lupus. It's a very personal thing. I don't want my fans to be worried about me," she told the interviewer, who then asked if she'd been tested for the genetic autoimmune disease.  "Yes," she responded, pausing before continuing her thought. "But I don't want anyone to be worried." (A month later, while speaking with Larry King on CNN, she would clarify that yes, she had tested borderline positive for the disease, but she showed no signs of symptoms and didn't currently have it.)
SPW / TwisT / Splash News
Her third studio album, Born This Way, came in May 2011, bringing with it more broken records, Grammy nominations, and the artist's first high-profile romance. While filming the music video for single "Yoü and I" that July, Gaga met Chicago Fire actor Taylor Kinney, who starred in the six-minute long video as her love interest and the spark was instant. "I remember I went up, and we're rolling, and I kissed her and she didn't expect it," Kinney told Andy Cohen in 2015. "They cut, and she slapped me. And then it was just awkward. And then the next take, I just did it again and then she didn't slap me. She didn't slap me then.
"We had a good time. I think there was chemistry," the actor continued. "I remember it was a late shoot. We were shooting until 4 or 5 in the morning or something like that. We exchanged information. A few weeks went by and we kept in touch, and then that's that."
After months of speculation, the happy couple confirmed that they were indeed just that at the end of the years, when they were photographed walking with their arms around one another near Kinney's Southern Californian beachfront home.
With much of 2012 spent on top of the world, touring yet again with the Born This Way Ball, it all came crashing down in early 2013 when, a month before the tour was due to wrap up, she was forced to canceled her final performances after suffering what was initially reported to be a labral tear of her right hip. After hiding the injury and her chronic pain from her staff and fans alike, she was left nearly unable to walk.
"My injury was actually a lot worse than just a labral tear," she told WWD that July. "I had broken my hip. Nobody knew, and I haven't even told the fans yet. But when we got all the MRIs finished before I went to surgery there were giant craters, a hole in my hip the size of a quarter, and the cartilage was just hanging out the other side of my hip. I had a tear on the inside of my joint and a huge breakage. The surgeon told me that if I had done another show I might have needed a full hip replacement. I would have been out at least a year, maybe longer."
The recovery process left Gaga sidelined in a way that she hadn't been since she was 14 years old—and at a most inopportune time. (Not that there's ever a good time to break your hip.)
While she asserted at the time that her forced removal from the spotlight for six months gave her time to "beef up my brain and my body" and "really be creative," she also had a new album to start promoting. Her third full-length album, ARTPOP, was due out that November, and as any pop star can tell you, time out of the public eye isn't exactly conducive to album sales. What if everyone's forgotten about you? Or moved on to the next hot thing?
Whether it was a general fatigue at her theatrics, which were perhaps at their most eccentric in the months leading up to the release, or truly the beginning of the end for her remarkable reign, the album failed to move the masses quite in the way her others had. It received some of her most mixed reviews to date, had lukewarm sales despite debuting atop the Billboard Hot 200, and turned off more casual fans. To add insult to injury, she also went through painful splits with longtime manager Troy Carter and her fashion designer stylist, Nicola Formichetti.
Alan Davidson - WPA Pool/Getty Images
"I became very depressed at the end of 2013. I was exhausted fighting people off. I couldn't even feel my own heartbeat. I was angry, cynical, and had this deep sadness like an anchor dragging everywhere I go," Gaga told Harper's Bazaar in February 2014. "Depression doesn't take away your talents—it just makes them harder to find. But I always find it. I learned that my sadness never destroyed what was great about me. You just have to go back to that greatness, find that one little light that's left. I'm lucky I found one little glimmer stored away."
It was clear that a softening of the image was in order. And so, she began rebuilding. She found new management, she became the face of a Versace campaign, and then came the hard pivot into jazz, which lead to a collaborative album with Tony Bennett and the requisite old-Hollywood glamour to play the part. The following year, she and Kinney became engaged in February and she reminded everyone of the pipes beneath all those crazy costumes of days past just a few days later with an outstanding performance at the 87th Academy Awards, singing a medley of songs from The Sound of Music in tribute to Julie Andrews.
That very same month, she pivoted even further away when she found the gumption to call up American Horror Story creator Ryan Murphy and ask him for a role in the fifth installment of the hit FX anthology series, which led to her starring as The Countess in AHS: Hotel when it debuted that fall. And aside from landing her a Golden Globe win for Best Actress in a Miniseries or TV Film, the gig had a profound effect on Gaga.
"Can you imagine feeling isolated all the time?" she told E! News' Kristin Dos Santos on set in October 2015. "And working constantly and being on tour and doing stuff like that to then being, like, living and breathing and having true exchanges and emotions and real-life drama constantly all the time? Even though it's fake, I'm still having exchanges with people and looking them in the eye...because you're available. When you're not around people that are available to you, you shut down, so here I am and I'm on."
"I'm happier than I've ever been now," Gaga continued, "because the people that I work with really, really care that my life is different and really, really work to make sure that I feel as normal as possible—so that I can have a great time and just be a normal girl, and just be a woman for Ryan on film, or you know... [laughs] a hemophiliac."
Scott Legato/Getty Images for Live Nation
But while the career continued to rebound as 2016 began—an Oscar nomination for Best Original Song for contribution to the haunting documentary The Hunting Ground, the opportunity to sing the National Anthem at Super Bowl 50, the leading role in Bradley Cooper's A Star Is Born remake—her personal life took a major hit when, in July, she and Kinney split. Though the pair chose not to discuss the dissolution of their relationship during the immediate aftermath, Gaga later infer that her success—the upcoming film role, especially—was what drove them apart.
"My love life has just imploded," she said in the 2017 documentary Gaga: Five Foot Two. "I sold 10 million [records] and lost Matt. I sold 30 million and lost Luke. I did a movie and lose Taylor. It's like a turnover. This is the third time I've had my heart broken like this."
While the show had to go on, with Gaga delving head-first into her family's great trauma as she explored the loss of the aunt she never met for her fourth full-length album Joanne and underwent her next sound reinvention (a more folksy rock-pop this time around), she was dealt another blow. As was revealed in her aforementioned Netflix documentary, throughout the creation of Joanne, the end of her relationship, and the preparation for her halftime show at Super Bowl LI the following February, she was suffering from chronic pain that was later revealed to be fibromyalgia, which the Mayo Clinic describes as "a disorder characterized by widespread musculoskeletal pain accompanied by fatigue, sleep, memory and mood issues."
"I feel physical pain," she said during an interview with Elvis Duran and the Morning Show in 2016. "I actually suffer from chronic pain and it's from this paralyzing fear that I've experienced for almost 10 years." As Gaga explained, the lasting effects of a sexual assault years earlier had manifested physically. "When something traumatic happens, your brain disconnects so that it can handle it," she elaborated. "But, it stays in your body, in your tissues, physically in you."
As she's continued to seek treatment to manage her physical pain, Gaga also began repairing the emotional pain lingering from her split with Kinney when she found herself in the arms of a new man, Christian Carino. Rumors of a romance with the successful talent agent when he was spotted giving her a kiss ahead of her Super Bowl performance. By September, she was using the word "love" when talking about her new beau to the crowd at one of her stops on the Joanne World Tour. A year later, the two seem as in love as ever and are engaged to be married.
Neilson Barnard/Getty Images for Coachella
As the first decade of her career comes to a close and she walks into the next with much to look forward to—Oscar buzz surrounding A Star Is Born, which has already earned her a Golden Globe nomination, a Las Vegas residency poised to take over the Strip, and (hopefully) her next album,—one thing hasn't changed and that's Mother Monster's relationship with her Little Monsters. (Musicians with uniquely branded fandoms? You can thank Gaga for that.) Through her advocacy with her Born This Way Foundation and her continued devotion to LGBT rights issues (among many, many more charitable uses of her fame), her dedication towards always giving them something to put their paws up for, and her unrivaled willingness to be unflinchingly open and honest with them, there's a reason why she has over 76 million followers on Twitter. And through all the ups and down, the Grammys and film roles, the physical pain and emotional strife, it's that connection that seems to matter most.
"What has bonded Little Monsters and I together, since the beginning, is spreading a message of love and unity and acceptance to the world, so as the years have gone by, we've all grown up and changed, but it's our values that stay the same," she told Entertainment Weekly last year. "It keeps us strong. No matter what happens in our lives, in my life, the world, we always have that common ground and value system that we care about."
There's no doubt that the Little Monsters can't wait to see what Mother has in store for them next.
(Originally published on Sunday, Aug. 19 at 3 a.m. PST.)