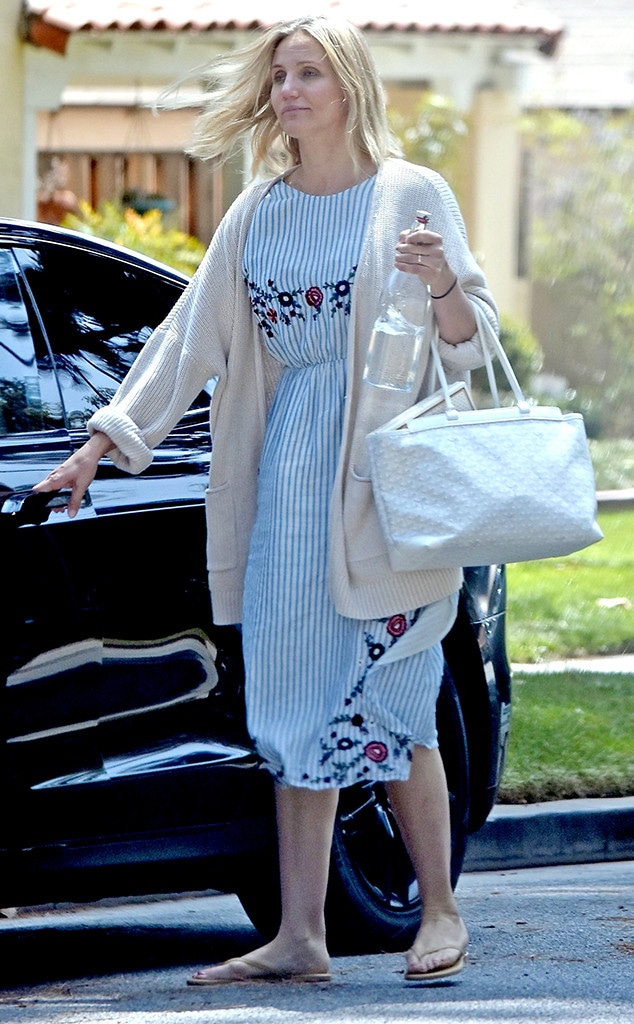 LRR / BACKGRID
Happy birthday, Cameron Diaz! The Golden Globe nominee is celebrating her 46th birthday today.
Ahead of her special day, Diaz was spotted out and about in Los Angeles, having dinner with her pals, including sister-in-law Nicole Richie and actress Zoe Saldana. Days earlier, Diaz was spotted running errands and picking up some groceries from Whole Foods. Photographers snapped Diaz, donning a striped floral dress and cardigan, carrying her items to her car on Saturday, Aug. 25.
These days, Diaz has been living a very low-key life away from the spotlight. In March, she confirmed that she's "actually retired" from acting. The confirmation came amid speculation that Diaz was done with acting after two decades in the entertainment industry.
Diaz's Sweetest Thing co-star Selma Blair added fuel to the retirement rumors earlier in March when she spoke about her pal getting out of the acting game.
"We were reminiscing about the film [The Sweetest Thing]. I would have liked to do a sequel, but Cameron's retired from acting," Blair reportedly told Metro News. "She's like, 'I'm done.'"
After the article was published, Blair took to Twitter to clarify her comments. "Guys please, I was making a joke in an interview," Blair told her social media followers. "CAMERON DIAZ is NOT retiring from ANYTHING. And for more breaking news: I am NOW retiring from being Cameron Diaz's spokesperson."
But then, during a Sweetest Thing reunion interview with Diaz, Blair and Christina Applegate, Diaz admitted that she's retired.
When the trio was asked by Entertainment Weekly if they've all reunited since filming the 2002 movie, they revealed that they haven't.
"Goddamn it, why not?" Diaz asked.
"I don't know. You guys tell me. I see Selma," Applegate replied, to which Blair added, "Our kids are friends. Cameron?"
Diaz told her former co-stars, "Maybe I should, you know, I mean, I'm down. I'm literally doing nothing."
Applegate then shared that she is "semi" retired.
"I'm literally doing nothing, too! I'm semi-retired, I haven't worked for years. I'm a mom, that's what we do. So I'm around, man," Applegate said.
"That's so awesome," Diaz replied. "I'm totally down. I'm semi-retired, too, and I am actually retired, so I would love to see you ladies."
Donato Sardella/Getty Images
It's been four years since we last saw Diaz on-screen in 2014's Annie. Since then, Diaz has tied the knot with Benji Madden and has been putting her privacy ahead of anything else.
Diaz has also turned her focus to wellness in recent years, releasing two books on health and aging. In 2013, Diaz and Sandra Bark co-wrote The Body Book: The Law of Hunger, the Science of Strength, and Other Ways to Love Your Amazing Body. Three years later, the duo teamed up again to release The Longevity Book: The Science of Aging, the Biology of Strength, and the Privilege of Time.
Instead of hitting the red carpet, Diaz, who was one of the highest-paid actresses in Hollywood before taking a step away from the spotlight, is more likely these days to be found hanging with her sister-in-law, spending time with her pal and former Charlie's Angels co-star Drew Barrymore, or on romantic vacations with her husband.
In June 2017, Diaz offered a bit of a hint as to why she decided to leave the Hollywood scene, explaining that the non-stop work and travel was just too much. "I just went, 'I can't really say who I am to myself.' Which is a hard thing to face up to," she shared at the Goop Wellness Summit. "I felt the need to make myself whole."
And while we may miss her infectious smile on our movie screens, Diaz seems more at peace than ever before as she enjoys her private world.