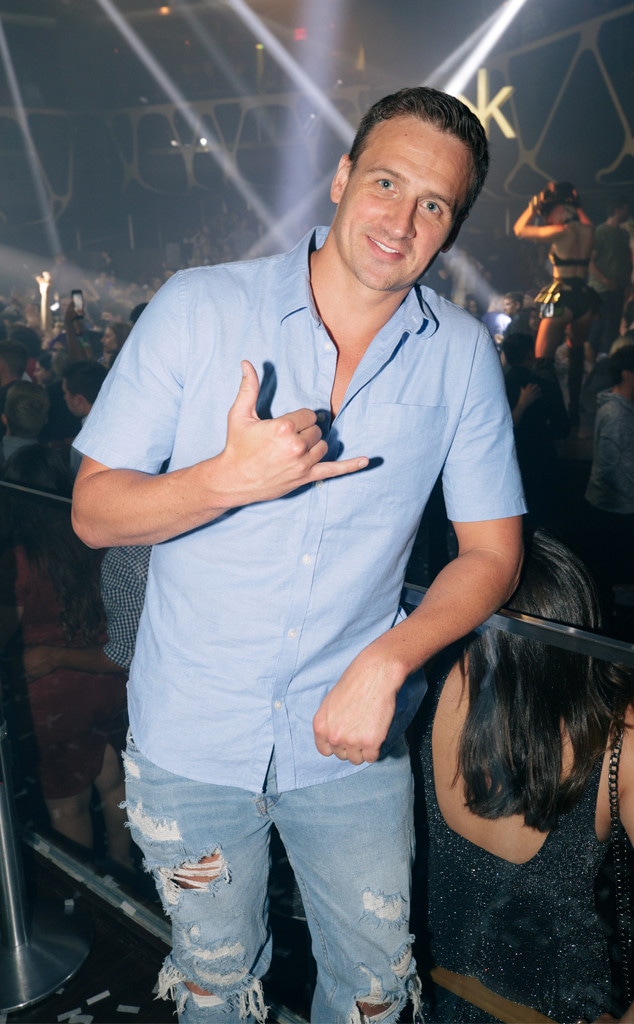 Joe Janet/Hakkasan Group
Ryan Lochte is celebrating his final days as an unmarried man—sort of.
On Thursday night, the Olympic swimmer and ten of his closest friends partied it up at the Hakkasan Las Vegas Restaurant and Nightclub inside the MGM Grand Hotel and Casino. A source tells E! News that after dining at the restaurant, the gentlemen headed over to a "VIP table behind the DJ booth," where "Lochte and pals sipped on Grey Goose vodka, Avion tequila and Veuve Clicquot Champagne while listening to the live performance by Steve Aoki."
"As celebrations came to an end, Lochte closed out an $11,500 bill before leaving the nightclub around 3:30 a.m.," the insider shared. However, Lochte's rep Jeff Ostrow confirmed the athlete did not actually pay this total himself.
While the groom technically married Kayla Rae Reid in January at a Florida courthouse, the pair has yet to make their official walk down the aisle in front of their family and friends.
And who can blame the pair? Following his engagement to Reid in Oct. 2016, Lochte finished his run on Dancing With the Stars, only to find out that Kayla was pregnant with their first child.
The two have since welcomed their baby boy, Caiden Zane, and have had little time to plan their wedding. Between balancing parenthood and the former training for the 2020 Olympics, their hands have been full.
Most recently, the gold-medalist was suspended by the United States Anti-Doping Agency, after it was found that the athlete had "received an intravenous infusion of permitted substances at an infusion clinic in a volume greater than 100 mL in a 12-hour period without a Therapeutic Use Exemption (TUE)."
At the time a source told E! News Ryan was "totally unaware of a rule that said you can't take an IV of more than 100 ML." According to the insider, Ryan was devastated by the sanctions, but simply took the IV drip as a way to prevent illness since both his wife and son were ill at the time. Until the sanctions are lifted, Ryan is focusing on training and, of course, spending time with his family. 
Hopefully Lochte's stag night means a wedding is in the near future!