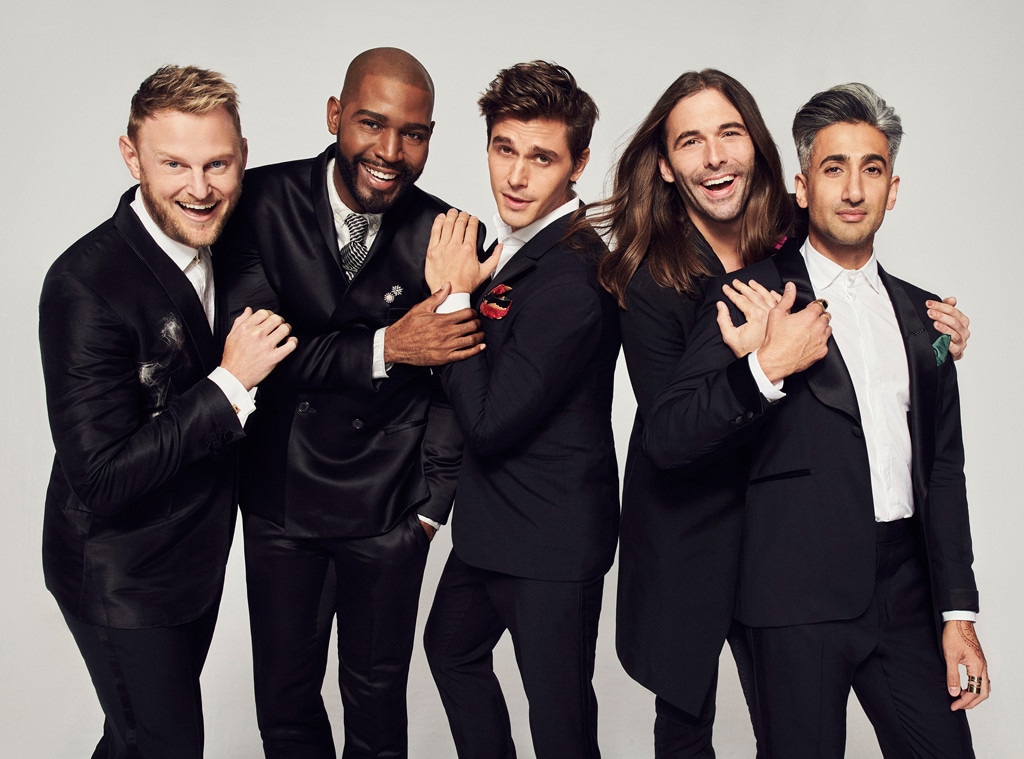 Netflix
We may have to wait until next year for more actual episodes of Queer Eye, but we almost never have to go a day without an update from our beloved Fab Five. 
As the show films in Kansas City, Missouri for season three, stars Jonathan Van Ness, Antoni Porowski, Karamo Brown, Tan France, and Bobby Berk have made sure to document as much as they could, even if they were just documenting a car nap or a Backstreet Boys singalong. 
Along the way, we've learned a few things about season three—or at least about what's going on behind the scenes of season three—so if you also want to be in the know, scroll on down and check out everything we currently know about the next season of the Netflix hit.
Filming began on Tuesday, July 17. Bobby marked the occasion with an excited video. "Oh my god, we can talk about it this time!" the interior design expert shouts as he pans around the room to show his costars and the show's execs. When they filmed the first two seasons, the show hadn't yet been fully announced, so the guys had to keep the filming a secret. Now, the show has become a major smash hit and the filming experience is bound to be a little different. 
Look how happy they all are to be together again!
Whatever is happening in this behind-the-scenes video, we need a spinoff of it. Bring It On: Queer Eye Edition. 
Jonathan is all of us, making everyone stop what they're doing to go get burritos. 
And Antoni is also all of us, falling asleep in the backseat on a mid-filming road trip. 
Think these boys are always camera-ready with perfect hair? Think again! Antoni shared this photo with Tan and also shared one of the fashion guru's tips.
Queer Eye: The Jukebox Musical? We'd watch it, and we're guessing the Backstreet Boys would as well. 
The guys may be hard at work, but they're not working too hard to have a little fun in Kansas City, as evidenced by Bobby's ask for things to do and see while they're there. Also, if you're looking for a sense of calm and serenity, please visit Bobby's Instagram and just gaze upon his hard work.
Meanwhile, Karamo and Tan taught the world about coordination and it was just delightful.
Then Karamo had an epic battle behind the scenes. A pattycake battle with a Queer Eye producer. It was captured by Queer Eye executive producer Jen Lane.
When Jonathan carried Tan, he carried all of us.
Bobby shared what can only be called the definition of "squad goals."
While the guys have documented themselves filming, they've been careful not to reveal too much about the upcoming season, including the heroes they'll be helping.
In an interview with E! News, the Fab Five said nothing really has changed for season three, well, almost nothing. "We found something that really works, we found a way that we can really, truly, go in and help people and we want to keep doing the same. We don't want to change it, we want to keep doing exactly what we're doing and keep doing it even better," Bobby said.
"Season one and two we were like freshman," Karamo shared. "We were new to the whole thing. We were like, 'OK, we're finding our footing.' And now we're going into sophomore year…so we are very confident of who we are and we are bringing our expertise out in a new way. So, what I would say has changed is us."
The cast also promised some more diversity. Karamo told us Netflix hears their concerns about making sure the show continues to be diverse and continues to "show people who don't feel represented that they are seen."
"There's a lot of people that we said we want to help in the next season and now here we are season three, and I will say, people should be very excited about—if you didn't see yourself, there's a strong possibility that as we go forward you'll see yourself," he said.
Queer Eye season three will arrive in 2019. The first two seasons are currently streaming on Netflix.