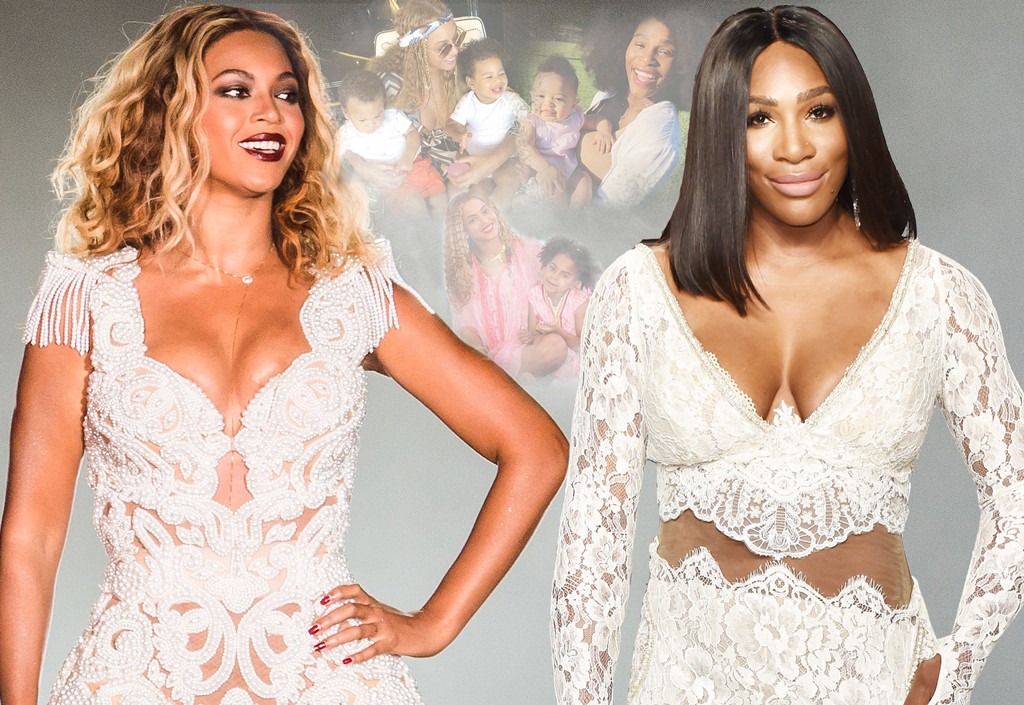 Getty Images/Instagram; E! Illustration
Motherhood in Hollywood is a contact sport, just ask Beyoncé and Serena Williams, two women at the top of their respective industries who've both recently opened up about falling victim to the societal pressure put on women after they've become mothers. Yes, it's hard to believe given their extraordinary talents and unstoppable determination, but Beyoncé and Williams are just human—and want you to know it on their terms. 
No strangers to performing under pressure, both superstars delivered show-stopping performances while pregnant.
In 2017, Williams was two months pregnant when she won the Australian Open, her record-setting 23rd Grand Slam win, while Beyoncé's performance at the Grammys that same year, when she was around five months pregnant with twins Rumi Carter and Sir Carter, was a tribute to motherhood that left viewers in awe. 
Williams and Beyoncé, both 36, may have made it look easy, they've made it clear post-pregnancy that motherhood and remaining the G.O.A.T. in their respective industries is anything but, helping to dismantle the unfair expectations put on mothers, both in Hollywood, IRL and even by themselves. 
After giving birth to the twins in June 2017, Beyoncé made her epic return to the stage with a historic performance at Coachella 2018. The two-hour set, which featured over 200 back-up dancers and appearances from husband Jay-Z, sister Solange and a reunited Destiny's Child, will go down as one of the best live performances of all-time... but just months earlier, the superstar was on bed rest before having an emergency c-section after experiencing preeclampsia and toxemia.  
"I was in survival mode and did not grasp it all until months later," Beyoncé wrote of the experience, which also included spending "many weeks in the NICU" and led to the star taking a six month break from the public eye.
"It had been major surgery. Some of your organs are shifted temporarily, and in rare cases, removed temporarily during delivery," she said. "I am not sure everyone understands that. I needed time to heal, to recover."
Time was a luxury she didn't give herself years earlier, as this was a far cry from her first pregnancy; Beyoncé purposefully scheduling a tour soon after giving birth to Blue Ivy Carter, now 6, as motivation to return to her pre-pregnancy form. 
Williams also suffered a harrowing experience giving birth to her almost one-year-old daughter Alexis Olympia with Alexis Ohanian, which she opened up about in an article she wrote for CNN Opinion. 
"First my C-section wound popped open due to the intense coughing I endured as a result of the embolism," she revealed of the near-death experience. "I returned to surgery, where the doctors found a large hematoma, a swelling of clotted blood, in my abdomen. And then I returned to the operating room for a procedure that prevents clots from traveling to my lungs."
Williams then spent her first six weeks of motherhood in bed, making her appearance in the Wimbledon finals just 10 months later all the more remarkable. 
"I remember I couldn't even walk to my mailbox," Williams said during the tournament. "So it's definitely not normal for me to be in a Wimbledon final."
But to get there, sacrifices had to be made, like missing her daughter's first steps while she trained, an experience she shared on Twitter, admitting she "cried." 
Williams' honesty about the heartbreak she felt over missing this moment in order to focus on her game is just one example of the tennis star helping to dismantle the "having it all" myth, choosing to focus on working hard in all aspects of her life.
"In some weird way, I still want to be the best in what I do, whether it's fashion or tennis. I just want to be the best and I want to work the hardest. I also want to be the best mom," Williams told E! News in May after winning her first match following her return from maternity leave. "Why limit myself?" 
Whether you're a superstar eyeing a return to the stage or a world-class athlete attempting to reclaim your title as the No. 1 player in the world after giving birth, tough decisions are part of the long journey—even when it comes to breastfeeding, something Williams revealed in her Time magazine profile. 
 "It's absolutely hard to take from a guy," Serena said of her male coach Patrick Mouratoglou telling her to stop nursing when her training schedule picked up. "He's not a woman, he doesn't understand that connection, that the best time of the day for me was when I tried to feed her. I've spent my whole life making everyone happy, just servicing it seems like everyone. And this is something I wanted to do."
Ultimately, Williams decided to stop nursing, explaining, "I looked at Olympia, and I was like, 'Listen, Mommy needs to get her body back, so Mommy's going to stop now.' We had a really good conversation. We talked it out."
In her Vogue essay, Beyoncé shared a somewhat similar experience during her tour following Blue Ivy' birth, during which she was "still breastfeeding," admitting "Looking back, that was crazy." 
But her drive to immediately get back to her just emphasizes the pressure and expectations put on women—especially celebrities—to bounce right back after giving birth, and both Williams and Beyoncé's candor shows that even some of Hollywood's most powerful women aren't immune to society's ideals and expectations. 
Larry Busacca/PW18/Getty Images for Parkwood Entertainment
Williams admitted to using a waist trainer to make her stomach look thinner in an Instagram after feeling the pressure of social media to look a certain way post-pregnancy. "I hated that I fell victim to that," she said. "It puts a lot of pressure on women, young and old."
And yes, even Beyoncé felt the pressure, given society's tendency to glorify celebrities for returning to a red carpet mere weeks after giving birth, quick to highlight their enviable post-baby body. 
"After the birth of my first child, I believed in the things society said about how my body should look," she wrote. "I put pressure on myself to lose all the baby weight in three months, and scheduled a small tour to assure I would do it."
But over five years later, during her recovery following her harrowing C-section, Beyoncé decided to do things differently, giving herself "self-love and self-care," writing, "I embraced being curvier. I accepted what my body wanted to be.
"After six months, I started preparing for Coachella. I became vegan temporarily, gave up coffee, alcohol and all fruit drinks. But I was patient with myself and enjoyed my fuller curves," she continued. "I think it's important for women and men to see and appreciate the beauty in their natural bodies...To this day my arms, shoulders, breasts and thighs are fuller. I have a little mommy pouch, and I'm in no rush to get rid of it. I think it's real. Whenever I'm ready to get a six-pack, I will go into beast zone and work my ass off until I have it. But right now, my little FUPA and I feel like we are meant to be."
Unparalleled work ethics are just another trait the women share, with Williams unapologetic about her professional aspirations. 
"There are records out there that I want, and I'll get there, but in due time," she told InStyle. "I'm always in the fast lane. I'm always extra. I have to be willing to do the work, and I have been. Because, to be honest, I feel pressure to be Serena. But these days I keep telling myself I don't have to be anything. This is for me."
But that doesn't mean Williams isn't battling bouts of "mom guilt," doubts and fear of failing. 
"Some days, I cry. I'm really sad. I've had meltdowns" she admitted. "It's been a really tough 11 months. If I can do it, you guys can do it too."
As Williams preps for the U.S. Open as the latest leg of her comeback and Beyoncé continues her OTR II Tour with Jay-Z after the surprise release of their album Everything Is Love and her historic Vogue cover, it's clear these women have no intentions of slowing down anytime soon, providing inspiration for an entire generation of young women—including the ones they gave birth to. 
"As the mother of two girls, it's important to me that they see themselves too—in books, films and on runways," Beyoncé wrote. "It's important to me that they see themselves as CEOs, as bosses, and that they know they can write the script for their own lives—that they can speak their minds and they have no ceiling."
Luckily, they have a front-row seat, whether in a concert venue or on the court, to see how it's done.