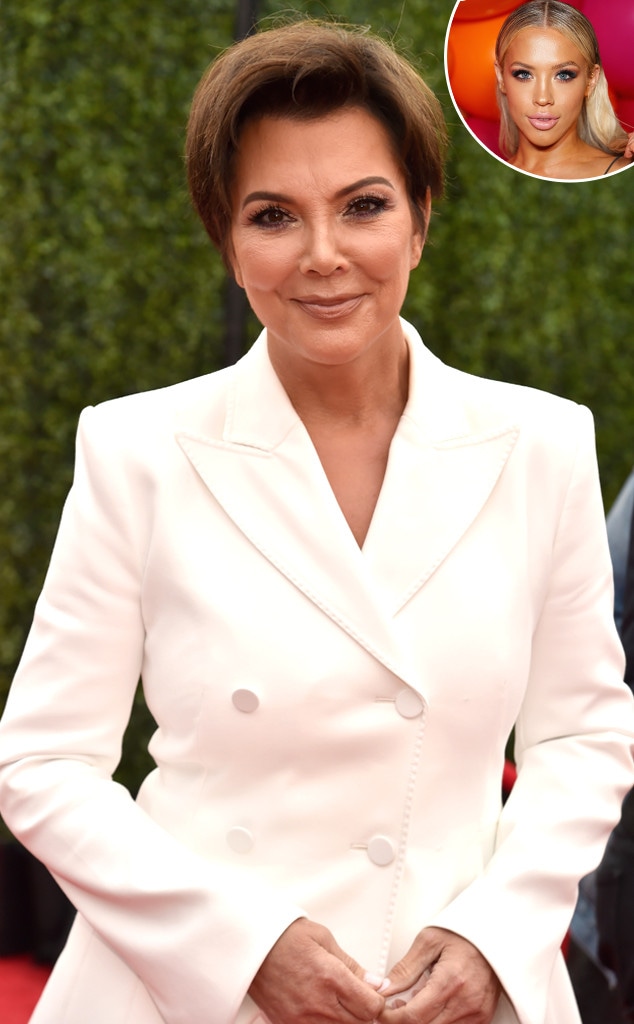 Jeff Kravitz/FilmMagic, Inset: Don Arnold/WireImage
Kris Jenner is wishing the best for model Tammy Hembrow.
The KarJenner momager spoke on the Australian radio show Kyle and Jackie O and discussed her daughter Kylie Jenner's birthday party and the events that ensued, including Hembrow's hospitalization. Photos showed the model being carried away face-down on a stretcher outside Delilah, the trendy L.A. club where Kylie celebrated her birthday. "I hope she's okay," Kris told the radio hosts. 
Luckily for the mom, Kris wasn't actually present when ambulances showed up. "I actually left before any of that happened. I typically go to bed at nine o'clock so it was way past my bedtime," she explained.
A few days after Kylie's epic celebration, Hembrow posted a YouTube video about the incident. In her post, Hembrow thanked fans for their support asking if she was well. She then detailed exactly what occurred: "So, basically what happened was I was in L.A. I was running off pretty much 30 hours no sleep. I was struggling to stay awake even when I was getting my hair and makeup done. I was literally sitting there, like, falling asleep. Like, I could barely keep my eyes open."
According to the Instagram influencer, she'd been focusing on work as a means of distracting herself from her breakup with fiancé Reece Hawkins. Hindsight is 20/20, and Hembrow admits she shouldn't have been drinking at that point due to her lack of sleep. "I probably, definitely shouldn't have been drinking because of how jet-lagged I was, because of how exhausted I was, and I already wasn't feeling well at all...I pretty much collapsed." 
Hembrow said she was "super, super embarrassed" about it, but at least she has Kris Jenner's well wishes on her side.
The KarJenner matriarch didn't spend too much time talking about Hembrow, however. She expressed her complete pride for daughter Kylie and how she has grown as a person and a mom. "She is so smart and she is so passionate about what she doing. I'm so proud of her. She is really such an amazing mommy. I mean her number one priority is little Stormi and she is such a great mom," she said.
Speaking of moms and parenting, Kris addressed Kourtney Kardashian's ex Scott Disick and his place in their family. "Scott's like one of my kids. He is the father of my grandchildren, 3 of my grandchildren and he has been in our family and with us for nearly 12 years and in TV time 15 seasons. He was in Season 1 Episode 1, so Scott has been around since the dawn of time. I love him!"
Disick is apparently "very happy" about Kourtney's breakup with model Younes Bendjima.
Kris' relationship with her bodyguard Corey Gamble has also led to speculation and engagement rumors. She put all that to rest: "We're dating. We are having a really good time."
With kids, grand kids and in-laws in her life, the Keeping Up with the Kardashians mom must have some sort of hierarchy of her kids. So, yes, she does have a preference, but there's a catch: "There is always a favorite and it is never the same person."
Keeping Up With the Kardashians returns this September, only on E!