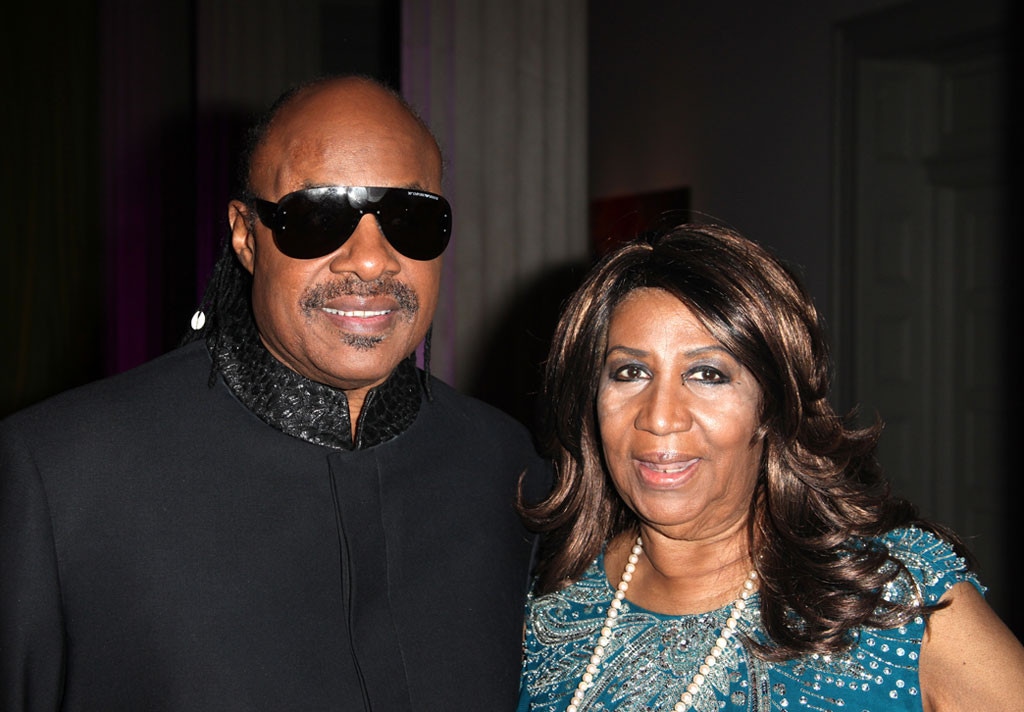 Walter McBride/Corbis via Getty Images
E! News has learned that Stevie Wonder visited Aretha Franklin as the legendary singer remains "gravely ill."
Franklin's rep has also spoken out about Franklin's current health condition. The Queen of Soul's publicist Gwendolyn Quinn told People in a statement that Franklin's family is by her side and supporting the singer. "The love she has for her family is above reproach and was evident in the warm smiles she was able to share with her nephew during his very brief visit two weeks ago," Quinn said.
The publicist called Franklin "the Matriarch" of her family because she is the lone surviving sibling.
Quinn also discussed the "Respect" singer's current health status, which appears quite dire. "She is seriously ill and surrounded by family members who appreciate the outpouring of love and support they have received," she disclosed.
On Monday morning, reports first emerged that the Rock & Roll Hall of Fame inductee was "gravely ill." By Monday night, Franklin was reportedly in hospice care at home.
Since news broke about Franklin's illness, fellow artists and fans alike have showed a complete outpouring of support. Patti LaBelle called Franklin "the greatest singer of all time" in a heartfelt tweet. Sheryl Crow also took to Twitter to show her support: "Love and prayers for Aretha Franklin. The most soulful angelic voice that ever was. You are the queen and we love you."
Beyoncé and Jay Z even dedicated their Detroit OTR II concert to the singer. Beyoncé expressed her admiration and affection for Franklin: "We love you. We thank you for changing all of our lives with your beautiful music."
Evrod Cassimy, the morning anchor of Detroit's local news station WDIV, was one of the first sources to report on Franklin's health. Cassimy remained in contact with Franklin's family and tweeted, "She is asking for your prayers at this time."
In 2017, Franklin announced her retirement from performing in concert. "This is it," she said at the time.
Just before that, in 2015, Franklin brought President Barack Obama, Carole King and many others to tears at the Kennedy Center Honors where she sang "(You Make Me Feel Like) A Natural Woman" and received a standing ovation.