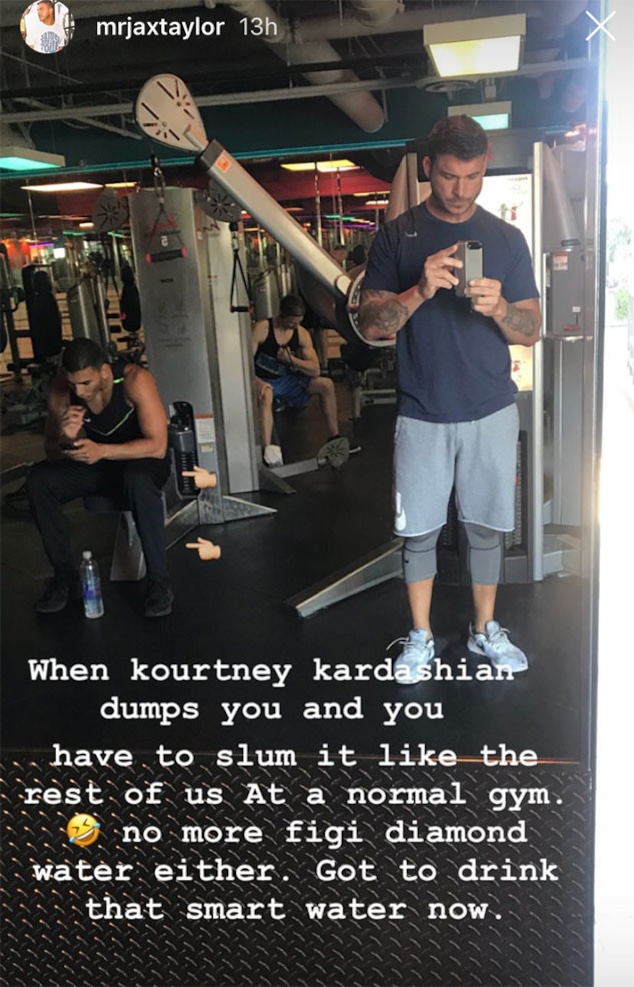 Instagram
Jax Taylor doesn't forget a face. 
The Vanderpump Rules star was working up a sweat at the gym on Monday when he spotted a familiar star—Kourtney Kardashian's ex-boyfriend, Younes Bendjima. But, the story doesn't end there. Taylor casually took a mirror selfie to capture the model sitting at a nearby machine looking at his phone and then posted it on social media with a biting caption. 
"When kourtney kardashain dumps you and you have to slum it like the rest of us at a normal gym," Taylor wrote on the photo shared on Instagram Stories. "No more [Fiji] diamond water either. Got to drink that smart water now."
Clearly, the reality star was not shy about making fun of Bendjima, who recently called it quits with the famed Kardashian sibling after nearly two years of dating. Their breakup was confirmed last week after they took "time apart" that ended with their split. 
"Kourtney is upset but she is trying to focus her energy on other things and stay busy," a source told E! News a week ago. "Kourtney doesn't plan on calling attention to it publicly and wants everything to blow over. It's upsetting to her. They have been having ups and downs for the past month."
"There was a huge chance they were going to get back together and they were working on things, but now that these photos surfaced, things are definitely over," the source continued, referring to recent playful photos of Bendjima with Jordan Ozuna in Mexico. 
Bendjima did not mince his words when he weighed in on reports of the split on social media. "They really want me to be the bad guy," he wrote with a series of laughing emojis on a photo of The Daily Mail's story using those headline-sparking pictures. "F--k your Hollywood bullsh-t (cant have fun with your friends no more)." He then added, "dailymail Where are my 12 other friendssss? Nice catch tho."
In a separate Instagram statement, he added, "Once again you guys failed. I'm not attached to this 'life' so you can't touch me. I know who I am where I'm from and where I'm going and that bothers you. Only one opinion matter the one of my lord. Have a wonderful day."
Needless to say, it doesn't sound like he would really care what Jax Taylor has to say about his workout spot.