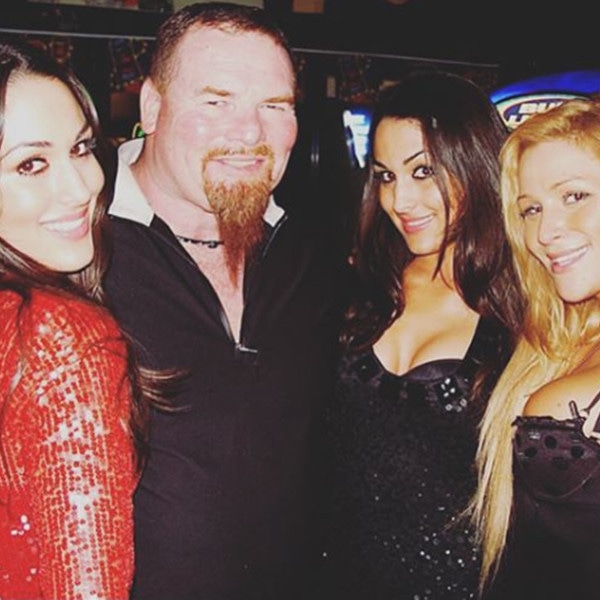 Instagram
The WWE community continues to pay tribute to Jim "The Anvil" Neidhart.
One day after news broke of the wrestler's death, Nikki Bella took to Instagram and honored a friend in and out of the sports world.    
"'You know, I can sum it up for the Hart Foundation: We're gonna get hungry, and we're gonna forget our manners. Hahahaha.' RIP Jim 'The Anvil' Neidhart. Your legacy will continue," the Total Bellas star shared on Instagram Tuesday morning. "Your talent and personality will never be forgotten. And your amazing support of so many of us WWE Superstars will always be cherished."
In the post, Nikki shared several pictures of the wrestler before big matches. In addition, some memories included Brie Bella and Jim's daughter Nattie Neidhart.
"Thank you for helping @thebriebella and I from day one. Has meant so much to us. Love you @natbynature more than words," Nikki shared with her seven million followers. "You're the definition of strength. We all are here for you, your mom, your sisters, @tjwilson711, @brethitmanhart and the rest of your family. Love you all so so much."
Nattie would later see the post and comment, "I love this! This means so much to me."
Earlier this week, the WWE announced Jim's death. Pasco County Sheriff's Office also confirmed to E! News that preliminary information indicates the wrestler fell at his home, hit his head and succumbed to his injury. No foul play was suspected.
Since Jim's passing, several wrestlers have shared their fond memories of the WWE star including his own daughter.
"I can't put into words how hard it is going to be for myself and our family to have to say goodbye to my dad. He meant the world to us, and nothing will ever replace the special times we shared together as a family. My dad was always a fighter and an incredibly special person. There was no one like him!" Nattie wrote on Twitter. "I'm just gonna miss him so much."
She added, "We are going to hold all of the moments we had with him close to our hearts forever and never let them go. I promise to keep your memory alive. We love you so much, Daddy!"
In lieu of flowers, Nattie told her Instagram followers that contributions can be made to The Women's Alzheimer's Movement which is a "cause that's close to my heart and my dad's."