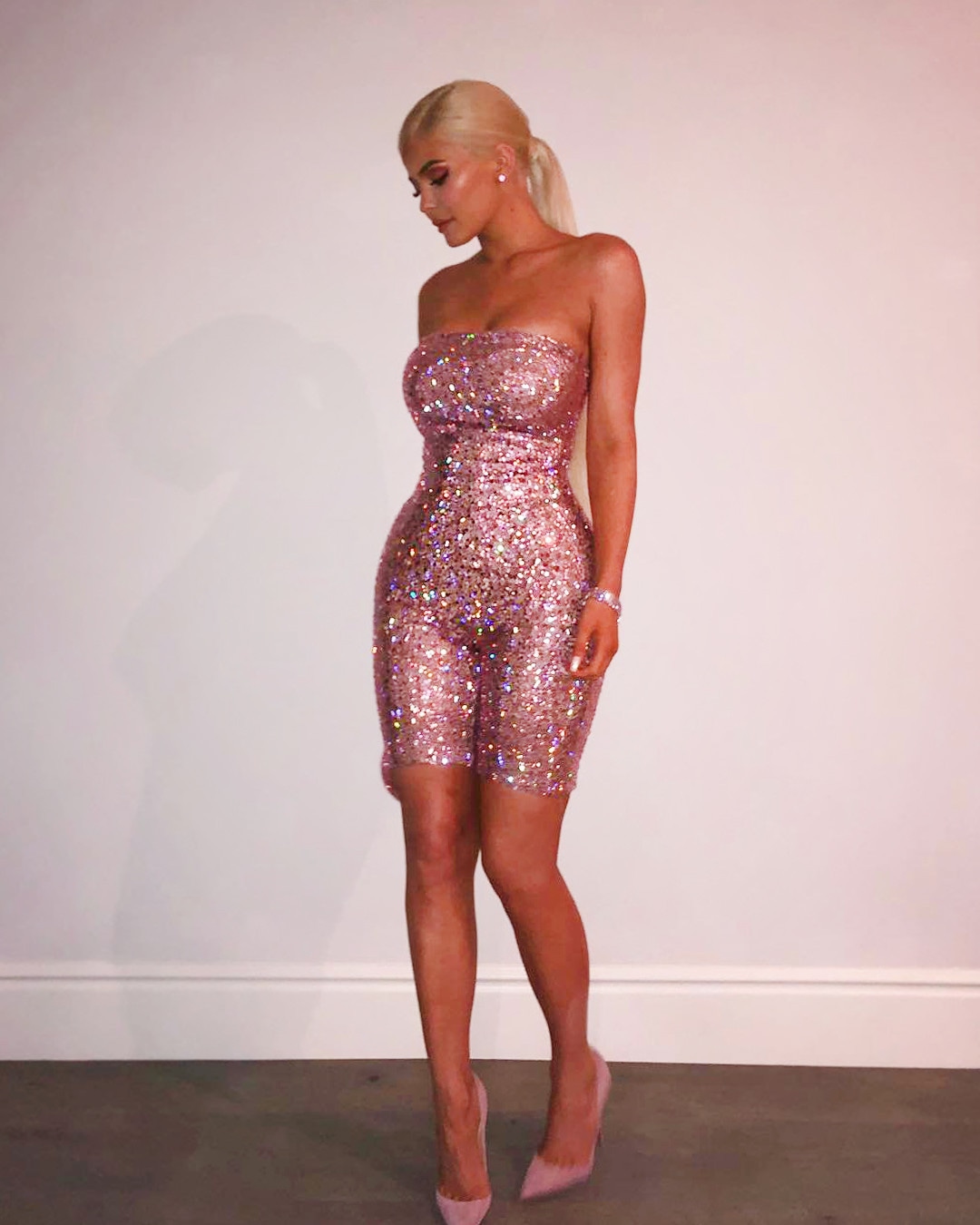 Instagram
Kylie Jenner's 21st birthday was an outfit to remember.  
After leaving dinner at Craig's with her sisters, the Keeping Up With the Kardashians star changed out her Peter Dundas satin, mini dress and into a custom LaBourjoisie jumpsuit for her party at LA-based nightclub, Delilah's. Staying within the pink theme, the sparkling sensation featured a strapless bodice and boy shorts—one of the star's favorite silhouettes—and a lot of crystals. To complete her look, she added pink suede Christian Louboutin pumps and a circular Marzook purse. 
Although it was stunning in it's own right, Kylie's birthday style reminds us of a look we've seen before: Kendall Jenner's 21st birthday dress.
Back in 2016, the model brought in her 21st birthday wearing a dress from LaBourjoisie, the Lebanese designer that designed Kylie's jumpsuit, which also dripped in crystals. Kendall's dress, however, had a silver tone and a plunging neckline, reminiscent of an iconic Paris Hilton  ensemble. Styled by Monica Rose, the chainlink sensation took seven days to create and cost approximately $9,000.
While Kylie took a note from her sister's book, her pink jumpsuit had a more intensive design than her sister's (a clear benefit of being a younger sibling). Elle reports her look took 10 days to create, yet its price is about $1,000 less than Kendall's chainlink dress.
"We wanted to reimagine the perfect party dress into an amplified representation of Kylie's most favored trends," the LaBourjoisie team told the publication. "With Kylie having worn our gowns previously, Jill wanted to take that same show stopping effect in a direction we've never been with her before. We incorporated our signature crystallization into a jumpsuit design that would showcase Kylie's infamous curves. Thousands of pale pink Swarovski crystals were applied to create a starburst effect, producing a hypnotizing glimmer iconic for a 21st birthday."
Between Kylie and Kendall, which look is your favorite?