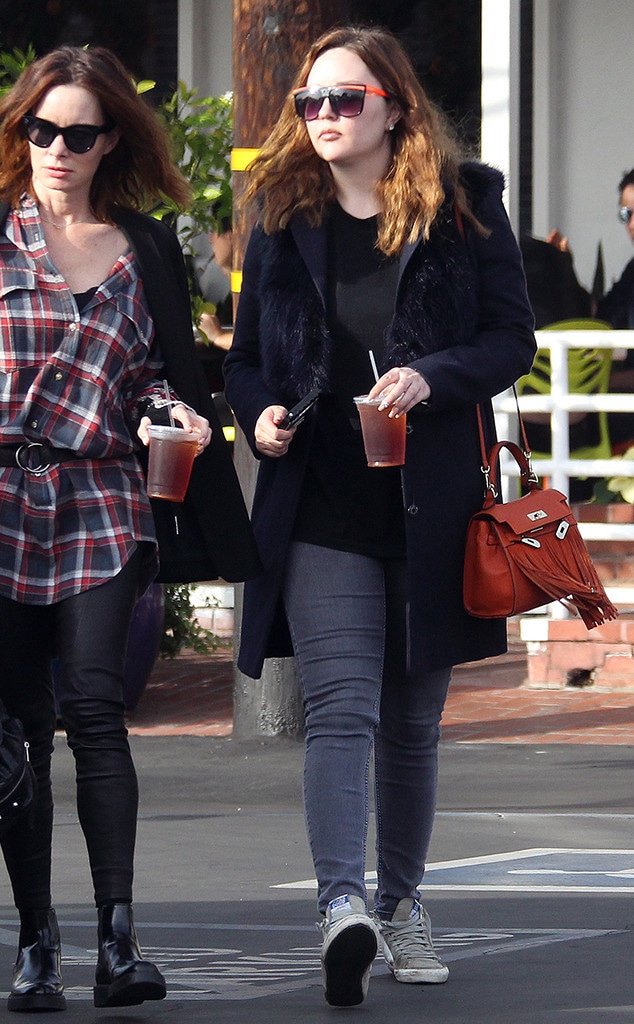 JLM / Splash News
For the last few years, a lot of the talk about Amanda Bynes has been nostalgic, of the "remember when?" variety.
Amanda Bynes is now hoping to move that conversation into the present tense.
"The fact that Amanda is living on her own, making her own decisions and future plans is something her parents are so proud of," her family's attorney Tamar Arminak told E! News this week in confirming that Bynes and her parents happily remain on good terms. "Finally she is surrounded by friends and companions she can trust and really open up to. She feels free to be herself, which brings her so much happiness and excitement for the future."
The conservatorship that the Byneses secured for their daughter in 2014 remains in place for now, but everything is going so well, Arminak says, it's "the last thing on their minds."
Amanda Bynes has been "excited about the future" for a couple of years now—but that is by leaps and bounds better than the unexpected place she found herself in 2013, when a slew of erratic behavior culminated in her being put on a 5150 psychiatric hold that July. Lynn and Rick subsequently went to court seeking a temporary conservatorship in order to take control of their daughter's medical care and finances while she was struggling.
Bynes ended up spending nearly six months in treatment.
"I was serious, but I was also on drugs," she admitted in June 2017 to Hollyscoop, her first on-camera interview in years, when asked about her infamous 2013 tweet entreating Drake to "murder [her] vagina."  
"So that was my way of saying, like, 'let's do it, man,'" she recalled, smiling (and standing by her choice, declaring Drake still hot). "But I was, like, on drugs and trying to be hilarious." As for what that phrase means...well, self-explanatory, really. "It just means, like, 'F--k me, Drake!'"
Bynes also talked about copping Blac Chyna's look at the time with her dual cheek piercings, "because I thought they looked super-hot on her...I'm a fan of hers. She's adorable."
Though Byne took the promising-looking step of enrolling in fashion school in early 2014, that wasn't the end of her troubles. Her relationship with her parents further declined and, following a DUI arrest in September 2014, barely five months after getting her suspended license back (she ultimately wasn't charged), Bynes ended up in another treatment facility that October—involuntarily, she later tweeted—and she remained there for several weeks.
Bynes' parents, whose temporary conservatorship had ended, went back to court to get it reinstated, and it was extended pending a hearing in February 2015. 
In November 2014 Bynes revealed via Twitter, her preferred method of communication for a long time, that she had been diagnosed with bipolar and manic depressive disorders, adding, "My lawyer said if I comply with the courts and take my meds and see my psychologist and psychiatrist weekly then I will get unconserved. Thank GOD." Later that very day, she wrote, "I'm so mad at my parents. They are with holding my belongings and money from me so I don't have new clothes or enough money to rent an apartment." 
Amanda Bynes sightings became increasingly sporadic after that—but as it turned out, that was entirely for the best as she sought to turn the page on that accidentally scintillating chapter of her private life and find balance in the day-to-day.
She turned to yoga to relax and spent a lot of time reading as she focused on reconnecting with her family. Bynes even made a rare public appearance at an event for designer Michael Costello in L.A., who was flattered to find out the What I Like About You star was such a fan. Not surprisingly, the paparazzi went wild.
A judge made the conservatorship permanent, but no public protest was heard from Amanda. Instead, she eventually resumed her studies at the Fashion Institute of Design and Merchandising, learning how to sew, make patterns and otherwise execute the design dreams she had previously said she was abandoning acting to pursue, as well as learn about product development.
It was her renewed commitment to that path—and a nice, long break from social media—that seems to have marked the turning point toward overall recovery.
"She is doing great," Arminak in April 2016, right before Bynes' 30th birthday. "She is happy and healthy, and excited about the future."
And when she did return to Twitter that August, it was to share an upbeat message.
"Hi everybody! I haven't tweeted in a long time and I want to say hi! I've been really busy at FIDM, and I just finished my midterms," she shared. "I am really loving school and I feel that I am learning a lot. I enjoy all of my classes and my teachers are excellent."
Meanwhile, the creative juices that have been inevitably flowing during her time at FIDM may have inspired her to return to her original craft. She also told Hollyscoop last summer, sipping a strawberry acaí juice from Starbucks, that she planned to return to acting, starting with some guest appearances and maybe even as the star of her own show again one day.
In addition to school, she said she was spending her time feeding the homeless, hiking and going to spin classes—all healthy-sounding pursuits.
She was asked about the public support her onetime All That co-star Nick Cannon had sent her way, and Bynes said she hadn't talked to him, but she was aware that he had said that she was family, "and I love that. He is definitely a family member to me, too."
Just this week Cannon spoke about Bynes, acknowledging he hadn't seen her but telling ETOnline that he heard "she's doing so much better. People, when they're dealing with personal issues, sometimes you gotta give them their space and then when they reach out, that's the time to do it."
He added, "It's always an open invite whenever she needs anything, career or even personally. I'm here." 
Cannon also said that they had tried to get her on his MTV show Wild 'N Out, but when she wasn't available for an All That reunion, either, he realized she had more pressing things to take care of. "But, you know," he continued, "she's always welcome. That's little sis right there."
And perhaps now that she's in a better place than she's been in years, and she's due to graduate from FIDM this fall, we may be seeing a lot more of Bynes.
We did just see inside her bag, after all, and that's about as private as it gets for some people.
Us Weekly's recent deep dive into Amanda's Maison Goyard tote (you can get one just like it for $2,750) turned up an impressive array of products—MAC Blott Power, Mario Badescu Rosewater Spray, Kylie Cosmetics So Cute Lip Gloss (so, you know, she's been keeping up with the Kardashians)—as well as vitamins, Mentos, a Kind bar and Beats headphones. She also carries a Montblanc Marilyn Monroe pen that was a gift from a member of the cast of 2007's Hairspray (useful because "I'm constantly drawing ideas") and is listening to Post Malone.
And there was one other clue that Bynes is doing quite well: she carries the perfume that mom Lynn always gets her for Christmas, L'Aromine's 1936 Special Edition Vanille Eau de Toilette. 
"She's been doing it for the better part of 10 years now," Bynes revealed. "Every time I put it on, it reminds me of her."
The Bynes' conservatorship was recently extended and will remain in place at least until 2020—but as Britney Spears' conservatorship, now into its 10th year as she approaches her 37th birthday this December, has proven, that doesn't necessarily mean a person can't live her own life and reach entirely new heights of success. And, as the recent announcement of Lindsay Lohan's upcoming reality show for MTV proves, show business does indeed harbor endless types of opportunities for those interested in making a comeback on camera.
According to Us, Bynes still plans to return to TV and she'll be launching a clothing line next spring, Vintage by A.B.
Amanda is "looking forward to graduating and the next phase of her life," Tamar Arminak, the Bynes' attorney, tells E! News. "So many celebrities and people she admires have admitted recently that they also struggle with addiction, depression, anxiety...and that has given her confidence to be open about her own struggles. The pressure to always be perfect in public for young celebrities can be so stressful. This newfound honesty and acceptance among her peers has made her see that she isn't the only one in Hollywood dealing with it."
Truer words were never spoken. And there's more than enough room for Amanda Bynes to pursue whichever type of opportunity she thinks would be the right fit.