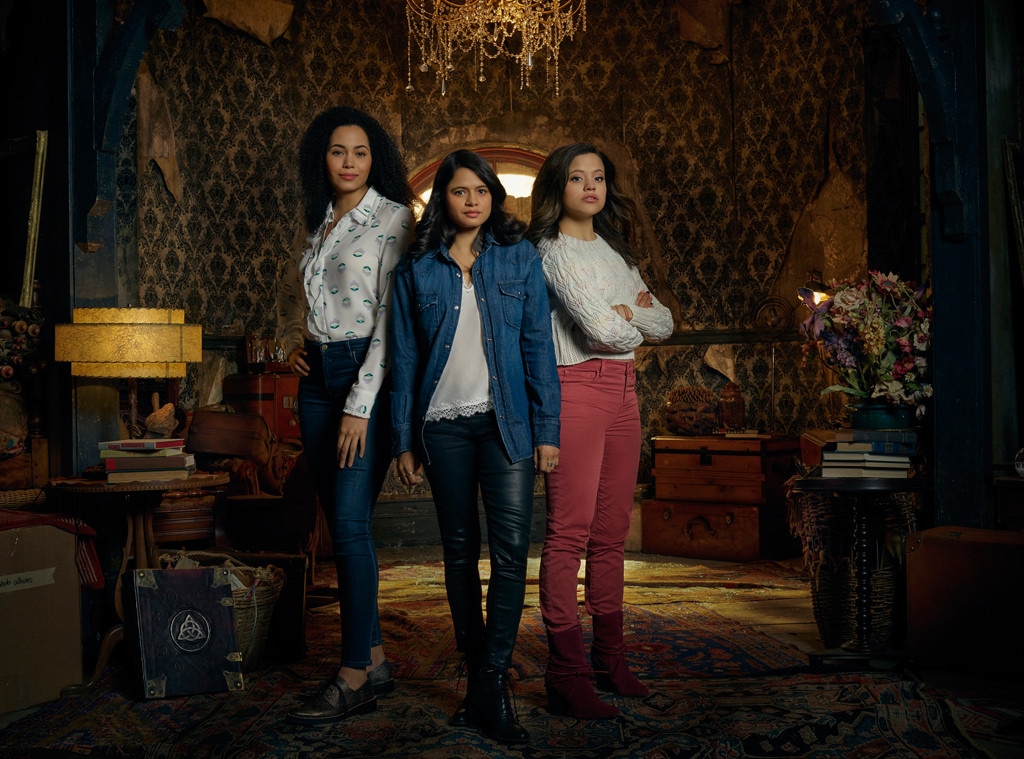 CW
To remake, reboot or revive, that seems to be the burning question in Hollywood.
As the television landscape continues to grow, from traditional broadcast networks to basic and premium cable to streaming platforms—even Walmart might launch a streaming platform—established properties are a hot commodity. These older shows and/or movie properties have an already established brand familiarity and potential audience built in, which is a blessing and a curse.
Look at what happened when The CW ordered a Charmed reboot to pilot. Original series star Holly Marie Combs took to social media and slammed the project. "Here's the thing. Until you ask us to rewrite it like Brad Kern did weekly don't even think of capitalizing on our hard work," Combs tweeted. "Charmed belongs to the 4 of us, our vast amount of writers, crews and predominantly the fans. FYI you will not fool them by owning a title/stamp. So bye."
CW boss Mark Pedowitz addressed Combs' criticism at the 2018 Television Critics Association press tour. "Again, everyone's entitled to their opinion. I have great respect for all of them as actors. But, again, just give the show a shot," he said. "It's different."
Somebody who knows all too well about reboots, remakes, revivals and fandom is Veronica Mars creator Rob Thomas.
"There's just so much entertainment right now. I mean, there's just—there are so many shows out right now and I know that networks are thinking, 'How can we get a toe hold? How can we get an initial audience for what we're doing?' and if it's a title that people know and think of fondly, it puts them one step ahead of the game, usually," Thomas said about the TV industry's current infatuation with reboots, remakes and revivals.
CHARMING THE FANS
The Charmed ones are back, but these aren't the Halliwell sisters fans knew for eight seasons. The CW worked on a Charmed reboot for a few development cycles before ordering the new series, and Pedowitz said the network always looked to a remake rather than a revival.
"We wanted to take a different path with it. We wanted the show in a more current time. We wanted the show with [executive producer Jennie Snyder Urman's] perspective because she has such a great perspective. We wanted a different Charmed. Again, Charmed was a terrific show for its time and place," Pedowitz told reporters at the 2018 TCA summer press tour. "We have great respect for it, but this Charmed has that essence of it...We hope people will come and watch it and sample it and give it a chance."
Snyder Urman, who is also behind Jane the Virgin on The CW, said fan reaction was "constantly" on her mind when working on the 2018 version of Charmed, which stars Madeline Mantock, Melonie Diaz and Sarah Jeffery, with fellow executive producers Amy Rardin and Jessica O'Toole.
"Constantly, especially when you have a show that has such a passionate fanbase, you know that that's why you're doing it. We're fans of the show," Snyder Urman told reporters at TCA. "You're taking into account a million little things and there's an extra degree of difficulty, I think, when you reboot or revive or do anything, 'cause people have such a passionate connection to what the story was. And any change, you just want to be mindful about why you're making them and not do things randomly."
The reaction from the public and from the former stars is why Snyder Urman is bringing the show back. "That's why we're here. Do you wish that everything was, 'Oh great job!' That never happens," she said.
"You never want anyone to say anything mean on the internet about you," O'Toole said.
"But I can empathize, I really can. I can understand it's such a huge part of people's lives. It was eight years and that's a long time in the life of a show and the life of a person, so I understand that," Snyder Urman said.
The message they're sticking to? Watch and see for yourself.
The cast said they're aware of how special the show is to fans and those who made the first one, and Mantock said she hopes Combs "would see it and like it."
"But, on the other hand, I get it. It was part of her life. It is still a part of her life. And I think she's entitled to feel however she wants," she said.
Thomas seemed to encounter a similar problem with one of his remakes, The Lost Boys. But The Lost Boys, a TV version of the beloved 1987 film, is just the latest remake or revival Thomas is involved with.
TO REMAKE, REBOOT & REVIVE
The writer-director shot to fame with the three-season series Veronica Mars. He went on to revive Veronica Mars on the big screen in 2014. After Veronica Mars' TV run ended in 2007, Thomas was tasked with bringing a new version of Beverly Hills, 90210 to life—that became 90210 on The CW. And in 2009 he remade Cupid, the ABC series of the same name that originally aired for just one season in 1998. Thomas' The Lost Boys was announced in 2016.
90210, which ran for five seasons, came about because Thomas' Veronica Mars had just ended on the network and Dawn Ostroff, the then-head of The CW, felt Thomas "was a writer who they thought could write teen voices." He was not involved in the original Fox series. In fact, he said, "I don't think I, I watched three episodes of the original 90210 in my lifetime." This is the complete opposite of Cupid and Veronica Mars, which he created.
Thomas said his involvement with 90210 ended before the show added legacy characters from Beverly Hills, 90210 because of a deal at ABC. That's when Cupid was getting ready to come back to life. The original Cupid starred Jeremy Piven and Paula Marshall, but the new version was a remake and featured Bobby Cannavale and Sarah Paulson.
"When ABC wanted to redo Cupid, it was because they felt…like the timing was off on it. They requested something that was very close to the original, so that was sort of the mandate going in—because I had loved doing the first one and also felt like, 'Well, maybe, maybe the time is right this time for it.'"
Thomas said working on the reboot wasn't the best experience, "because it turned out I was not creatively on the same page with the network...as things evolved." "At least setting out the goal was, 'Hey, we think this is a great idea and should have worked, let's try that again,'" he explained.
However, it's not exactly like Cupid, a one-season show from 1998, had a massive following that would be up in arms about a remake. Thomas discovered what that was like when he took remaking the popular flick The Lost Boys for TV.
"I've spent the last three years trying to get a version of Lost Boys done as a TV show and once that was announced that I was working on it, I don't think I've ever gotten quite so much online feedback from fans on something that was just at that point, a pilot pitch," he said. "Yet with that project I was originally going pretty far afield of the movie, but I tried to fill it with every kind of Easter egg I could. It's like, yes, I'm doing something radically different, but for the fans, there are 36 Easter eggs in here if you care to look for them. There's going to be something that delight you, even if I am moving these vampires out of this Southern California beach town."
"The hope is—this is an exaggeration—but that you're going from the Adam West Batman to The Dark Knight—that you're doing something new and kick ass. It may share the title, but you are pushing it further. I may have pushed it too far. And so, we're revamping the revamping," he said.
There's now a new writer working on The Lost Boys.
"We're going back to the California beach town, by God we're going to get this thing on the air one way or the other. It may be a long process and I think we're being more reverential with the material this second time around," he said.
WHEN FANDOMS AREN'T SO LOUD
Yet there are shows that have gotten new versions that sparked little to no outrage. CBS has had great success with that. Their current line-up includes new versions of Hawaii Five-0, S.W.A.T., Magnum P.I. and MacGyver.
"I do not want to put down the original MacGyver at all, I don't know that I've watched it, but in some ways the freedom if you're a writer to take a title like MacGyver, which everybody knew of, but you didn't know anyone who is just, like, blogging about MacGyver, where the intensity…for a writer to have something where the title is huge, but the fan intensity is small is probably the best place to start," he said with a laugh. "Because you know a lot of people will be curious enough to check it out because they had some kind of a warm, fuzzy memory from their youth about it, but you don't feel so beholden to the mythology that you're just going to give them a photo copy of the original."
The Lost Boys, Charmed, Magnum P.I.—this trend is not going away anytime soon. But know this: Thomas said some writers have the same reaction to remakes that viewers do.
"I think writers probably have a similar attitude about them as fans. You like them when they're done well; they depress you when they're done badly," Thomas said. "The reality is that it is easier to get something with a familiar title on the air than getting an idea made from scratch. It just is."
Charmed premieres Sunday, Oct. 14 at 9 p.m. on The CW.