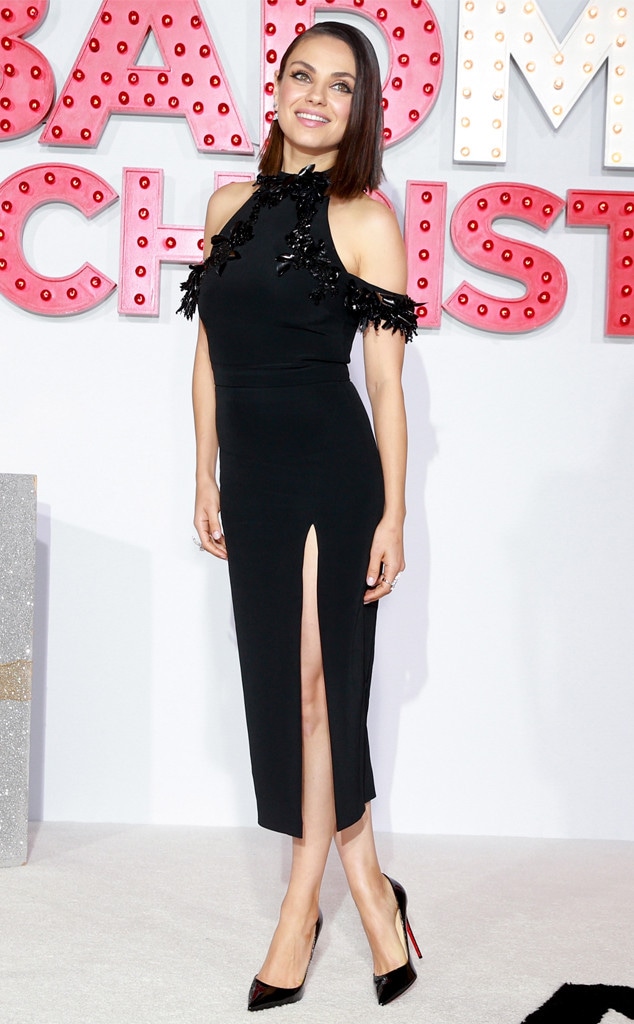 Rich Fury/Getty Images
Mila Kunis is one celeb who's not afraid to dish on the real struggles of motherhood.
The Bad Moms star, who is the mother of Wyatt, 3, and Dimitri, 1, readily admits that she's not a perfect mother—far from it.
In fact, over the past three years, the actress has had her fair share of mommy mishaps—one of which involved driving down the freeway with her one-year-old in an unbuckled car seat.
Like every parent, the Spy Who Dumped Me star has her moments, but she won't cover them up for the sake of appearances. Rather than acting like moms have it easy, the A-lister is brutally honest about her life as a mother-of-two, whether speaking out about her nonexistent work-life balance or her refusal to spoil her children.
In honor of the That '70s Show alumna's 35th birthday today, take a look at the five ways Mila keeps it real in her approach to parenting.
1. She Understands the Work-Life Struggle: Since giving birth to her firstborn in 2014, Mila has starred in seven films and more than 70 episodes of Family Guy.
"There's no such thing as balance," she told E! News while later revealing during a Today show appearance, "When you do a film, you work, on average, 15- to 17-hour days. That's my baby's entire day that I'm missing, from before wakeup to after bedtime."
After the Ted star gave birth to Wyatt, she refused to leave her newborn's side for the first four months. When Mila returned to acting, she faced long workdays and felt challenged to spend enough time with her little girl. She became so accustomed to life as a stay-at-home mom that she even admitted to crying when she first left Wyatt's side.
Eventually, the actress came to an understanding that her limited time at home can work, so long as she spends the time present and engaged with her children.
"It took me a little while to realize that I was a better mom going back to work because when I was with her, I was present 100 percent," Mila said in an interview with A Plus. "If you are with your kid and you are present, and you are there and you're engaged, and you care, then you're a great mom."
2. She Realizes That Mistakes Happen: The all-star mama knows that nobody's perfect, and she'll be the first to fess up to her mistakes—especially when it comes to apologizing to her kids.
"The only thing I've ever felt guilty about, and I actually apologized to my 3-year-old, is when I overreact," she told People. "I'll walk away, and I'll come back, and I'll sit her down and I'm like, 'I'm really sorry. Mommy overreacted. Do you forgive me?' And she's like, 'Yeah, I forgive you.' Whether she understands what just happened or not, I want her to know that I'm as flawed as she is."
Even when she has her slip-ups, the Friends with Benefits actress knows that no one else would be right for the job. No matter what challenges they face, Mila encourages all moms to realize that their best is more than enough for their kids.
"It's so taboo to be like, 'I feel like I'm not perfect,'" she explained in an interview with A Plus. "You just have to know you're doing the best you can, and that's more than enough. I know I'm the best mom Wyatt's ever had, and I'm the best mom for her."
Watch:
Mila Kunis Talks Family Christmas Tradition at 2017 CinemaCon
3. She Teaches Her Kids Life Lessons: Wyatt and Dimitri may have parents worth a whopping $255 million, but Mila and Ashton Kutcher are not about to let that money go to their heads.
"It's a matter of teaching them from a very early age that, you know, 'Mommy and Daddy may have a dollar, but you're poor. You are very poor… Mommy and Daddy have a bank account,'" Mila explained during an appearance on The Kyle and Jackie O Show.
That strict line of thinking even applies to Christmas. The celeb parents have adopted a no gifts policy, and they encourage their own parents to follow suit.
"We've told our parents, 'We're begging you—if you have to give her something, pick one gift. Otherwise, we'd like to take a charitable donation to the children's hospital or a pet [or] whatever you want,'" Mila revealed during an interview with Entertainment Tonight.
4. She Knows When to Ask for Help: Times have changed since Mila's childhood, and the award-winning actress knows that she can ask for parenting help in ways that her own mom and dad never could.
"I think before my parents were raising my brother and I, everything had to go perfectly," she told POPSUGAR. "Nowadays, if s--t's going wrong and I call my best friend and I'm like, 'I don't know, this color is coming out of her nose and I'm pretty sure she's dying.' And it's okay to do that now, but I don't know if it necessarily was okay before."
The actress admits that her strong partnership with Ashton is a big part of her maternal success.
"I've never felt like I was in more of a partnership in life than I do with [Ashton]. Literally, every day it feels like it's me and him against the world. At all times," she told A Plus. "He's so beautiful and so wonderful and so giving and so generous and so loving that, every day, I wake up and I'm so grateful to have him in my life."
AP Photo/Kamil Krzaczynski
5. She Appreciates the Little Things: While most parents rightfully grumble about restless nights with their newborns, Mila has a different outlook on the baby-induced sleep deprivation.
"I love the fact that the first three months, [Wyatt] and I were up every night," she gushed on The Ellen DeGeneres Show. "I figured her out and she figured me out and she now sleeps in her own crib in her own room. I will never have that time again so, for me, it was a really nice three months."
From ignoring fatigue to avoiding mom drama, Mila seems more than content to take motherhood in strides to appreciate each stage of her children's lives.
"Everything is different," the content mom told Business Insider. "From the fact that you're so happy when you get six hours of sleep to the idea of being responsible for this incredible, living breathing little human being that you can't believe is yours."
Whether coming home smiling after 17-hour workdays, apologizing to her three-year-old for overreacting or powering through three months with no sleep,  it's clear to us that this movie star makes one fantastic mom. Happy birthday Mila!