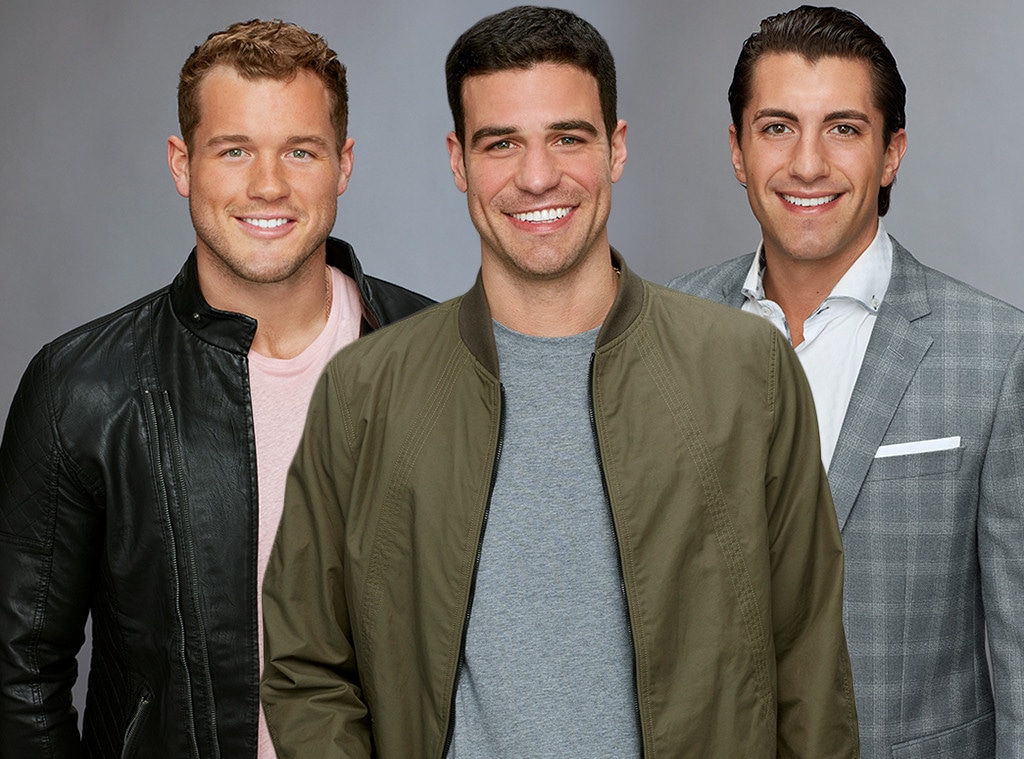 ABC
It's a cruel summer...and no one knows that better than Bachelor Nation fans as the wait is now on to see who will be named the next star of The Bachelor.
As the dust continues to settle now that Becca Kufrin's season of The Bachelorette  has come to a happy end and Bachelor in Paradise has returned for its fifth season, the search for the franchise's next leading man is well underway, and E! News is taking you inside the in-depth decision-making process currently going on. 
ABC executive Rob Mills, the network's SVP of alternative series, specials, and late-night programming, took a break from the casting sessions for the next season of The Bachelor to break down the process of how producers are choosing between the contenders to be the star of season 23 for E! News. 
"It's probably one of the bigger pools we've ever had, I think there's probably six serious contenders," he revealed during a phone call on Wednesday afternoon.  
Mills was quick to ask us the response we'd been hearing from fans about who they would love to see handing out roses come January, but acknowledged "the beauty of having time" before making their ultimate decision. Sure, as soon as viewers see a devastated Jason Tartick eliminated, they are tweeting their support for Becca's third-place finisher. But two weeks later, after watching Blake Horstmann literally sob into a towel after discovering Becca was in love with Garrett Yrigoyen, they were cheering for him to become the Bachelor. 
"What's great about this is that we have some time, we obviously have Paradise, it can air and we can see if anyone from there who's really popping," Mills said, acknowledging that The Bachelorette isn't given the same luxury, with producers often have to make their decision before The Bachelor season finishes airing.
During the casting process for the contestants for the upcoming season of The Bachelor, Mills said the team makes sure to ask "who the girls like because that's super important."
So who are they liking? 
"I have to tell you I have never seen a casting like this where everybody is all over the place," he admitted. "I think we've heard every name under the sun."
After Peter Kraus, the fan-favorite runner-up from Rachel Lindsay's season, was passed over at the last-minute last year with Arie Luyendyk Jr. ultimately landing the role, Mills said it's clear the fitness trainer is still on people's minds. 
"People like Peter, I know. I have to say we hear that a lot," said Mills. "Certainly people absolutely adore Peter. You never know who it's going to be. As we saw with Arie, we look at everything, not just the last season. Who knows who it's going to be." 
Aside from who Bachelor Nation fans and the future contestants want to see step into the role, there are other factors that come into play when choosing ABC's next leading man. Like, you know, their personality. 
"I think it's a combination of sincerity and really just somebody who can have a lot of fun and be entertaining. I think that's why somebody like Sean Lowe worked so well, because he really was the perfect balance of that," Mills explained. "He was truly looking for a wife and he was very clear about that, he wanted what his parents and grandparents had. But also, there was a real sense of fun from Sean. A great sense of humor. Everybody has different traits. That was one where I t thought it was sort of the right balance. Look, I thought Juan Pablo was a great Bachelor in his own way, because he certainly was entertaining." 
Sure, Juan Pablo Galavis delivered an entertaining Bachelor season, but was he actually a great Bachelor? Those are two very different things, just look at Arie's tenure.
"Look, plenty of people have a problem with Arie, but Arie was a great Bachelor because he was so sincere," Mills said in Arie's defense. "Like, when we met him, we knew this was a guy who did not necessarily want to be in the limelight but wanted to find someone and he has. I think he's truly met his soulmate in Lauren [Burnham]." (The two are set to get married in early 2019.)
Someone who already delivered on both accounts also seems to be one of the six names in the mix: Ben Higgins, season 20's beloved leading man who split from Lauren Bushnell in 2017. If chosen, he'd be just the second man to go through two seasons as the Bachelor after Brad Womack in seasons 11 and 15. (Ben appeared on The Bachelor Winter Games and makes a brief appearance on Bachelor in Paradise later this summer.) 
"I think Ben Higgins is always somebody who we would consider," Mills said. "As long as the timing is right for him and for us too, but if he's ready…obviously everybody wants to see Ben happy and finding love."
Host Chris Harrison is one of those people, telling E! News the former lead is "kind of his white whale" in the franchise. "I still want him to find somebody, if that means coming back as the Bachelor...I don't know, but he's still my project." 
While the show once had a streak of picking their lead from the most recent season, the last two Bachelors came from different avenues: Arie was a blast from the past, last appearing on one of the franchise's shows almost five years prior, and season 21 star Nick Viall came from Bachelor in Paradise, where he went from "villain" to fan-favorite...which brings us to "Grocery Store" Joe Amabile and Colton Underwood. 
Joe, of course, was the grocery store owner whose early elimination on night one of Becca's season set off a social media frenzy. Producers took notice, quickly capitalizing on his popularity by casting him on Bachelor in Paradise. 
"I don't know if Joe would be here if it wasn't for that outpouring of love and support on night one," Harrison said. "People love the guy and freaked out. People like that, when we see them pop and really become of the American consciousness, then yeah, they become the Bachelor. Nick was a good example of that, you never know when you're Bachelor is going to pop out." 
When it comes to Colton, the former pro football player, it's a little more complicated, given his history with Tia Booth, Becca's BFF and a former Bachelorette contender whom he briefly dated before making it to the final four of Becca's season. Their will-they-won't-they dynamic is currently one of BIP's main storylines, with fans divided over Colton's handling of the situation. 
Watch:
Chris Harrison on Using "BIP" to Find the Next "Bachelor"
"We'll see how Paradise goes…he could be engaged by the end of Paradise," Mills said of Colton. "If he wasn't though, he certainly has a lot of the attributes that you love in a Bachelor. There's a little bit of that Sean Lowe, not use in looks, but he's also a guy who is surprisingly funny and charismatic. Colton could be a very interesting Bachelor." (Though Mills "would agree" with some of the criticism that Colton is a little too defensive that came after his combative Men Tell All outing.)
As of right now though, the most popular pick seems to be Blake, Becca's runner-up who was left devastated and openly weeping in the Maldives when she rejected his proposal. 
"There's no doubt he's got the sincerity, he really cares," Mills said, before going on to admit there is one concern he may have about the 28-year-old beer salesman taking on the responsibility. 
"The hardest turn that a lead has to make is then getting the empathy toward, 'Oh my god, now I know what this person went through.' And for him to have to say, 'Now I know what Becca went through,' and break someone's heart…you just want to make sure he can handle that because I think he is a guy that loves deeply and there's a potential to fall in love with not even two women, but three or four, which would make for great TV," he explained. "But you will definitely want to do right by him as well. That would probably be the big thing, but he certainly has a lot of the attributes you love seeing in Bachelor." 
With six men in the mix, it's safe to say it's anybody's race.
Bachelor in Paradise airs Mondays and Tuesdays at 8 p.m. on ABC.