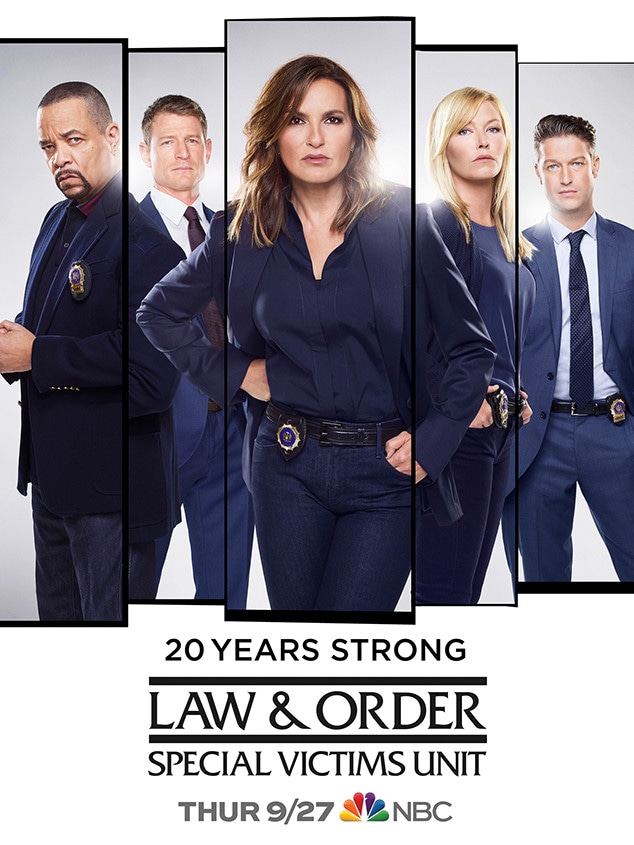 NBC
Law & Order: SVU is 20 years old and celebrating that fact. The long-running drama enters its historic 20th season on Thursday, Sept. 27 at E! News has your first look at the show's bold new season 20 poster that is tackling the milestone head on with a simple and effective caption: "20 Years Strong."
SVU currently stars Mariska Hargitay, Kelli Giddish, Peter Scanavino, Philip Winchester and Ice-T and is making the jump from Wednesday nights to Thursdays with a two-hour premiere on Thursday, Sept. 27. This season, SVU ties with Gunsmoke and Law & Order mothership for the longest-running scripted live-action American primetime series and it shows no signs of slowing down.
At a recent Paley Center event, NBC boss Robert Greenblatt said the show will continue as long as Hargitay wants to do the series. Hargitay has played Lt. Olivia Benson since the series started in 1999.
"I'm still processing it because it's a lifetime of processing. I'm just so full of gratitude and so excited that I get to do what I love to do every day," Hargitay previously E! News about SVU's historical new season.
Watch:
Mariska Hargitay Is "Grateful" For "SVU" Character
"When you're just in it, it's hard to fully take it in," Hargitay said. "So I'm just grateful for this role, for this part, for [Dick Wolf's] vision and that I've gotten to mine a character for so long that is still deeply challenging to me and inspiring to me and necessary and timely, and I think truly changing the culture."
This year, Harigtay said she'll do something as Benson she has never done in the first 19 seasons.
Guest stars already slated for the new season include Chicago Justice's Carl Weathers, Nip/Tuck star Dylan Walsh and Scandal's George Newbern.
Law & Order: SVU returns Thursday, Sept. 27 with a two-hour premiere at 9 p.m. on NBC. The show moves to its 10 p.m. timeslot the following week.
(E! and NBC are both part of the NBCUniversal family.)