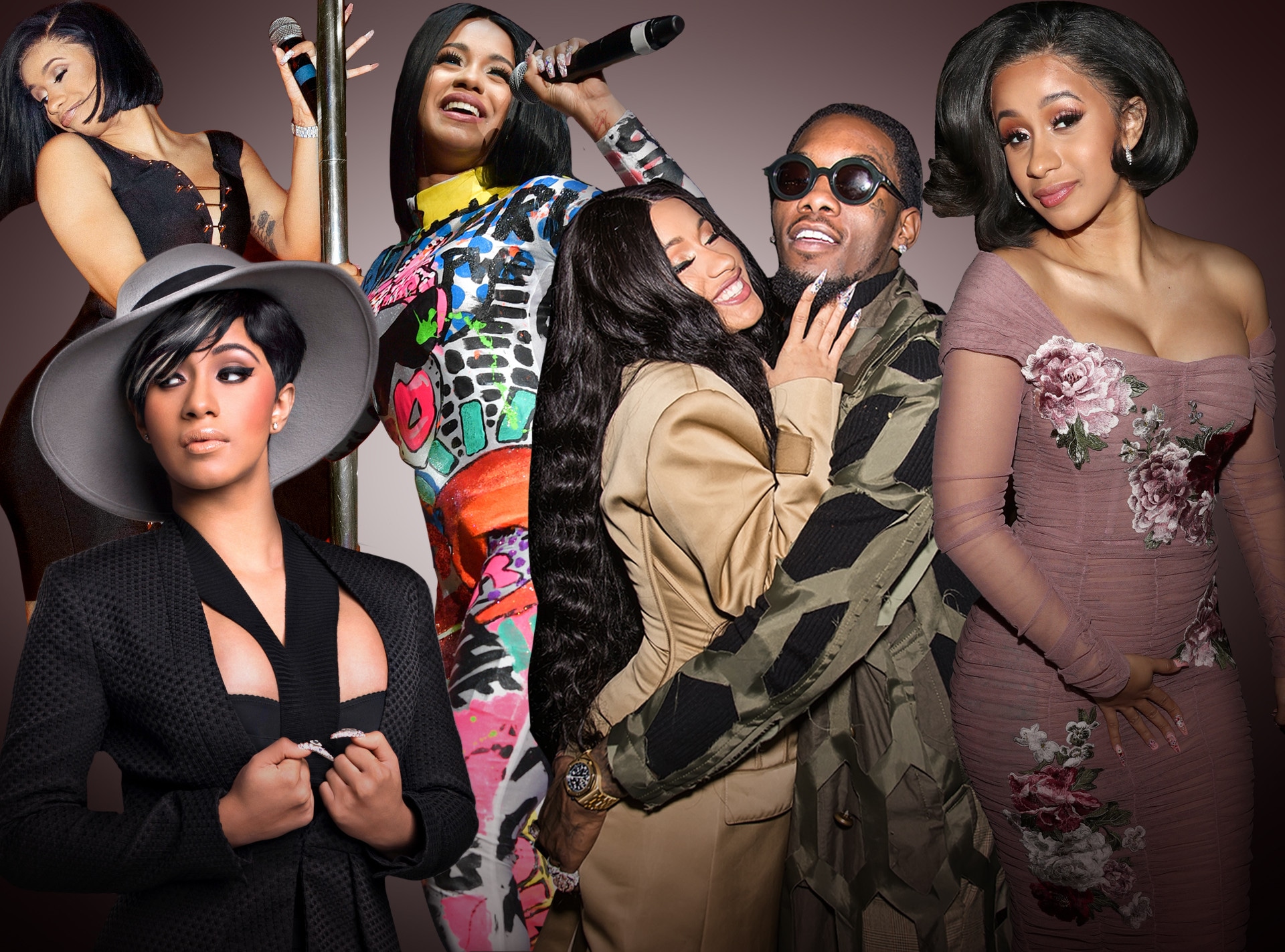 Getty Images; Splash News; E! Illustration
Did anyone expect Cardi B to tackle motherhood with anything but 100 percent realness? 
If so, allow us to introduce you to the straight-talking Bronx native who once described herself as the "annoying dancer on social media that be talkin' hella crazy with the long nails and the big ol' titties."
Trap music's reigning queen took to Instagram Tuesday to vent about the influx of hormones and emotions that came with the July 10 arrival of Kulture Kiari Cephus, her daughter with husband Offset. "This postpartum s--t is annoying," she wrote causing new moms around the globe to silently nod their heads, grateful to hear such truths coming from a self-described "schmillionaire" with every tool at her disposal. Continued Cardi, "Like, I been emotional all f--king day for no reason." 
Okay, so maybe it's not the perfect picture she had painted for Rolling Stone earlier this year, describing her baby gurgling along beside her on the tour bus. In fact, it's not much at all like what she envisioned. "Moms always give advice, like, oh, when you have a baby, things change. You will see, it's not easy," she admitted in a July Instagram video. "And it's true. Like, it's something that no matter how many books you read—because I read some books for babies, and, you know, a lot of my friends gave me advice and everything—you just really have to have a baby to see."
But if anyone's up for the challenge of parenting, it's music's living embodiment of pulling yourself up by your bootstraps, a woman who parlayed her job as a stripper into Instagram stardom, then reality show fame and now hip hop royalty. "It's been an up-and-down adventure," a source close to the 25-year-old reveals to E! News. "She loves being a mom, but has definitely struggled this past month." 
For all of her real talk about the changes to her body—"My a-- is broken," she said on Instagram, "she really broke me,"—the most surprising adjustment hasn't been physical. (Though she did swap her trademark pointed tips for a more square shape, "so I won't hurt my baby" she tweeted.) "Cardi has been very open about her postpartum depression and it's been a new thing for her to learn to manage," says the source. "She just feels like her hormones are completely off-balance and all over the place. One day she will feel great and have a lot of energy and the next day she is upset and crying over nothing."
On the harder days, she's had an A-plus team to fall back on. Already dad to three kids from three previous relationships, Offset, 26, has proven to be her strongest asset. The Migos rapper "has been very helpful because he's been through this before and knows the ropes," an insider tells E! News. It's the kind of assistance the "Bodak Yellow" rapper envisioned when she spoke to Rolling Stone. "People want to make fun of me, saying I'm the fourth baby mom," she sniped, but, "I know I'm not having a baby with a s--tty-a-- man." 
Already confident enough in their relationship to agree to forever just seven months in (and that was before he offered up that 8-carat teardrop stunner) watching the Georgia-born artist (birth name: Kiari Kendrell Cephus) with his namesake has only solidified those feelings. Says the insider, "Cardi loves him even more after seeing him hold their baby girl." 
And should Mom and Dad need a quick nap (a source says dealing with a newborn's erratic sleep schedule has been just one of many challenges), she can usually find a willing sitter in her mom or sister Hennessy Carolina Almanzar. The New York transplants have all but moved into the couple's oversized Atlanta mansion, says the source, "and have been a huge help." 
For now her circle is limited to blood only. Even with her closest allies nagging her to just hire a nanny already, Cardi can hardly bring herself to look at resumes. It's not that she hasn't accepted that a red hot career—she followed up the runaway success of last summer's catchiest hit, "Bodak Yellow" with a record breaking debut album—often demands a bit of extra assistance. She gets it. But as she told Rolling Stone, "I don't want to miss one second. I don't want to miss no smiles, I don't want to miss no new movement, I don't want the baby to confuse me and the babysitter." 
And while she absolutely could outfit Kulture with her own personal GoPro, for now she'll stick to in-person surveillance. "It's so hard," she explained of enlisting hired help, "because I want to be with my baby every second. Even when I'm doing my hair in the other room, I've got to be around her." 
FOMO levels set to high, she spends much of her time familiarizing herself with her new trove of baby gadgets and changing Kulture from one designer look to the next. "She is like her little baby doll," says the source. "Cardi is always taking photos and videos of Kulture and dresses her up every single day." Of course, her nearly 30 million Instagram followers have yet to catch a glimpse of even a stray foot, the Invasion of Privacy artist having already admitted she's "iffy" about putting her on display thanks to the general wild west nature of the Internet. "My feelings get hurt when people online talking about family members," she explained to Rolling Stone. "I think I'll kill somebody if somebody talking about my child like that." 
So she remains content sharing her snaps with a smaller audience, including her husband who can generally be found right at her side, equally in awe of their creation. "Offset is obsessed with Kulture," the source says. "And Cardi thinks it's the cutest thing." 
With a constant stream of gifts making their way to Atlanta to celebrate Kulture's coronation, they're unlikely to run out of designer garb anytime soon. Jeremy Scott sent a stroller and trinkets have come in from Bruno Mars, Janelle Monae and Kim Kardashian. (Mom and Dad snagged presents too, snapping up his and hers  Lamborghinis to celebrate their new status.) 
Kim's offering may have been hand-delivered. Cardi spent last Saturday hanging with the reality show queen and mom Kris Jenner at the matriarch's mansion in Hidden Hills, Calif. The two-time Grammy nominee declined to offer details on the gathering beyond the fact that it officially elevated her to "the rich people club." Though just to be sure, she joked, "I'm selling one of @krisjenner napkins on eBay!!" 
Not that she needs the extra cash. Because for all those worries that motherhood would somehow prevent her from making money moves (Cardi has said her closest pals warned her "this might f--k up your career,") well, those have proven just as ridiculous as they sounded. 
Yes, she made what she called the "hard decision" to opt out of her fall tour with Bruno Mars once she realized that Kulture wouldn't be able to tag along and her body simply wasn't up for twerking. She had truly believed that six weeks would be enough time for her to be back at it, but as boss as she is, she's still human. "I don't want to go on tour and I won't be able to dance or perform properly or not be able to get choreography right," she explained on Instagram, "because my body is extremely weak right now." 
But she's still strong enough to strap on her bloody shoes for an appearance at the MTV Video Music Awards in New York Aug. 20—a night that could see her taking home as many as 10 trophies. And though she banked some collaborations before going into labor—"I did a couple of features for artists but I don't know when those artists are going to put out they music," she said,—she's already back in the studio working on her own projects, with one slated for a fall release. 
"I'm going to work," she insisted. "My life is not over, you know. I just have to take my time to do certain things because, like, my body really can't take it." 
Her heart is struggling as well. "She's very dedicated to making new music and loyal to her fans, but in a perfect world she would stay home with Kulture all day," says the source. So as a compromise, "Cardi has been making special arrangements so she isn't gone too long or too far away from Kulture while she's working." 
Not that she would allow it. While Cardi describes her offspring as the perfect mix of her and Offset, with a striking resemblance to Aunt Hennessy, her personality seems all Mom. 
"I met my match," Cardi marveled in her Instagram video, doubtlessly reflecting back on her rebellious adolescence. "My baby is, like, bro, she is very demanding. I can't believe I have a boss. I really have a boss." And the woman in charge does not like to be kept waiting. "When my baby want to eat, she want to eat," noted Cardi. "It's not like, oh, three minutes, no. Give me the milk now! You've got to burp her right away, everything, everything, everything. She's just so—she wants everything."
A strong personality determined to grasp everything life has on offer? Sounds like she's fitting right in.