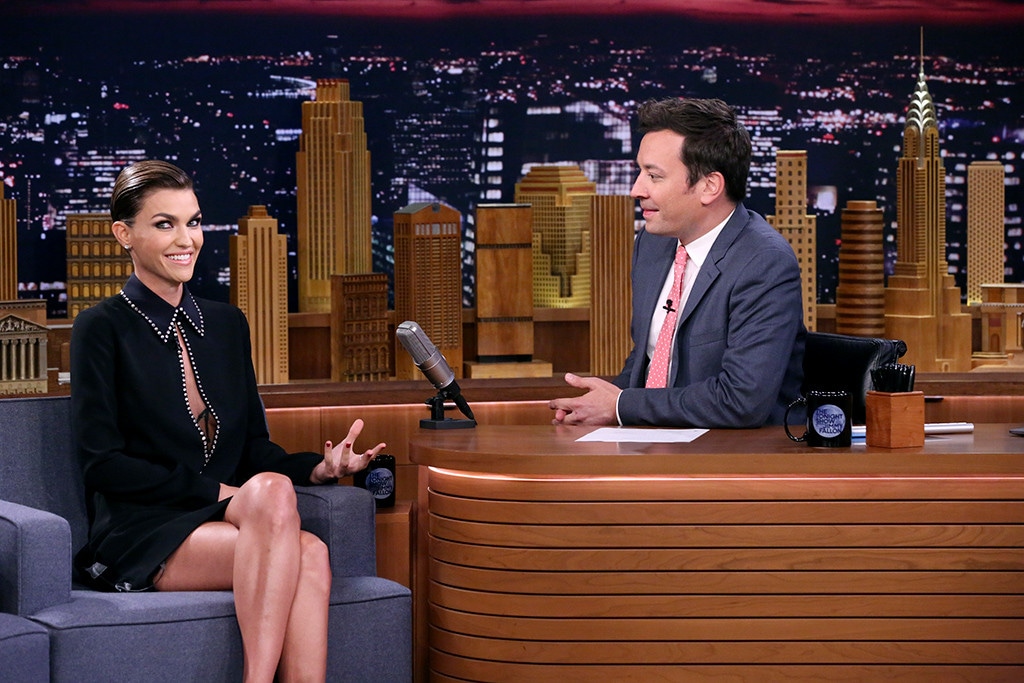 Andrew Lipovsky/NBC
Ruby Rose has won the role of a lifetime.
Just before she attended the red carpet premiere of The Meg Monday, the Australian actress learned she'd been cast as Batwoman in The CW's next Arrowverse crossover—and that the network will also be developing a Batwoman series for consideration in the 2019-2020 season. "It's a game changer," Rose told Jimmy Fallon on The Tonight Show Wednesday. "I was so nervous during the red carpet that I basically skipped everybody. I kept spontaneously crying."
Before she arrived at the event, the actress' sanxiety was in overdrive. "I kept thinking about, 'What are they going to say?' Because they always say, 'What do you have planned next?' I thought: Either I'm going put my foot in it and accidentally say something, or I'm going to just start crying. They're going to be like, 'She doesn't look so good,'" she said. "But I'm so thrilled." The news still hasn't sunk in, she added. "I get to be Batwoman," she said. "I mean, like, what?"
"The reason I kept getting so emotional is because growing up, watching TV, I never saw somebody on TV I could identify with—let alone a superhero," she said of playing Kate Kane, a proud lesbian who fights crime in Gotham under the Batwoman alias. Fighting back tears, she told Fallon, "Ugh! I said I wouldn't do that!" Rose then explained she lives by two mottos: "Be yourself, because everyone else is taken," and "Be the person that you needed when you were younger." With Batgirl, "I felt like one motto led me to the other and I just kept crying about it."
Rose realized early on that the role comes with another set of responsibilities. "I was like, 'Wow, not only can kids watch this growing up and relate to it and feel empowered and think they can be a superhero, but also, I can go on and do these things like visiting hospitals, kids and people in need,'" Rose told to the late-night host. "It's an amazing opportunity, obviously."
In a twist of fate, Rose revealed she has been preparing for the role all her life. Growing up with "not a lot of money," she recalled, "I would make my toys, and I made bat wings out of recycled cardboard boxes. I would sleep in them, and I would run around in them, and I would jump off high things, and [my mom] would have to catch me. She said we would have to keep gaffer taping them, because they were soggy and wet and smelly and gross—and I just lived in them."
"Now, I get ones that aren't made of cardboard!" Rose added. "It's a good story."
(E! and NBC are both members of the NBCUniversal family.)