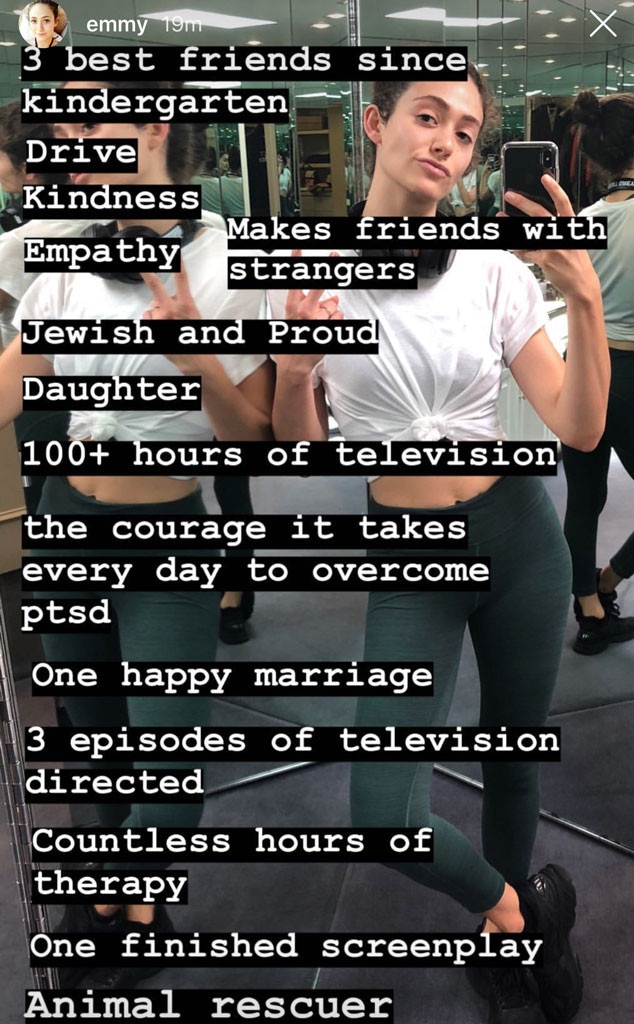 Instagram
Emmy Rossum has joined in on the "I Weigh" movement.
The Shameless actress took to her Instagram Story on Wednesday to share an empowering message with her fans. She began by asking her social media followers if they've ever searched a celebrity's weight on Google and then followed that up with "countless hours of compare and despair."
"During my life the scale has told me that I've gained and lost and gained and lost," Rossum continued in a second Instagram Story post. "Somewhere in the range of 20 pounds. But that piece of metal doesn't really know."
She then added, "Here is what I ACTUALLY WEIGH."
Rossum then posted a picture of herself with words and phrases that describe her and what she values, including her friends, marriage, her drive, kindness, her work and more.
"See, when you add up everything you are?? The size of your thighs don't really matter anymore do they?" Rossum wrote next. "So join me in this. Show people what you are actually made of. Because you are so much more than a f--king number."
Rossum went on to share a video message with her followers, nominating them to join in on the movement.
"So I want to nominate everyone who saw this to do their own version of 'I weigh,' tell us what you're made of," Rossum said. "Because you're so much more than what that dumb f--king piece of metal says. Alright? OK? Gotta go to work bye."
You can see more "I Weigh" movement stories HERE.