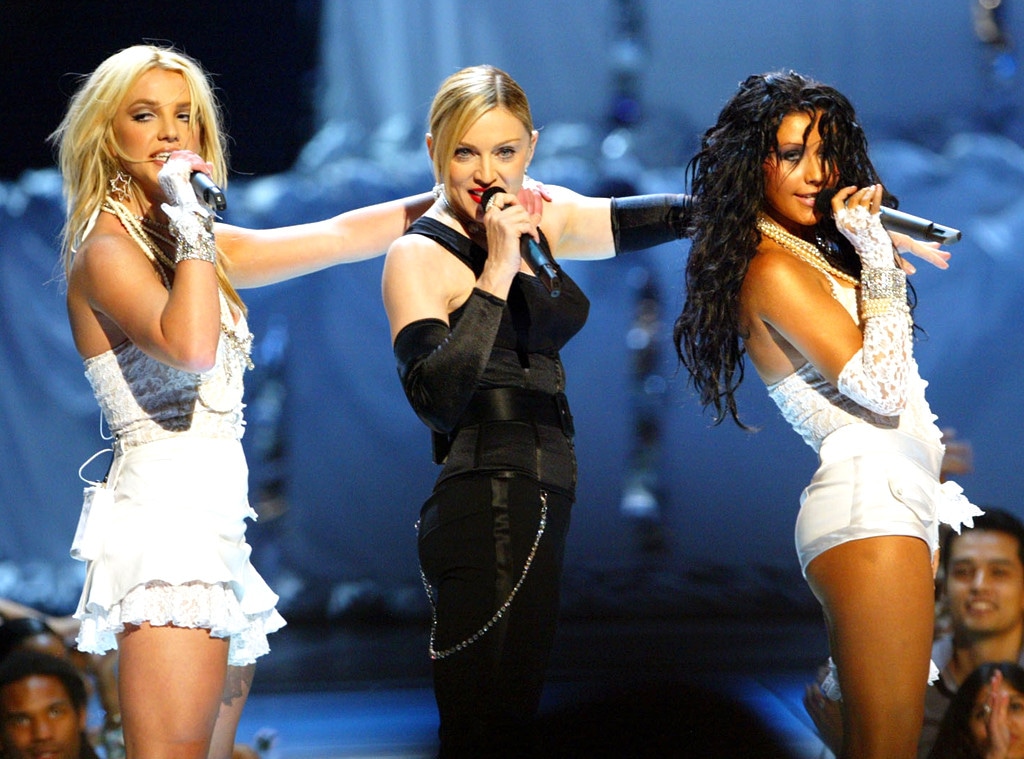 WireImage
It's less than a week until the 2018 MTV Video Music Awards air and we can barely contain our excitement about all of the performances that are set to take place.
We know that the award show is about honoring musicians and giving them awards, but for fans we tune in to see who will take the stage and how outrageous their performances will be.
Over the years there have been a lot of memorable moments on stage and therefore this year's performers have a lot to try and live up to.
Since the show itself is still a few days away, why not take a trip down MTV VMAs lane and relive the best performances thus far?
There are a lot, so of course we had to narrow them down, but these top 11 are pretty iconic and will instantly take you back to when you first saw them.
Madonna:
Of course the Queen of Pop performed "Like a Virgin" at the first ever MTV Video Music Awards in 1984. She donned her iconic bride costume, sat on a giant cake and set the tone for the now-famous award show.
Britney Spears, Madonna & Christina Aguilera:
To honor Madonna's legendary song and performance from the 1984 show, pop divas Britney Spears and Christina Aguilera teamed up to sing "Like a Virgin" at the 2003 show. They wore the bridal costumes, carried bouquets and rolled around on the floor a la Madonna before the Queen of Pop herself showed up. The famous artist was dressed up as the groom this time in all black and sang "Hollywood" before kissing both Spears and Aguilera!
Michael Jackson:
All hail the King of Pop! In 1995, Michael Jackson showed fans everywhere why he will always be the most iconic pop star when he did a medley of songs from his catalog. Of course, he made sure to include all of his impressive dance skills throughout the mash-up of songs and we're still in awe from this moment.
Lady Gaga:
In 2009, Lady Gaga set the stage on fire with her performance of "Paparazzi." It might've been her first show at the MTV VMAs, but she seemed like a pro with her dramatics and show-stopping visuals. The most memorable moment from this piece was when Gaga started to fake bleed all down her white ensemble and then hung from the ceiling to end it all.
Justin Timberlake feat. NSYNC:
Justin Timberlake performed 15 minutes of his best hits in 2013 before accepting the MTV VMAs Video Vanguard award that year and it was spellbinding. The part most of us will never forget it is when he brought out the rest of NSYNC for about three songs and gave us the reunion we had all been waiting for.
Britney Spears:
When Spears took the stage in 2001 to sing "I'm a Slave 4 U" she slayed it from start to finish. After coming out in a cage and dancing her heart out (belly dancing to be specific) in that now-iconic green bra top and short shorts, she grabbed a giant albino python and put it around her neck as she continued to sing. It was beyond amazing.
Bon Jovi:
Back in 1989, Bon Jovi gave fans a look at his softer side when he teamed up with Richie Sambora to perform "Living On a Prayer" and "Wanted Dead or Alive" acoustic style at the award show. It was inspired by MTV's Unplugged series and it was magical.
Eminem:
Remember the days of Slim Shady? Well, back in 2000 Eminem made a powerful statement against his haters with his performance of "The Real Slim Shady" by having a bunch of guys dressed just like him follow him into the Radio City Music Hall in New York City to kick off the show. He then sang another one of his songs and basically said f-you to his haters.
Beyoncé:
Beyoncé has had her fair share memorable MTV VMAs shows, but her 2011 performance of "Love on Top" might be the best of them all.  She kicked off her song by saying, "I want you to feel the love that's growing inside of me" before rocking out in a sequined blazer and black pants. At the end of the song she unbuttoned her blazer to reveal that she was pregnant! It was one epic announcement.
Diddy feat. Sting, Faith Evans & 112:
After Notorious B.I.G. passed away in 1997, Puff Daddy AKA Diddy teamed up with Sting, Faith Evans and 112 for one of the most touching and beautiful songs ever performed on the MTV VMAs stage. They sang "I'll Be Missing You" and it was both amazing and heartbreaking.
Miley Cyrus:
As the host of the 2013 MTV VMAs we expected Miley Cyrus' wild side to be on full display and she really leaned into the sexy, over-the-top vibes that are usually associated with the award show. When she took the stage to sing, "We Can't Stop" she was dressed as a teddy bear, then whipped off the leotard to reveal a nude, latex top and booty shorts.
She then sang alongside Robin Thicke for his hit song "Blurred Lines" and had a giant foam finger on the whole time. It was definitely too much and got a lot of backlash, but it is memorable just the same.
Now that you've seen our top picks, vote for the musical moment from past MTV VMAs that still stands out to you below!
The 2018 MTV Video Music Awards will air live from Radio City Music Hall on Monday, Aug. 20 at 9:00 p.m. ET/PT.
MTV VMAs: Best Performances Ever