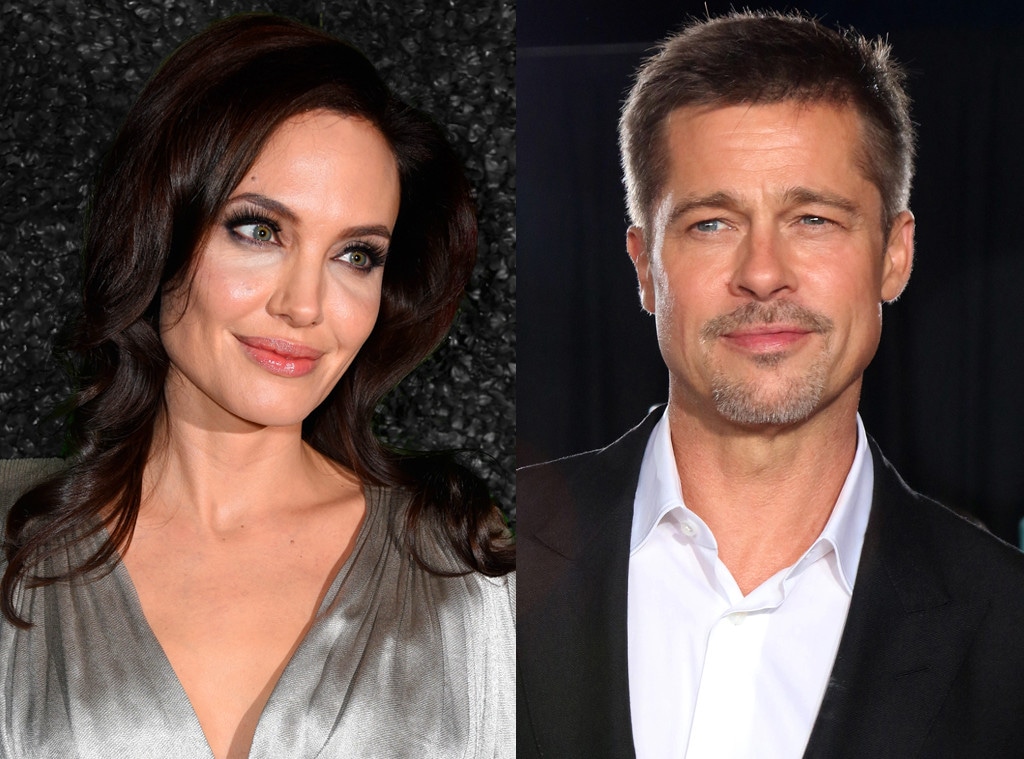 Frazer Harrison/Getty Images
Brad Pitt and Angelina Jolie's ongoing court battle continues.
In a new court filing earlier this week, Jolie accused Pitt of not paying any "meaningful" child support since divorce proceedings began in 2016. In the two-page brief filed Tuesday in L.A. Superior Court and obtained by E! News, Jolie's lawyer stated that Pitt "has a duty to pay child support." Later adding, "Given the informal arrangements around the payment of the children's expenses have not been regularly sustained by [Pitt] for over a year and a half," Jolie plans to request a court order "for the establishment of a retroactive child support order."
In response to the filing, a Pitt insider familiar with the situation countered, "Brad always fulfills his commitments." Now, Pitt's legal team has fired back in a new court filing of their own.
On Wednesday, Pitt's attorney Lance Spiegel filed a four-page brief with the L.A. Superior Court. In the court documents, obtained by E! News, Spiegel states that Jolie's request is "unnecessary, omits material information and is a thinly-veiled effort to manipulate media coverage."
The documents go on to state that around Aug. 1, Spiegel advised Jolie's attorney Laura Wasser that Pitt "wanted to bifurcate the issue of marital status and have the divorce finalized before other pending issues were resolved." Spiegel alleges that he was told Wasser would "discuss the matter" with her client and get back to him.
Then on Aug. 6, the documents state, a member of Jolie's legal team "requested that no action be taken on the bifurcation request for a week." The following day, Jolie filed her request for the Status conference "to create the impression she (not respondent) wanted to bifurcate," according to the docs.
"Based on the petitioner's request, petitioner does not object to respondent's request to bifurcate and that issue can now be resolved by stipulation," the court papers state.
In response to Jolie's child support accusations against Pitt, the new court filing states that Pitt "adamantly disputes the contention the he has not paid significant child support." The court papers claim that Pitt has previously loaned Jolie $8 million to "assist her in purchasing her current residence" and has paid over $1.3 million in bills "for the benefit" of Jolie and their minor children.
A representative for Jolie tells E! News in a response statement, "Angelina's filing of yesterday was both legally appropriate and factually accurate in all respects. What has been filed by Brad's side today is a blatant attempt to obfuscate the truth and distract from the fact that he has not fully met his legal obligations to support the children. Following the incident of September 2016, Angelina and the children needed to move from the family home, which Brad chose to keep, including all of its contents. Brad was asked to assist in the expense of a new home for Angelina and the children, but instead he loaned Angelina money, for which he is charging her interest on a payment plan. Angelina will of course honor that loan. A loan is not, however, child support and to represent it as such is misleading and inaccurate."
It continues, "Angelina is asking Brad to pay 50 percent of the children's expenses. He has not. Angelina has had to shoulder the majority of those without his contribution for the past two years. Child support is not optional in California. Typically a father of means would pay these expenses voluntarily without the need for a request or court order. We are hopeful that this can be resolved without further delay or posturing."
A source familiar with the case also says, "Angelina just wants the marriage and divorce to be over and for Brad to be straight and fair and to move on. Since the safety order, Angelina's been responsible for the children and their needs. She gave up a year and a half of work to be with the family."