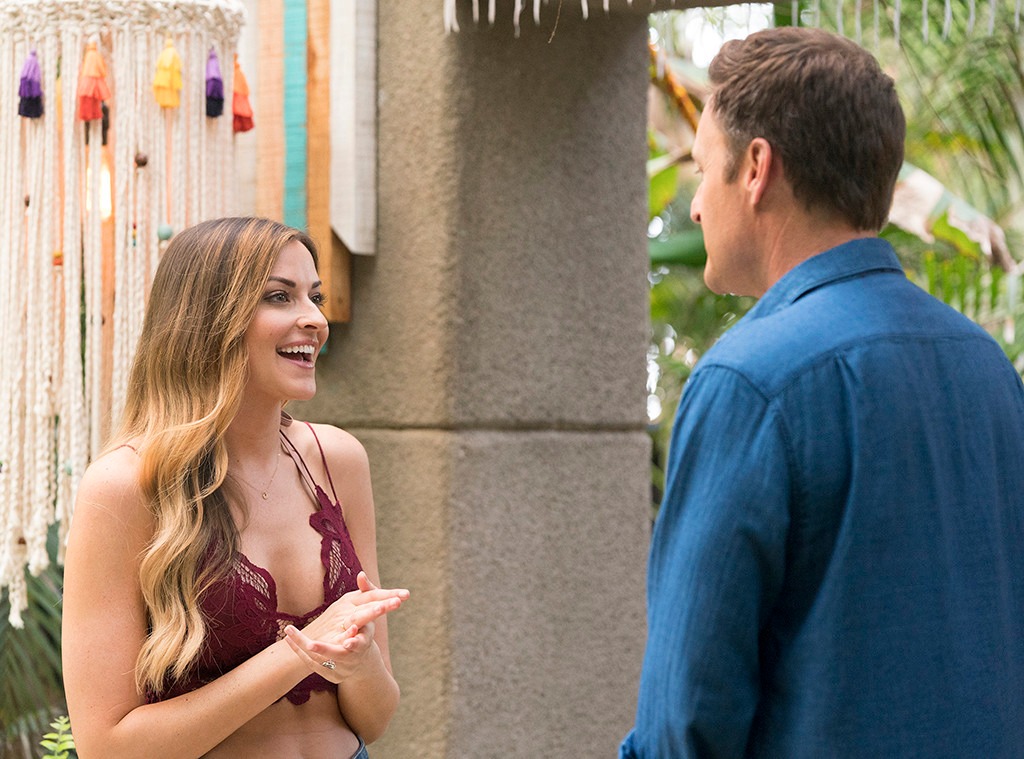 ABC
So we call agree that the Tia/Colton situation was the best possible thing that could have happened to Bachelor in Paradise, right?
Tonight's premiere milked that storyline for all it was worth in the most contrived ways possible, as if the entire format of the show were designed specifically to torture these two people. It was so obvious and ridiculous and yet also so good.  
Tia was the first on the beach, and she spent the entire day anxiously waiting for Colton to arrive, which he never did. Then, the first date card arrived, with Tia's name on it. She hated it, but she chose Chris and ended up having a great time. They were still making out the next day, only for Colton to then make his grand entrance.
He took his date card and talked to multiple other women before finally pulling Tia aside and offering her the date card. While they sat on a yacht and reminisced about the time they hiked Runyon Canyon and suffered a bite from a small dog, Chris was back on the beach getting advice from male model Jordan and ab lawyer Nick.
According to them, Chris totally had a better chance. Not only was he not a virgin, he also had enough hair to use hair product!
"I never thought about it like that," said Chris.
Back on the yacht, Colton refused to give Tia a straight answer about anything.
"I'm here to figure my s—t out," he explained, which sounded a lot like he was saying he wasn't ready to commit to her in case there's a hotter lady on the beach. It got to the point that we were agreeing with Jordan and Nick, who were convinced that Colton was just there to be on TV and appeared to be making plans to murder him.
Colton actually returned and interrupted the murder plans, asking Chris to go talk, which is of course where the cliffhanger came in.
Now, while Colton and Tia dominated most of the episode, there are some other things to talk about.
Much to Tia's chagrin, Krystal was also on the beach, and she seemed…different. Breathy Krystal seemed to have stayed home, replaced by Krystal with a totally regular voice. Tia, who seems to have some issues with other people she really needs to work through, was the first to point it out, just after we noticed it ourselves.
Tia feared that Krystal would also go after anyone she and Bibiana were after, which is exactly what sort of started to happen, until Tia's own drama took over.  
Grocery Store Joe also turned himself into a pretty hot commodity the moment he walked onto the beach. He didn't speak much during Men Tell All, but he was like a totally different person on Bachelor in Paradise. Charming, funny, willing to go along with Kendall's talk of dead bodies (oh, Kendall), happily posing with a busted bag of fruit in his opening credits bit. So far, he's as lovable as we dreamed he'd be based on the 30 seconds of screentime he got during the Bachelorette premiere, and now we're just hoping no shoes are going to start dropping.
And finally, nothing excites us less than the continued feud between Jordan and David. We can't help but feel a sense that David is, at all times (even when filming intro packages!) trying so hard, and Jordan has just molded himself into this person who is the way he is, and no longer has to put in effort to be that way. Everybody just chill, please.
The most impressive thing we're taking away from tonight's episode is that last season's disaster didn't end up ruining the show, as we feared it would. There's still the sense of fun that made this show a success in the first place, so if they can keep it up, we're on board, against any better judgment we may have ever had. 
Bachelor in Paradise airs on ABC.