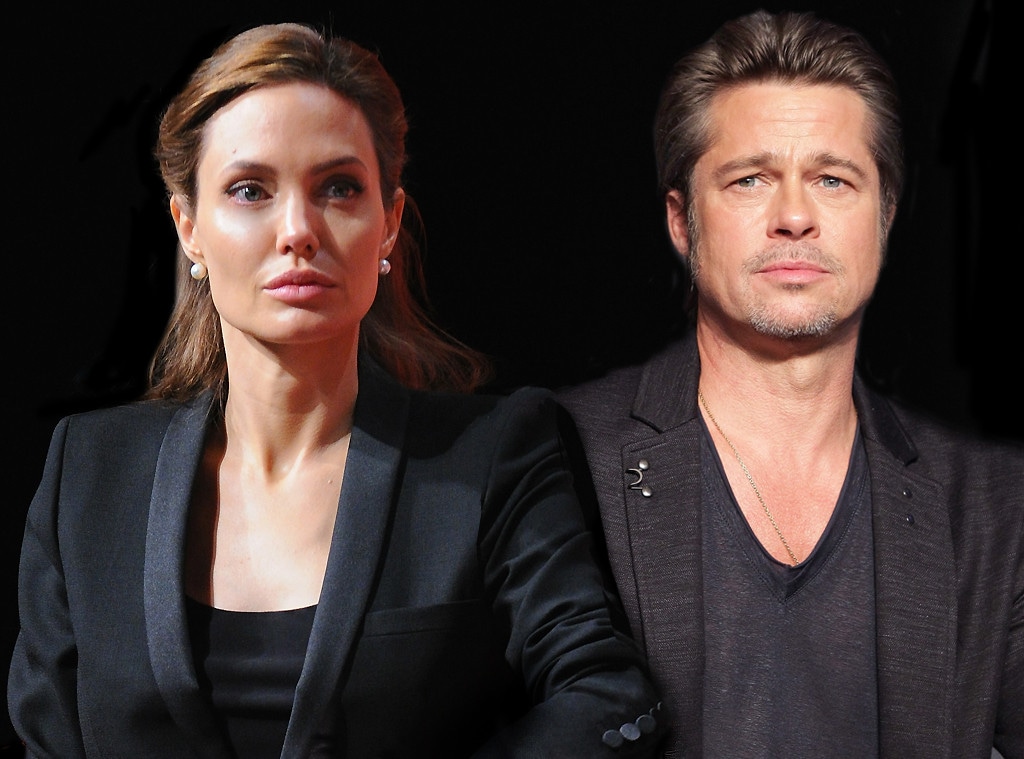 Getty Images
Next month, Brad Pitt and Angelina Jolie will reach a milestone few, if any, couples celebrate. 
September marks two years since Jolie shocked fans by abruptly filing to end their relatively new marriage, creating a chasm in a façade that previously hadn't shown any cracks. But before they reach that dubious occasion, the pair will hit their fourth year of marriage on Aug. 23. It's a achievement they're unlikely to toast with champagne and the traditional fruit and flowers, but it's a day they'll reach as husband and wife, nonetheless.
Because at this point, the couple's divorce proceedings are all but certain to eclipse the 25-month tenure of their actual marriage. It's a process that was by no means expected to be brief. After all, no sooner had Jolie submitted paperwork on Sept. 19, 2016, listing the date of separation as just four days earlier, that it was revealed that both the Los Angeles Country Department of Children and Family Services and the FBI were looking into an altercation between Pitt and now-17-year-old son Maddox that occurred aboard the family's private plane. But both of those investigations were wrapped up by November and 21 months later the pair are still legally bound. 
So the obvious question then becomes...why? 
Hammering out financials is often a sticking point in acrimonious splits. But these are two incredibly bankable actors who have each expanded their portfolio beyond camera work leading to nine-figure net worths and an Oscar a piece. So let's assume there won't be any issues there. 
In fact, that will have to remain a hypothetical for the time being as an insider reveals to E! News that the 54-year-old 12 Years a Slave producer and the In the Land of Blood and Honey director, 43, haven't yet reached that early stage step. Each equally determined to notch as much time as possible with their sizable brood, says the insider, "They are so hung up on dealing with the custody issues that they haven't even exchanged any financial documents yet, which is routine in divorces." The delay has led to speculation that a fed up Laura Wasser stepped down as Jolie's lawyer, but the insider insists the famed divorce attorney (her client list includes everyone from Jennifer Garner to Johnny Depp) is still working to land on an agreement that satisfies both sides. 
Frazer Harrison/Getty Images
And recently they've made some movement. A Tuesday court filing from Jolie's other attorney Samantha Bley DeJean, claiming that Pitt "has paid no meaningful child support since separation," may sound hateful. But a source says it's simple protocol. "In order for the marriage to be dissolved before all of the other issues have been resolved, certain things need to be done by both parties," a source familiar with the situation reveals to E! News. "The motion today was just designed to move that process forward on those issues, including financial disclosure and child support."
Still, the insider doesn't expect things to speed along with any sort of haste: "They are kind of at an impasse at this point," says the insider. "Because the focus has been on custody, nothing else has been hashed out yet. There will be no settlement or resolution anytime soon." 
Few predicted such drawn-out proceedings. Though Jolie initially filed for sole physical custody of Maddox, Pax, 14, Zahara, 13, Shiloh, 12, and 10-year-old twins Knox and Vivienne back in 2016, an insider told E! News she always intended that to be temporary. 
Unbeknownst to his adoring fans, there were factors at play that prevented Pitt from being the best dad he could be—issues that extended beyond one isolated incident on a plane and ones he took full ownership of in a GQ Style profile last May. His drinking had grown out of control, he admitted, and he'd become distant, separating himself both his bride and their kin as a way of avoiding the tougher-to-handle issues that can arise in any union. "I'm really good at cutting myself off, and it's ben a problem," he revealed. "I need to be more accessible, especially to the ones I love." 
His failings acknowledged and all investigations squarely behind him, Jolie seemed open to giving him the chance to prove himself. He'd corrected course, an insider revealed, trading vodka for cranberry juice and fizzy water, embracing therapy and committing to an overall reevaluation of his priorities. And now he felt confident he and Jolie could be, if not partners, at least teammates. "We've been able to work together to sort this out," he told GQ Style. "We're both doing our best. I heard one lawyer say, 'No one wins in court—it's just a matter of who gets hurt worse.'" 
He then went on to detail exactly why he wished to avoid a protracted court battle with the confidence of a man who assumes he won't spend months locked in litigation. "You spend a year just focused on building a case to prove your point and why you're right and why they're wrong, and it's just an investment in vitriolic hatred," he told the mag. "I just refuse. And fortunately my partner in this agrees. It's just very, very jarring for the kids, to suddenly have their family ripped apart."
Yes, it had taken them a while to find the same page. Those first few months were littered with pot shots, the most damaging coming in early 2017 when Jolie claimed Pitt wanted their proceedings sealed because he is "terrified the public will learn the truth." But just as it seemed the couple formerly known as Brangelina would engage in all-out war, they revealed they'd landed on a temporary agreement (the kids would remain in her care, but Pitt was granted "therapeutic visitation") and that Jolie was purchasing a $25 million mansion just down the road for Pitt, laying the groundwork for them to quietly begin the business of coparenting. 
While the whole world was dissecting Jolie's every statement (wait, did she pause before affirming to ABC News' George Stephanopoulos that Pitt was "of course" a wonderful father?), Pitt was tagging along on her First They Killed My Father press trip to Cambodia. "They were with Angelina for probably 75 percent of the time when Brad was in the country and they'd go back and forth between her and Brad," said one source. 
The move indicated a shift in the pair's formerly contentious dealings, added another: "Things have settled between Brad and Angelina. It's not as tense as it had been. They are focused on the kids and working to do what's best for them."
Surely a more permanent arrangement was coming soon, right? 
Instead, this summer brought more discord. Committed to filming the Maleficent sequel in London after an extended break from acting ("I haven't worked for over a year now because they needed me home," she explained to People), Jolie assumed her peripatetic brood would join her on the road again. But Pitt wasn't having it. He'd chosen his next project, Quentin Tarantinto's Once Upon a Time in Hollywood about the 1969 Manson family murders, because filming was slated for L.A. and he wanted to see the kids on their regularly agreed upon schedule. 
Though he was cool with the kids tagging along as UN Special Envoy Jolie made short excursions round the world, "He's not OK with his kids being away for months," a source told E! News of his reasoning for blocking her move. "He feels that Los Angeles is their home base and this is where it is best for them to be." 
A judge agreed, giving Pitt a win that felt like his first in months. Piecing together a complicated schedule that had the kids traversing the 5,000-plus miles between their parents' two sets, the court helped draw out a plan that gave Pitt an increasing amount of hours with each child throughout June and July. "They worked out an agreement that was mutually acceptable," an insider told E! News at the time, adding the War Machine actor "felt like he actually had a say and that the court was seeing his side of things." 
Simply being afforded the opportunity for a meaningful amount of time with the offspring he's called his "life", was a huge victory for Pitt, noted another source. "It's a big step and he hopes to continue getting back on track with each of the kids." 
Recently, though, progress seems to have stalled. The couple are reportedly due back in court to discuss how the visitation went and work through any issues that arose, but neither side is feeling confident that those talks will be especially fruitful. 
Though Bley DeJean's Tuesday status conference indicates advancements could lie just ahead in the future, an insider reveals the former power couple "are not even close to settling their divorce."
Once described by Jolie as "a wonderful teacher and guide," for their brood, Pitt is looking to score more visits with them. He's been spending some time with them in recent months, says a source, "but he would like to be able to spend more." 
And that's something Jolie just may not be willing to give. Still debating the details, says the source, the exes "have been unable to reach an agreement that they are both happy about." 
Which means they're each destined to log more hours in a courthouse, doggedly trying, as Pitt once said, to build their separate cases. 
"Things with Angelina have been strained as they work things out," admits the source, but the actor is doing what he can to remain positive, channeling his energy into work, his newfound love of sculpting, dinners out with pals and, of course, his kids. Says the source, "Brad hopes to have it resolved soon." 
Here's hoping they don't reach another anniversary.