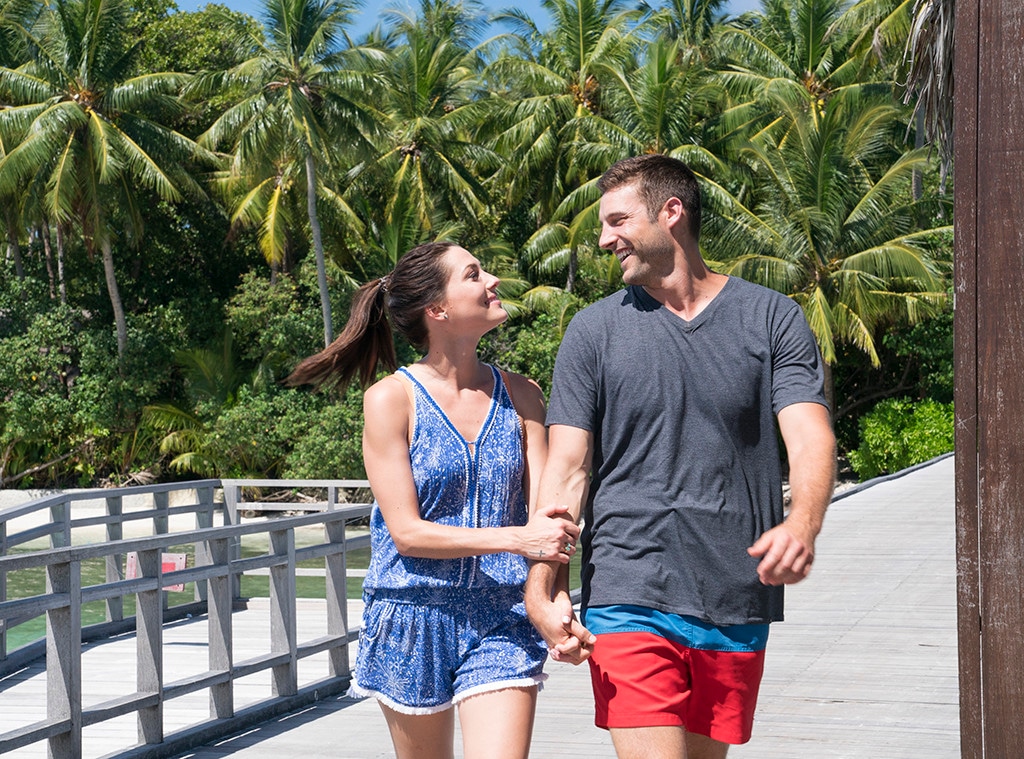 ABC
Ladies and gentlemen, Becca Kufrin is finally engaged. In public!
Sure, there's a lot to work through before we can call this a happily ever after, including some very problematic Instagram habits, but Becca seemed pretty happy there as Garrett Yrigoyen got down on one knee and proposed. 
She also seemed happy as they hung out with her family, and then watched dolphins that reminded Becca of noodles, and then swam around in the ocean while Garrett inexplicably swam down to pull Becca's leg down into the depths. 
Through all of this, it has been very hard to like Garrett. Those posts he liked on Instagram were certainly not great, but he also just gives off this goofy vibe that has just never translated to visible, enviable romance. 
But clearly Becca felt that romance (or at least that connection to her dad) with him, because duh, she picked him. 
Obviously, for one of these men to be happy, one had to be very unhappy. 
Poor poor Blake could tell as soon as he met Becca's family that something was up, or at least there was something up in his head. When they talked to Becca later, her entire family seemed to see Blake as Becca's teammate, someone who was right on her level. Garrett was a "beautiful soul" and a poet (?) who would be a great dad, but Blake was her equal. 
Blake didn't feel those feelings, and felt that every reasonable question he was asked was a sign that this was all going to go very wrong for him. He started to panic long before there was any reason to, and it probably did not help matters at all, even with his adorable and sappy shadowbox crafts and sweet words. 
Watching Blake get dumped was maybe the saddest thing we've ever seen. It wasn't cruel in the same way that Arie's breakup with Becca was last season, but it still felt cruel that it was even being filmed, and it made us want to do nothing more than hold poor baby Blake in our arms and tell him everything will be OK. 
We're going to be totally honest here and say we did not watch this entire break-up, because we started to feel such secondhand anxiety that our hearts couldn't handle it. Just watching him start to hyperventilate into a hand towel made us itchy and sad. 
He's gotta go through all this alone, he said. All alone!
Blake is probably wrong because he will most likely be the next Bachelor after that display, meaning he'll have all of ABC by his side, but for now, yes. All alone. 
Stay tuned for more from The Bachelorette finale!