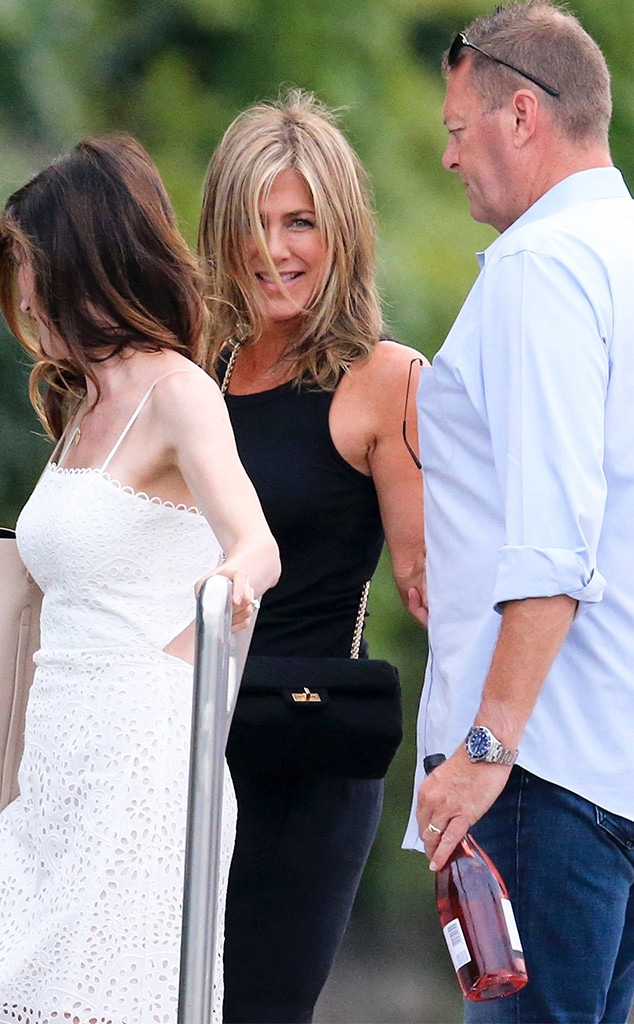 BACKGRID
Jennifer Aniston is livin' la vida dolcé.
On Saturday, the celeb took advantage of a break in filming her most recent movie to visit her longtime friend, George Clooney, at his Lake Como Villa.  According to a source, the actress was joined by her Just Go With It co-star, Adam Sandler, and his wife, Jackie, before boarding a water taxi to the house on the Italian waterfront. And, as any grateful guests would, "They brought along a beautiful arrangement of hydrangeas and a bottle of rose."
Upon arriving at George's estate, the A-list group was "escorted up the dock and inside the property together," where they all "admired the beautiful scenery and turned around to catch the view."
LUCA BRUNO/AP/REX/Shutterstock
The insider said that throughout the evening, "Jen was very chatty with Jackie and they all seemed very friendly."
"They spent the late afternoon on the property walking the grounds and enjoying a meal," before leaving the Clooney family home well after dark.
And, contrary to popular opinion, a source tells E! News that "[Jennifer's] always been friendly with George, regardless of Brad." Even after Aniston's dramatic divorce from Brad Pitt in 2005, "they have continued socializing and seeing one another."
The insider added, "They have a great friendship and enjoy spending time together."
Jason Merritt/Getty Images
From Mexican getaways, to red carpet reunions, the pair has remained faithful friends over the years. Most recently, Jen praised the actor when he was awarded the AFI Life Achievement Award in June. "Lucky for you, George, we remained on the air on Thursday nights, pretty much paving the way for every success you've had since then," the Friends actress joked at the time.
And following Jen's divorce from Justin Theroux in February, the star could use the support from a pal like Clooney.
A few months after making the difficult announcement, a source told E! News, "She knows in due time she will feel tremendously better, but is really going through the motions right now." 
Not to say Aniston is crying over a tub of ice cream because of her breakup. She recently told InStyle, "First, with all due respect, I'm not heartbroken. And second, those are reckless assumptions. No one knows what's going on behind closed doors."
*Sigh* If only we all had friends with Italian villas.