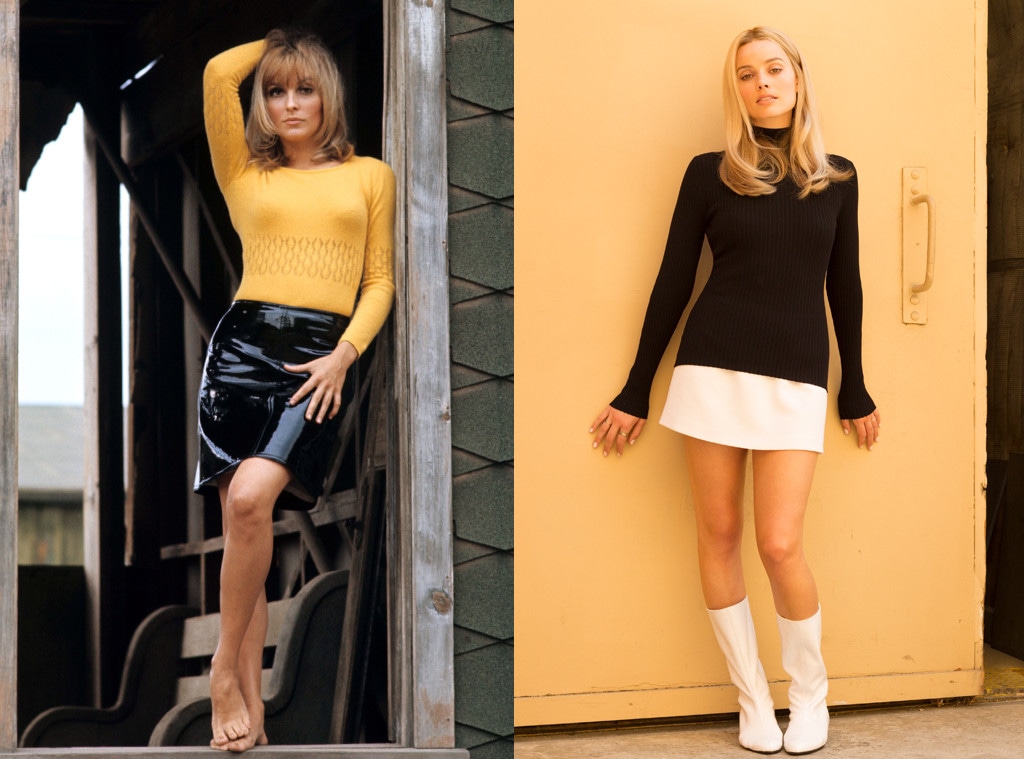 Globe Photos Inc/REX/Shutterstock; Andrew Cooper/Sony Pictures
Margot Robbie is the spitting image of '60s cover girl Sharon Tate in a first look at the actress in Once Upon a Time in Hollywood.
The Australian native gave her Instagram followers a peek at her character for the Quentin Tarantino film. In the highly-anticipated thriller, the 28-year-old will play the late model and wife of Roman Polanski, who was murdered in her Hollywood Hills home by the Manson family on August 8, 1969.
Starring alongside the Wolf of Wall Street actress is her former co-star Leonardo DiCaprio, in addition to a myriad of other A-listers like Brad Pitt, Dakota Fanning and Burt Reynolds.
When Robbie first announced she would be taking on the challenging role in May, she explained to IndieWire her desire to accurately and respectfully portray the iconic model. "I feel a responsibility with every character I play, whether they're fictional or real life… To play her right, play her truthfully, and kind of understand her emotional journey," she shared.
This movie also holds special meaning to Margot since she has long hoped to learn from the famous director and producer. As an aspiring producer and director the blonde bombshell has "always wanted to see him work." She added, "And I want to see how he runs a set, and how he directs people, and what the vibe is onset, and what's in the script, and then what happens on the day. I'm just fascinated by all of it, fascinated. So it's going to be a crazy experience to witness it firsthand. It's something I've always dreamed of doing."
While the Tarantino film won't hit theaters until Aug. 2019, fans of the I, Tonya star can see her when she stars as Queen Elizabeth I in Mary, Queen of Scots, which hits theaters in December.