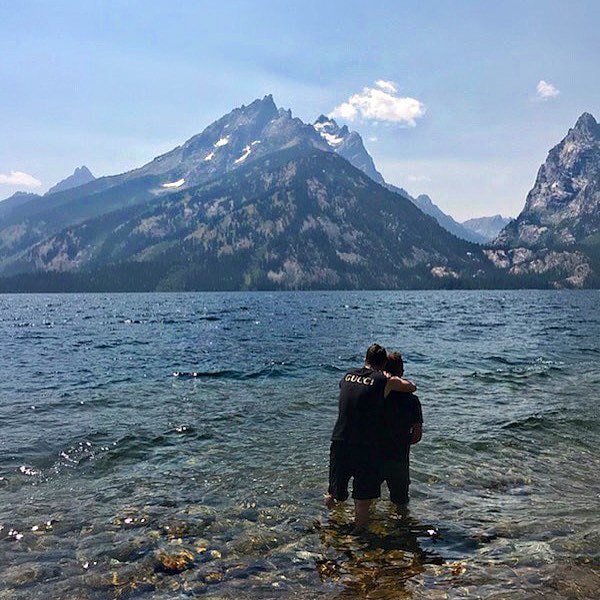 Instagram
To honor his late mother's birthday Saturday, Colton Haynes and his family spread her ashes. Before making his way to Jenny Lake, located at Grand Teton National Park in Wyoming, the 30-year-old Arrow actor shared a wooden placard of a prayer on Instagram Stories. "Dear Lord, so far today I've done alright. I haven't lost my temper, haven't been greedy, nasty, selfish or overindulgent. I'm really glad about that. But in a few minutes I'm going to get out of bed, and from then on I'm probably going to need a lot more help," the prayer read. "Thank you. Amen."
In the next update, Colton played Alessia Cara's "Growing Pains" as he drove to the site where they'd spread her ashes. A family photo was placed on the dashboard, and he wrote, "Happy birthday momma." Afterward, he shared a picture with brother Clinton Haynes on Instagram, writing, "What an emotional/beautiful experience. Words can describe what happened today." He also shared the dashboard photo, writing, "Happy Birthday Momma. The whole family is celebrating you today. We miss you so much. I can barely breathe. I miss & love you too much."
Colton later shared a family photo, writing, "Love You Mom. Happy Birthday." His ex-husband, florist Jeff Leatham, also appeared in the group shot; the status of their relationship is unclear.
The actor's mother, Dana Haynes, suffered advanced cirrhosis of the liver and kidney failure before her death. "Today I lost my best friend, the love of my life...my momma," Colton told his Instagram followers on March 23. "Words can't express how incredible this woman was. I have so many things to say but I'm in a state of shock. I will always love you momma. RIP my angel."
After spreading his mother's ashes, Colton received support from many of famous friends and co-stars, including Jillian Bell, Todrick Hall, Taylor Lautner, Billie Lourd and Shawn Pyfrom.
Colton's brother has spent the summer camping in Grand Teton National Park. Four months ago, he honored her legacy on Instagram, telling his followers, "My mom always had my back through self doubt, divorce, and loneliness. Now it's up to me to make a better life for myself and to help others. The idea of failing is motivation enough. That's not gonna happen, mom."