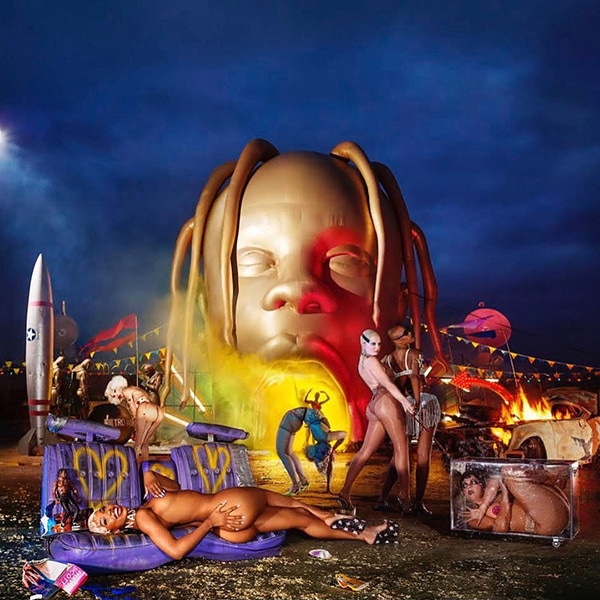 David LaChapelle
Travis Scott is finally commenting on the backlash surrounding his Astroworld cover art.
Earlier this week, Scott and photographer David LaChapelle shared different versions of the same shot. In Scott's version, transgender model Amanda Lepore had been edited out of the frame. "Amanda was taken out because she just upstaged everyone," LaChapelle wrote in an Instagram comment, telling another fan her removal had "nothing to do" with transphobia. To another fan, he wrote, "Everybody wants to explain everything with some phobia or whatever."
Scott remained silent on the matter, while Lepore took the high road. She commented that she had a "great" time being part of the "incredible photograph." While she didn't know exactly why she'd been removed, she joked, "A girl can't help it. Too distracting for the eyes. Upstaged everyone in the photograph. Oh well..." She also sent "love and kisses" to LaChapelle and Scott.
The rapper, who celebrated his album's release at Lollapalooza with girlfriend Kylie Jenner, shared the original cover—featuring Lepore—on Instagram Saturday. "Thank you David LaChapelle and Amanda Lepore and everyone that came out to make all the covers and the vision come to life!" he said. "ASTROWORLD IS ABOUT LOVE AND EXPRESSION NOT HATE!"
"This is very important for me to speak up about: Growing up I've been taught to accept everyone, not to cast people away but bring them in your home! I have nothing but respect for the LGBTQ community," Scott wrote in his open letter. "I want to use my voice to make it clear that everyone on this planet is as equal and f--king awesome to the next. Me and LaChapelle set out to create images that I grew up watching him create for years that inspire me today."
Addressing Lepore directly, he joked, "Yo, Amanda, you did upstage everyone—even me."
"I can't wait for everyone to see the booklet that me and Dave put together that includes all these images. Thank you for being a part of it. Sorry for the misunderstanding. Love you guys and THANK YOU ALL!!!" he concluded. "EVERY ONE IS WELCOME TO ASTROWORLD!" Lepore accepted his apology, reiterating she has "nothing but LOVE" for LaChapelle and Scott.