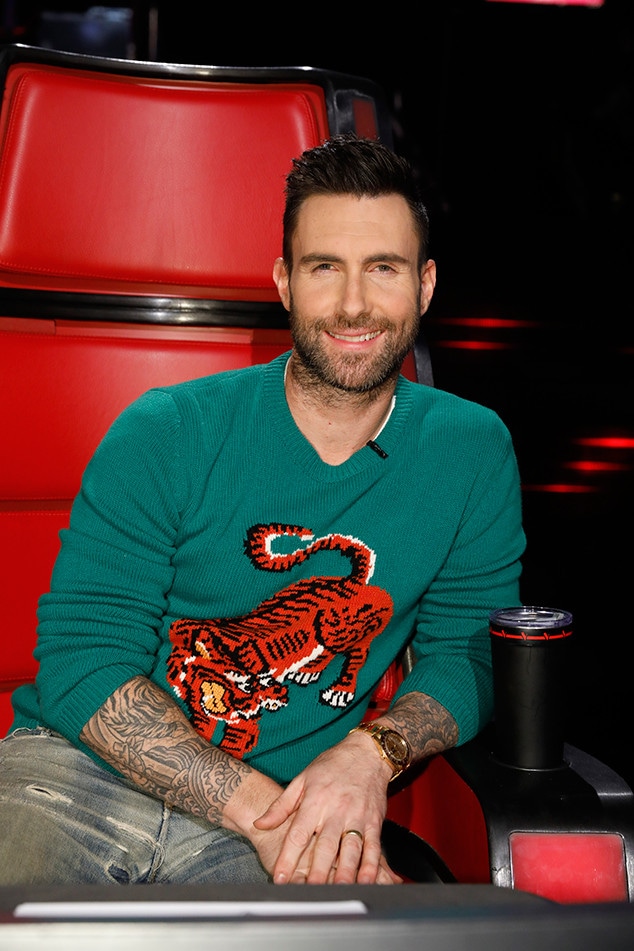 Trae Patton/NBC
Feeling like a twit-wit, Adam Levine?
The Maroon 5 frontman's longstanding contempt for the MTV VMAs reached a new level last night when he came out swinging in defense of Childish Gambino's "This Is America" video. "This year, Childish Gambino released one of the most impactful, thought provoking and intelligent videos ever made. I'm sure he doesn't' care that he wasn't nominated for a VMA because he's cool as f--k and everything. But I care. Because I'm NOT that cool," the "Girls Like You" singer vented. "And I still want MTV to mean something again. But it won't. Ever. K bye."
Levine later deleted his open letter on Instagram and Twitter after being informed that not only was Childish Gambino nominated, but he was actually nominated in seven categories: Video of the Year, Video With a Message, Best Direction, Best Art Direction, Best Cinematography, Best Choreography and Best Editing. With his tail between his legs, Levine told his Twitter followers, "S--t. I don't usually put my foot in my mouth. But this time, I did. 'This is America' actually WAS nominated for 7 VMAs. How I didn't get the right info is beyond me. I stand corrected." Halfheartedly, he said, "I'm sorry MTV. Still hate you though. But mostly, I'm sorry."
Unable to shake off his mistake, Levine recorded a video on Instagram Saturday night. "All right, I f--ked up. So, here's what happened: Yesterday I was running around like a maniac, trying to leave town, packing, going a mile a minute, and I guess it had come up that at the VMAs, 'Girls Like You'—which is our song—isn't up for a VMA. Big shocker. It doesn't surprise me. They always blow us off. And then, of course, I'm like, 'Well, Childish Gambino made the best video of the year. I bet you he's not nominated.' I guess, for some reason, I Googled something and looked like...oof. Look, I f--ked up. There's no way around it. But, basically, he was nominated—like, seven times over—and I look like a moron," the singer said." But, I'm just going to come out here and say, 'I f--ked up. My bad.' Sorry, MTV. You did good. Now, make sure he wins."
The singer first came down hard on the annual award ceremony in August 2011, tweeting, "The VMA's. One day a year when MTV pretends to still care about music. I'm drawing a line in the sand. F--k you VMA's." Levine last appeared at the MTV Video Music Awards in 2014 (with  Behati Prinsloo), where he performed "Maps" and "One More Night" with his bandmates—for the first and last time on MTV. Before he attended the event, he explained to USA Today, "For many years, we felt like the uninvited dinner guests, but after much persistence and perhaps a little too much mouthing off, they seemed to have changed their minds. So, thank you, MTV."
Levine watched last year's VMAs from home, tweeting, "It's always exciting to see how utterly horrible the VMAs will be. They really delivered so far this year. #HOLYF--K." He went on to complain that Julia Michaels had been "cut off," while Lorde got "to NOT sing her whole song." Lorde, who was sick with flu at the time, gave a silent performance of "Homemade Dynamite."
Maroon 5 has been nominated for six MTV VMAs since 2004, winning just once for "This Love."
The band is nominated in one category this year: Best Visual Effects. Maroon 5's Wait" will compete against Avicii and Rita Ora's "Lonely Together," Eminem and Beyoncé's "Walk on Water," Ariana Grande's "No Tears Left to Cry," Kendrick Lamar and SZA's "All the Stars" and Taylor Swift's "Look What You Made Me Do." Cardi B leads this year, receiving 10 nominations.
Grande, Logic (with Ryan Tedder) and Shawn Mendes are scheduled to perform this year at Radio City Music Hall in New York City. The show will be broadcast live on Aug. 20 at 9 p.m. ET.