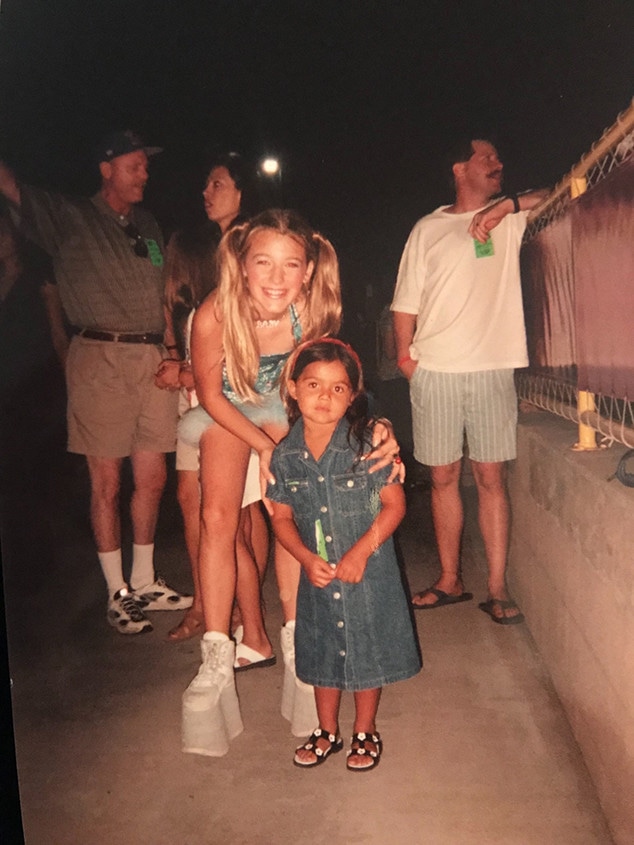 Bria Madrid/Twitter
Viva forever!
Long before she made a living pretending to be other people, actress Blake Lively moonlighted as a member of the Spice Girls—Emma Bunton to be precise—when the girl group took the Spice World Tour to the Glen Helen Amphitheater in San Bernardino County, Calif., 20 years ago. On June 20, 1998, Lively managed to convince another concertgoer that she really was Baby Spice, thanks to her B-A-B-Y choker, sky-high platform shoes, baby doll dress and pigtails.
That concertgoer—Bria Madrid—happened to come across the photo recently and suddenly realized the woman she had mistaken for Bunton was, in fact, a 10-year-old Lively. As she told her Twitter followers today, "Found a picture when I was 5 at my first concert #SpiceGirls and took a picture with a girl dressed up as Baby Spice who I just realized now was @blakelively." Although they both dated the show in 1997, the world famous girl group didn't tour that year.
First, Lively shared it on Twitter, writing, "My secret is out..."
Lively found the photo and reposted it on her Instagram account soon afterward, racking up likes from Josh Brolin, Gigi Hadid, Katie Holmes, Ryan Reynolds and Emma Roberts.
Initially, the actress accidentally tagged the wrong account, but later amended her caption to give Madrid credit. "Pretending to be someone else... since 1997," she wrote. Madrid replied, "So crazy!! Thanks for reposting it!!! Can you do me a huge favor and tag my account @briaaamadrid?" Lively obliged, saying, "Sorry for the mix up! Thanks for the pic and flashback. I was so happy that someone thought I was Baby Spice. I remember this!! I still tell people this story." In her amended caption, the actress said, "Thanks @briaaamadrid for the photo of us at the Spice Girls concert. Sorry—not sorry—I tricked you into thinking I was @emmaleebunton."
Lively's obsession with the Spice Girls is well-documented.
Six years ago, the actress told Marie Claire U.K., "When I was a child I probably should have been medicated about my obsession with the Spice Girls. I had the Buffalo shoes, a customized Baby Spice necklace—when I say custom-made, it was made out of plastic from the local mall—and a Union Jack dress. Recently, I was in London and I stayed in my hotel most of the time because it was raining. But on the last night I went out for dinner. After I'd arrived, I was told a bunch of paparazzi had showed up. I thought, 'That's so weird. I've been left alone most of my stay. Why are they bothering me now?' But then someone told me it was because Victoria Beckham was in the same restaurant. I was like, 'OK, that makes sense.' She's a friend of mine and I would have said hello, but I decided I didn't want to bother her. Until that person then told me she was there with [the other girls]. I was like, 'I need to say hello!' So, there you have it; I got to hang out with the Spice Girls. It was my lifelong dream. That's it now. I can quit."