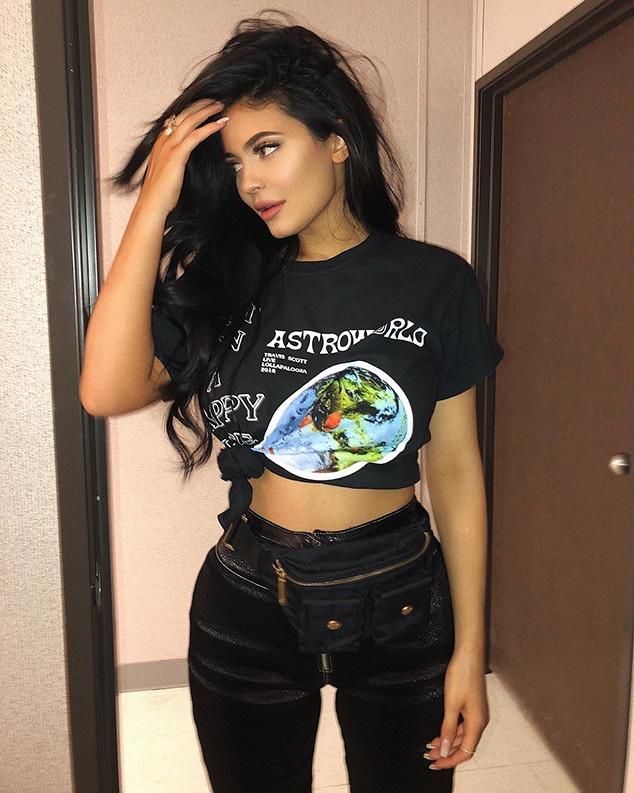 Instagram
Every poet needs their muse. 
For rapper Travis Scott, his inspiration screams loud and clear on some tracks from his new album Astroworld. Scott, who is dating Kylie Jenner and father to Stormi Webster, mentions his two important females throughout his music.
Scott's album Astroworld dropped Friday, August 3, and the new parents celebrated together in Chicago where popular music festival Lollapalooza is currently happening. At the album's listening party, Kylie appeared decked out in Astroworld gear and called it "the craziest ride of my life" in a new Instagram post. The new parents were also not shy at all about their PDA and "love story on Astroworld" as one picture shows the two of them kissing in a close embrace. 
Renowned photographer David LaChapelle shot the cover art and the album itself is named after the Six Flags AstroWorld in Houston—near Scott's hometown—that shut its doors in 2005. 
We're taking a look at some of Scott's call-outs to Kylie and their daughter Stormi.
1. "Stargazing":
 "I was always high up on the lean (yeah, yeah) / Then this girl came here to save my life / Look up to the sky, down on my knees (straight up) / Out of nowhere, you came here to stay the night / In the night-time (woo, yah)"

Here, Scott could be mentioning both Kylie and Stormi with the line "Then this girl came here to save my life." 
Here's another nod to Kylie: "Out of nowhere, you came here to stay the night." This could be a reference to their meeting at Coachella and how she joined the rapper on his tour.
"But she know my baby mama is a trophy / She be throwing up them B's feel like we both bleed"
Kylie is Scott's trophy here for a a big reason: as Forbes reported in July, Kylie is worth nearly a billion dollars, making her the youngest self-made billionaire, male or female. Move over, Mark Zuckerberg and Evan Spiegel. That, in and of itself, is worthy of a trophy. That near-billion dollar threshold is also why Scott mentions "throwing up them B's." Plus, she did have his baby.
Bill Baptist/NBAE via Getty Images
2. Sicko Mode
"'Bout to turn this function to Bonnaroo / Told her "hop in, you comin' too""

This line, too, could be a nod to their budding romance at Coachella and referencing Bonnaroo, another music festival.
3. Skeletons
"We just rocked Coachella, I gave her half the check"
This one pretty much speaks for itself.
4. Butterfly Effect
"For this life, I cannot change / Hidden Hills, deep off in the main"
This line is a reference to the neighborhood of Hidden Hills, which is right next to Calabasas. Kylie even owns more than one home in the neighborhood.
"You in the mob soon as you rock the chain"
Deep analysis could suggest that this line indicates the Kardashian-Jenner family as a whole. Once you're in, you're in. Unless you have the Kardashian curse. Scott, however, thinks he's free from that. He told GQ, "Kylie actually likes me for me."
5. "Coffee Bean"
"Bad-bad news, I'm just bad-bad news / Good thing, the two, Bonnie and Clyde / The money and who?"
Bonnie and Clyde, the infamous criminal couple, have a tendency to be mentioned in many songs these days. Scott may be saying he and Kylie are like Bonnie and Clyde, because they are loyal 'til the very end.
"Your family told you I'm a bad move / Plus I'm already a black dude" 
Here's another allusion to the Kardashian-Jenner family. Scott is insinuating that Kylie's family warned her against him because of his race.
Astroworld is out now and available for streaming and purchase. Cameos on the album include Drake, Frank Ocean, and The Weeknd.